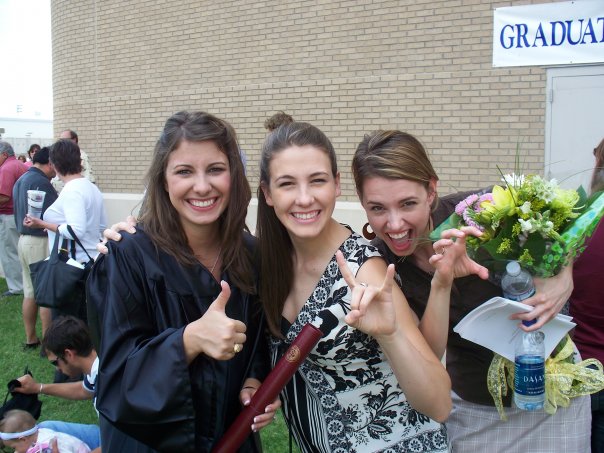 Five of seven members of the Shenk family chose to begin their college careers at Lone Star College-Tomball. They have excelled as they moved on to four-year universities, three already graduating with nearly perfect 4.0 grade point averages.
What makes them so special other than being from a large brood of siblings? They have never participated in a formal school program prior to their LSC-Tomball experience.
All seven Shenk children have been homeschooled by their mother, Pam, and, with the exception of Nathan who attended a weekly co-op class at Magnolia High School, none had ever gone to public or private school until enrolling at LSC-Tomball.
"My parents were pretty conservative and didn't want us going through the public school system," says Stephanie, who received an associate of arts degree from LSC-Tomball in 2006 and graduated from Texas A&M University in May with a bachelor's degree in English.
"If Lone Star Tomball weren't so close, we probably wouldn't have even gone to college," she says. "But it was so affordable and convenient that it seemed foolish not to go."
Stephanie and four of her siblings – Rebecca, Stacy, Nathan and Amy – each have earned degrees and have moved on to or have graduated from various Texas four-year universities. Homeschooled high school sibling Timothy, a sophomore, plans to begin LSC-Tomball when he is eligible.
"The only brother who has no immediate plans to attend LSC-Tomball is Robert, but he's nine years old, so there is still time!" she says.
"I was extremely interested in academic excellence and felt that the individual approach and the ability to work one on one with each of the seven children eventually born into the family would maximize each one's potential," says Pam.
"After 24 years I can safely say that homeschooling has truly become a way of life for this family and though we have had to sacrifice in some ways, the benefits far outweigh any minor hardships we've had to face. The dual credit program offered at Lone Star College allowed our first five children to excel once they were qualified and at the appropriate high school level in their education. We have been very grateful for the opportunities afforded our children to further their academic endeavors and to bridge the gap to four-year universities."
Stephanie admits walking into that first class at LSC-Tomball was a little scary, but that feeling went away almost immediately.
"All of my professors were extremely helpful. They showed a great interest in me not only as a student, but also as a person," says Stephanie. "They were so encouraging. I never felt like I couldn't go to my professor if I had a question."
Stephanie was elected as president of the LSC-Tomball Student Government Association, was recognized as an outstanding student leader, and worked for the college while she attended. Her two sisters – Rebecca and Amy – both served as LSC-Tomball Student Ambassadors.
During an Awards Ceremony, LSC-Tomball Student Activities Program Manager Shannon Marino called Stephanie the "heartbeat of the executive council."
LSC-Tomball Professor of English Doug Boyd – one of Stephanie's most influential professors – agrees.
"She made it clear that her education was a priority and she was motivated to succeed regardless of how much effort it took," says Boyd. "And I didn't even realize she had been homeschooled because she didn't exhibit any problems adjusting to a more formal environment."
Stephanie thanks her mother – who isn't a trained teacher – for the solid education she provided during their homeschooling, and LSC-Tomball for being a bridge to their higher education goals.
"We are grateful to LSC-Tomball for providing us the excellent foundation they did for us to move on to achieve success at the colleges we moved on to," says Stephanie. "We never would have been able to walk into a four-year university were it not for the success we had at LSC-Tomball."
Lone Star College-Tomball is located at 30555 Tomball Parkway in Tomball, Texas.
The Lone Star College System consists of five colleges, including Cy-Fair, Kingwood, Montgomery, North Harris, and Tomball, six centers and Lone Star College-University Center. With 49,250 students, it is the largest college system in the Houston area, and third largest community college district in Texas. To learn more, visit http://www.lonestar.edu/.