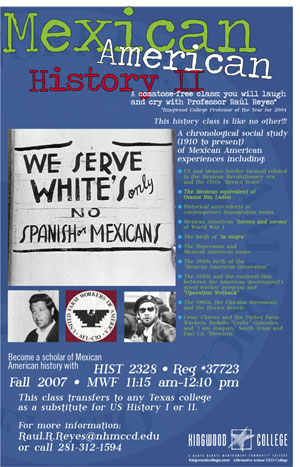 Do you want to learn more about Hispanic culture and history? Living in Texas knowledge about our southern neighbors is becoming increasingly more relevant and useful. Lone Star College-Kingwood is now offering a history class that can help expand your knowledge and awareness of Mexican heritage.
Meet Raul Reyes; he's not your typical college professor and his Mexican American History II class is not your typical history class. (View Professor Reyes' video about his new class)
So, what makes him and his classes different? His teaching techniques and overwhelming passion and knowledge of his subject matter bring history alive.
Reyes' class focuses on the history most students have never learned from their run-of-the-mill history lectures or from the side of history no one else writes about.
"The victors get the right history and I'm trying to tell the losers' story," said Reyes, "I try to focus on minorities and their stories because those stories are the ones that aren't told."
Many students that are not interested in history claim it's boring or it isn't relevant. Reyes begs to differ.
"Not to be cliché, but history tends to repeat itself. I try to make my subject relevant to my students and try to draw comparisons and parallels to what is happening today," said Reyes.
Reyes says that Pancho Villa, the Mexican revolutionist, was the original bad-boy of terrorism and equates him to the Mexican Osama Bin Laden. Another striking similarity that students learn about in Reyes' class is the similarities between the current Patriot Act, the Espionage Act and the Sedition Act of the early 1900's.
"It's about being relevant. I don't want to reheat the rehash. I try to present material and facts that aren't generally known," said Reyes.
His class is full of humor, props and stories that help engage the class in learning and help make the information easier to understand in today's terms. Reyes also says that he is not a teacher who stands behind a podium and lectures; he is constantly moving around the classroom and asking the students questions.
Another characteristic of Professor Reyes is that he is bilingual and bicultural, a point of interest that he believes helps him be a better teacher.
"I think one thing that distinguishes me from my colleagues is that I can incorporate my experience in America and my own cultural experience of growing up near the US-Mexican border," he said.
Reyes' unique teaching style and ability to reach his students earned him the honor of Lone Star College-Kingwood Professor of the Year for 2004. He says he was surprised when he was named as Professor of the Year, but his students and colleagues knew he truly deserved it. He admits the award has become a sense of pride for him and that he strives to be his very best as an instructor.
Reyes says his students are what matters most to him and he has an open door policy with any of his current or previous students. Reyes says he will work with a student and offer any assistance he can give as long as it is a reciprocal relationship.
"I try to be proactive and communicate that I'm a tough but sensitive instructor," said Reyes.
Reyes' class is HIST 2328 and will held Monday, Wednesday and Friday from 11:15 AM to 12:10 PM during the fall 2007 semester. The class transfers to any Texas college as a substitute for U.S. History I or II.
Looking to update work force skills or just want to take a class for fun? Lone Star College-Kingwood's Continuing Education Division provides a variety of certificates, courses and experiences that encourage professional development and lifelong learning. And don't forget our popular summer youth program, Discovery College! For more information, visit kingwood.lonestar.edu/goto/ce or call 281-312-1660.
Students can register now for summer II and fall three ways: online, by telephone and on-site. Classes are offered days, evenings, or weekends in traditional, Internet, video, TV and independent study formats. Current students can register by telephone at 281-519-6625. Former and current students can register online at kingwood.lonestar.edu/goto/registration.
The Lone Star College System is among the largest and fastest growing community college districts in Texas. It comprises Lone Star College-North Harris, Lone Star College-Kingwood, Lone Star College–Tomball, Lone Star College–Montgomery, Lone Star College–CyFair, six satellite centers and The University Center. For more information about Lone Star College System and its programs, visit www.lonestar.edu or call 832-813-6500.