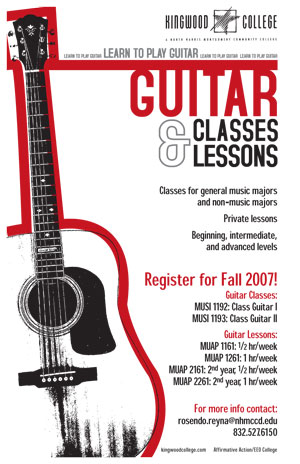 Have you ever wanted to learn to play guitar? If so, Lone Star College-Kingwood has an opportunity for you! The college is home to instructor Rosendo Reyna, an esteemed guitarist who will be teaching summer and fall guitar classes.
Reyna first picked up a guitar at age 13. At such a young age he never knew that his life would grow to revolve around his musical interests, especially his guitar.
Reyna was born in the small, south Texas town of San Diego. He grew up listening to a myriad of music ranging from Spain's Paco de Lucia to the hard rock music of Metallica and Ozzy Osbourne.
"I was influenced by a broad range of artists including flamenco guitarists and classical guitarists," said Reyna.
Reyna kept playing guitar and eventually attended Texas A&M University in Corpus Christi where he studied music. Soon after, he turned his passion into a career and has performed extensively since 1997 with his nuevo flamenco group, Garcia y Reyna, and has also performed as a soloist. Flamenco, the type of music that Reyna enjoys playing, is a Spanish musical genre that began in Andalusia, Spain and includes musicians who embody a mix of Spanish cultural and musical traditions.
Although Reyna says that he mostly listens to Paco de Lucia and other flamenco artists, he does say that he has artists like Greenday and Metallica on his Ipod.
"Even if you want to be a classical guitarist I think it's important to listen to all different types of guitarists and learn from them," said Reyna.
As a musician he has traveled and performed in California, New Mexico, New York and Colorado, but now resides in Kingwood, Texas. Reyna currently teaches classes and applied private guitar classes at Lone Star College-Kingwood. Private applied music classes are taught one hour per week for an entire semester. The cost for the whole semester is $56 plus a $90 lab fee and will be available during both the summer and fall.
Reyna also teaches Guitar I and II, which will be available for the fall 2007 semester beginning Aug. 27. Both classes will meet at 10 a.m. on Monday, Wednesday and Friday and are open to music and non-music majors. Classes are taught at beginning, intermediate and advanced levels.
During the fall, Reyna will also be teaching Music Theory III and Electronic Music, a class that teaches students how to use the computer to write and arrange music.
If you have never picked up a guitar before, Reyna says that buying the right type of guitar is essential. He suggests that first time guitarists practice on a guitar with nylon strings, because many times guitars with steel strings, like electric guitars, can be more difficult to play.
"Yamaha, La Patria, Takamine and Lucida are a few brands of guitars that are good for beginners," said Reyna.
Reyna also said that practicing everyday is a must because a beginner needs to improve the muscles in their arms and hands and build their dexterity. And, hey, a great teacher like Rosendo Reyna doesn't hurt either.
Students can register now for summer terms I and II, and fall three ways: online, by telephone and on-site. Classes are offered days, evenings, or weekends in traditional, Internet, video, TV and independent study formats. Current students can register by telephone at 281-519-6625. Former and current students can register online at kingwood.lonestar.edu/goto/registration.
The first session of summer classes begins June 4 through July 11 with the second session beginning July 12 through Aug. 16. For more information about summer classes, call 281-312-1600 or visit kingwood.lonestar.edu for a complete schedule of classes.
The Lone Star College System is among the largest and fastest growing community college districts in Texas. It comprises Lone Star College-North Harris, Lone Star College-Kingwood, Lone Star College–Tomball, Lone Star College–Montgomery, Lone Star College–CyFair, six satellite centers and The University Center. For more information about Lone Star College System and its programs, visit www.lonestar.edu or call 832-813-6500.