HOUSTON (July 15, 2009) – The Lone Star College-Kingwood Arts and Humanities Department is excited to promote a new addition to our curriculum: an Art Appreciation Study Abroad – Italy class.
The course involves classroom instruction over elements of design, experiencing art, and art history.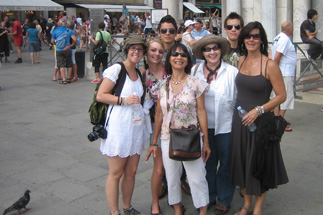 Two weeks are spent in Italy at which time students can apply their knowledge, experience a different culture and revel in the art and architecture in which Italy is renowned. Students will visit Assisi, Siena, Orvieto, Florence and Rome. These cities were chosen for their distinct character and their respective importance to historical time periods. Of note are the Etruscan and Roman ruins, the cathedrals of Siena and Orvieto, Florence's prominence during the High Renaissance and St. Peter's of Rome.
Students may earn three credit hours to apply to their required fine arts credit. Study Abroad – Italy is an ongoing program. We will be traveling to Italy during the May minimester 2010. For more information, contact Kelley Revuelto at 281-312-1734 or Kelley.N.Revuelto@lonestar.edu
Register for fall credit classes (Aug. 24-Dec. 13) in one of three ways: phone, online or on campus. Classes are offered days, evenings, or weekends in traditional, Internet, video, TV and independent study formats. Current students can register by telephone at 281-519-6625. Former and current students can register online at LoneStar.edu/registration.