HOUSTON (September 11, 2009) – When LSC-Kingwood celebrated its 25-year history this fall, the two-year college surpassed yet another significant milestone as well: record enrollment. The official attendance day of record indicates that nearly 9,300 students are now enrolled on the Kingwood campus, an unprecedented 13.4 percent increase over fall semester last year. Enrollment continues to climb as students may still register for 8-week fast-track, Continuing Education and December mini-term courses.
While the current economy may be playing a role, administrators also attribute the healthy growth to several other factors, among them the ability for the college to continue to offer a wide-range of courses in a variety of formats to meet community needs. Classes are offered on the main campus and at several satellite locations as well as online, providing students with options when and where to take a class. Distance learning alone increased almost 20 percent over last year.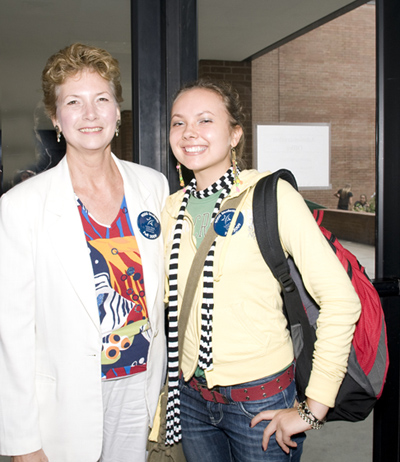 "The addition of 1,100 more students this fall over last reflects the tough economic environment and the belief that improving one's knowledge and skills through higher education will offer them a brighter future," said Dr. Katherine Persson, LSC-Kingwood president. "As our State Comptroller Susan Combs noted, at least 75 percent of the state's good wage jobs require one to two years of higher education. This is our specialty! We have been resourceful in meeting this demand by doing lots of things. Our deans and department chairs have worked hard to find credentialed excellent faculty to teach added sections offered on-line, in the afternoons, evenings and weekends. We are totally out of classrooms during morning peak demand times – even with three temporary trailers. We are very fortunate to have additional buildings opening in 2012. Even so, we predict these will be near capacity when opened."
Along with its flexibility, LSC-Kingwood is moving swiftly to stay ahead of changing job demand by expanding its nursing, dental hygiene and teaching certificate programs. For those seeking a career change, the college has added work-force programs in healthcare, welding, computer engineering, cosmetology and facial services, to name a few.
One of five campuses, LSC-Kingwood's growth matches a trend system-wide. As one of the largest and fastest-growing community college districts in Texas, the Lone Star College System now serves nearly 59,000 students and continues to outpace other state schools with double-digit growth.
"Many of our programs at the campuses continue to fill quickly," said Richard Carpenter, LSCS chancellor. "Fortunately, the voters in this district saw the need as we did and approved our 2008 bond referendum. Because of that, we are now in the midst of expanding at all of our campuses to help accommodate some of this explosive growth."
Some of the bond construction projects currently underway include: the renovation of LSC-University Park on State Highway 249, formerly Hewlett Packard North campus; design work is underway for new general classroom space and science building at LSC-CyFair; design work is beginning on the new student and conference center building and the new arts and instructional building at LSC-Kingwood; design work is nearing completion for the new parking garage, academic, health/science and music instruction buildings at LSC-Montgomery; design is well underway for the student services building and the fine arts and applied technology building additions, along with the off-campus health professions building at LSC-North Harris; and design work is also underway on the performing arts and the vet tech buildings at LSC-Tomball, along with the off-campus health science building.
Register for classes in one of three ways: phone, online or on campus. Classes are offered days, evenings, or weekends in traditional, Internet, video, TV and independent study formats. Current students can register by telephone at 281-519-6625. Former and current students can register online at lonestar.edu/registration.
For general information about Lone Star College-Kingwood, call 281-312-1600