HOUSTON (Sept. 16, 2009) – The public is invited to join theatrical players from Lone Star College-Kingwood's Drama Department for the upcoming stage production of Gross Indecency: The Three Trials of Oscar Wilde, opening Thursday, Oct. 1 at 7:30 p.m. in the SFA Performing Arts Theatre.
Oscar Wilde was one of the most successful playwrights of his time and considered a celebrity in Victorian era London. But even as "An Ideal Husband" and "The Importance of Being Earnest" were being celebrated on stage every night, during the day Wilde was being viciously attacked in the courtrooms of England. He suffered a dramatic disgrace and was imprisoned for two years' hard labor after being convicted of "gross indecency."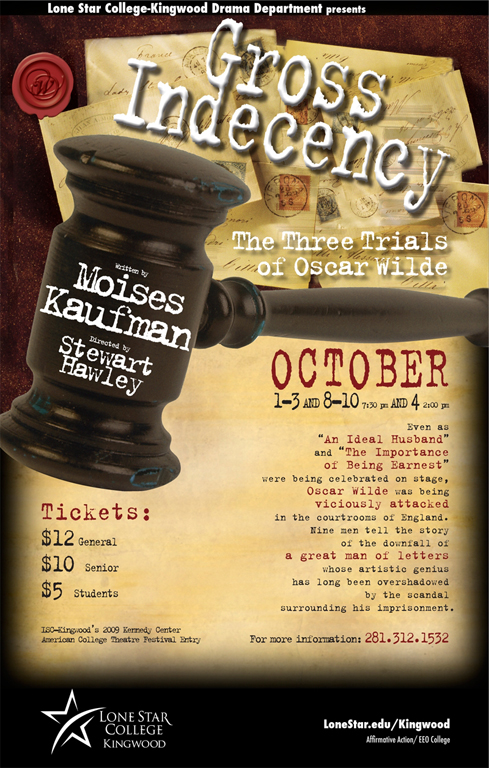 Using trial transcripts, personal correspondence, interviews and other source materials, nine men tell the story of the downfall of a great man of letters whose artistic genius has long been overshadowed by the scandal surrounding his imprisonment.
"We are thrilled to be producing this exciting piece," said Eric Skiles, LSC-Kingwood's artistic director of theater. "It is not your average theatre story…it is really more like visual storytelling or a documentary-style presentation. It is fascinating to watch history come alive as this play unfolds."
Gross Indecencyis written by Moises Kaufman & the Tectonic Theatre Project. The LSC-Kingwood production is directed by J. Stewert Hawley and will be the college's entry for the 2009 Kennedy Center American College Theatre Festival.
The cast includes: Mark Strzepek as Oscar Wilde, Eric Kosecki as Lord Alfred Douglas, Anthony Buckley as Lord Queensbury, Jeff Logan, Ryan Williams, Jeremy White, Lucas Farr, De'Andre Goins, and Chris Jacobsen.
This production is suitable for theatre patrons 16 years of age and older.
Performances will be held Thursday through Saturday, Oct. 1-3 and Oct. 8-10, at 7:30 p.m. in the Student and Fine Arts Building, Performing Arts Theatre. There will also be a matinee performance on Sunday, Oct. 4 at 2 p.m.
Tickets are $12 for general admission, $10 for seniors (55+) and $5 for students. All tickets can be purchased at the door. For more information, call 281.312.1532.
Register for credit classes in one of three ways: phone, online or on campus. Classes are offered days, evenings, or weekends in traditional, Internet, video, TV and independent study formats. Current students can register by telephone at 281-519-6625. Former and current students can register online at LoneStar.edu/registration.