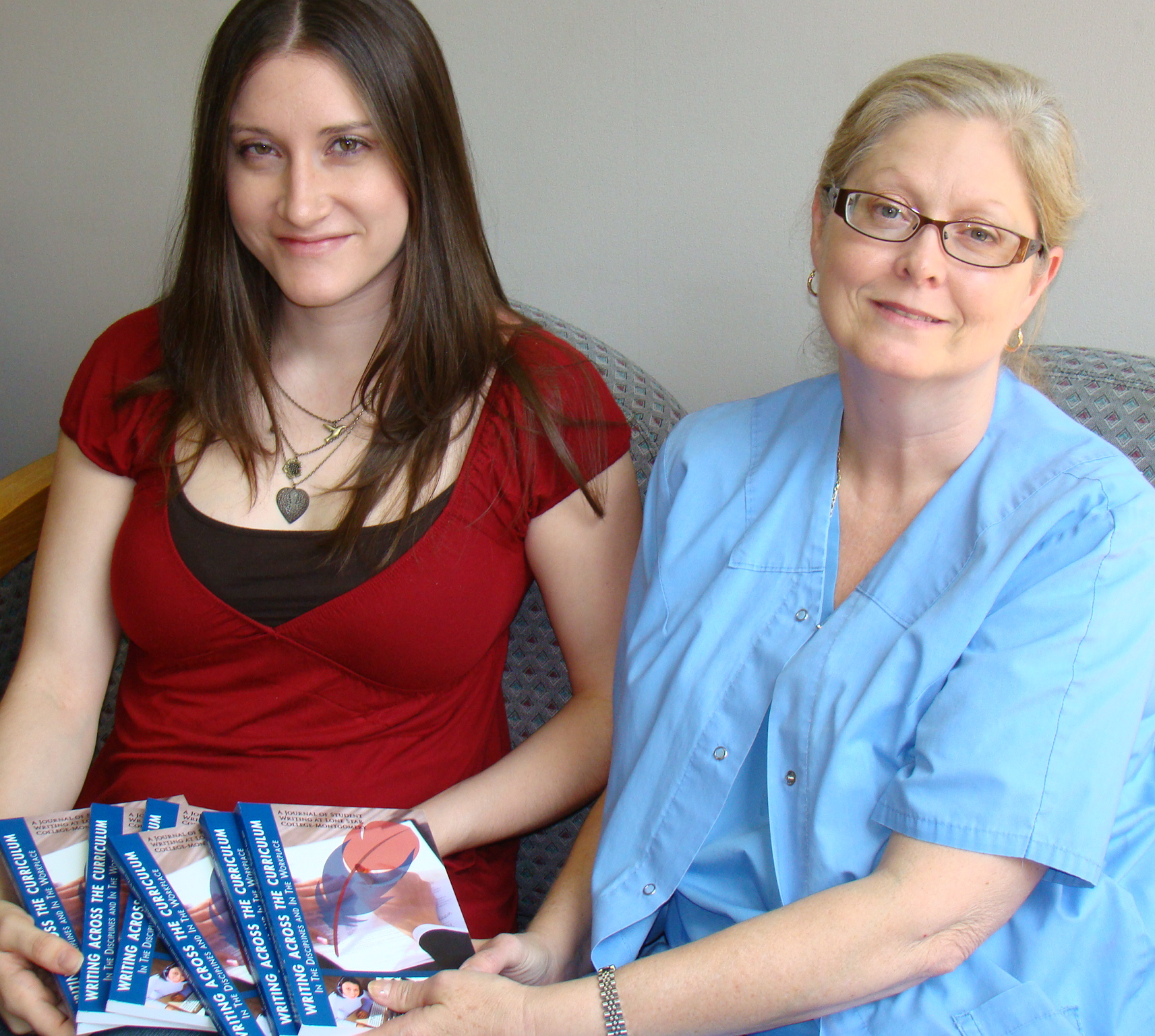 While most college students spend a great amount of time on the social networking site Facebook, many do not expect what they post on their personal page to become published.

But that's what happened in the case of Mary Berry, a recent graduate of the vocational nursing (LVN) program at Lone Star College-Montgomery. Berry's blog entry on Facebook was published as a self-reflective prose piece in LSC-Montgomery's Writing Across the Curriculum: In the Disciplines and In the Workplace, a journal of multi-disciplinary writing by students. Her piece, What Nursing Means to Me, is a thoughtful reflection of her year as a nursing student.

"I wrote the piece simply to express how much that part of my life meant to me," said Berry. "That year in nursing school was a challenge, not only in and of itself, but personally. I accomplished something I had believed not possible for myself."

Berry explained that she emailed her blog entry to her nursing professors to share with them how she felt, and one professor, Linda King, thought it worthy to be published.

In an introduction to Berry's piece in the journal, King writes that Berry "exemplifies the realization that nursing is an art and that the caring aspect is just as important–if not more so–than the science of nursing."

Currently, Berry is working as an LVN at Park Manor in Conroe. She has hopes to attend the registered nursing (RN) program at LSC-Montgomery and eventually complete her bachelor's degree in science.

"So far, completing the LVN program was the biggest milestone in my life," said Berry. "It encouraged me to continue on in the nursing profession."


More Than a 'Collection of Assignments'

Writing Across the Curriculum: In the Disciplines and In the Workplace (Vol. 5), features over 30 writing pieces from varying disciplines and genres carefully crafted by students under the guidance of faculty. The journal is sponsored by the Communication Across the Curriculum (CAC) initiative, a group of faculty that encourages interdisciplinary Writing Across the Curriculum (WAC), as well as faculty dialogue, and curricular experiments. Julie Leidig, the vice president of instruction at LSC-Montgomery, is also a sponsor of the project.

Students have written art critiques, lab reports, speech outlines, political commentary, self-reflective poems and prose, as well as various kinds of essays, in 15 different subjects such as biology and chemistry, criminal justice, English, nursing, and social services.

"This is not simply a collection of assignments. The students have written in a professional style using the same skills as faculty and professionals," said Ron Heckelman, professor of English and chairman of the CAC advisory group.

The purpose of the publication is to celebrate examples of discipline/field/profession-specific-student writing from across the college and to provide students and faculty examples of such writing to use in the classroom. The journal is organized by discipline or field and also by genre.

Each writing piece includes a brief introduction from a faculty member commenting on the writing skills used and the importance of writing in that particular field of study. The faculty member works closely with each student to develop the piece, guiding them not only in the presentation of content, but also in the process of revision, editing, and style.


Journal Unique for Community College Level

Writing Across the Curriculum is a 40-year-old national writing initiative. It is most often found at four-year colleges or universities, but infrequently found at two-year colleges like LSC-Montgomery.

"It is very unusual for a community college to have a publication like this journal, which celebrates academic and workplace writing by the students," said Heckelman.

Martina Kusi-Mensah, professor of English and WAC resource person, said the initiative began on campus in 2003 with a few faculty members interested in using writing assignments in the curriculum to facilitate student learning and improve student thinking.

In 2005, the first issue was published. It contained 16 student submissions in ten different disciplines. Five years later, the journal has doubled in size, containing 34 student submissions in 15 disciplines.

Dr. Leidig explained that the WAC initiative is a great indicator of LSC-Montgomery's commitment to quality and innovation, adding that this publication, which encompasses a broad range of disciplines, illustrates the importance of writing on this campus.

"This year, LSC-Montgomery participated in the national Community College Survey of Student Engagement, and the students who participated indicated that they experienced rigorous writing requirements at our college," said Leidig. "This is a real point of pride for us, and I am looking forward to seeing our WAC efforts expand even more in the future."


Seeking Students' Work for Next Volume

The journal is currently seeking examples of field-specific or workplace writing for the sixth issue (Vol. 6), to be published in the summer/fall 2010. Students who would like to submit a piece should let one of their instructors know of their interest.

Students will revise and edit their work under the guidance of the instructor, and ultimately, the instructor submits the piece for publication on behalf of the student. The deadline for submissions is May 15, 2010.

For more information, please contact Martina Kusi-Mensah at martina.kusi-mensah@lonestar.edu or visit her office E-209J in the LSC-Montgomery English department (Building E).

Students and faculty, as well as community members are encouraged to pick up their free copy of the journal at one of the following locations on campus: the kiosk near Campus Grounds (Building F); the library; the Student Activities office; the kiosk on the second floor of Building C; The Write Place @ LSC-Montgomery (Building C); or any division office.

LSC-Montgomery is located at 3200 College Park Drive, one-half mile west of Interstate 45, between Conroe and The Woodlands. For more information about the college, call (936) 273-7000, or visit www.LoneStar.edu/montgomery <http://www.LoneStar.edu/montgomery> .

Lone Star College System consists of five colleges including LSC-CyFair, LSC-Kingwood, LSC-Montgomery, LSC-North Harris, and LSC-Tomball, six centers, LSC-University Center, LSC-University Park, Lone Star Corporate College, and LSC-Online. With more than 58,000 students in credit classes this fall, LSCS is the largest institution of higher education in the Houston area and third largest community college system in Texas. To learn more visit LoneStar.edu.