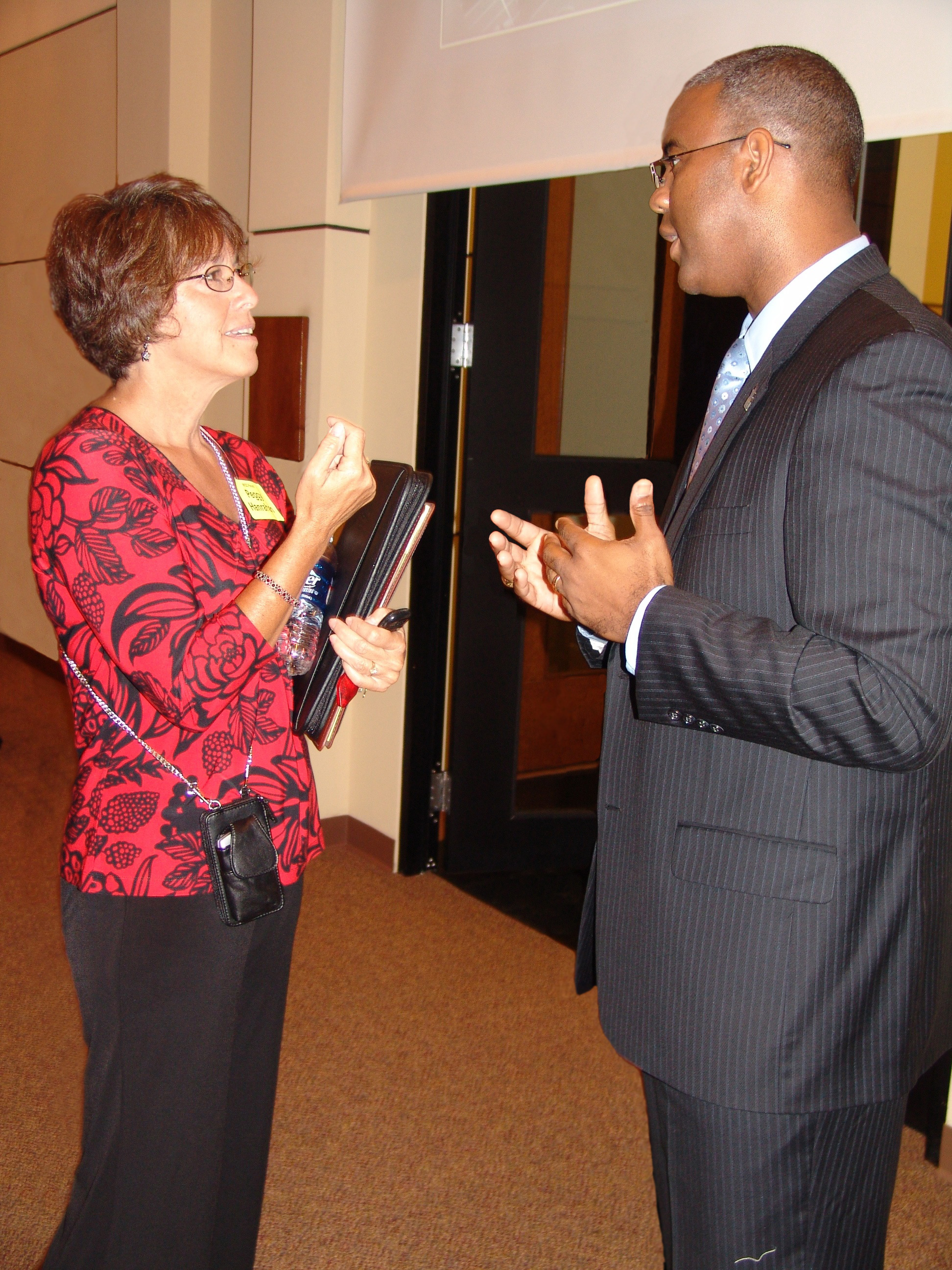 Representatives from local government, school districts, businesses, and non-profit organizations joined together last month to discuss their vision for how Lone Star College-Conroe Center should serve the local community. They're members of the LSC-Conroe Center Community Advisory Group, developed to serve as an ongoing 'sounding board' for the programs and services offered at the brand new center when it opens its doors in January 2011.

"The purpose of the group is to provide LSC-Conroe Center with maximum input on the program and services needed in that area to insure that the center is a success and meets the needs of the community and the college," said Dr. Roberto Rodriguez, director of LSC-Conroe Center.

Rodriguez provided the group with a brief history of Lone Star College's presence in Conroe, but quickly explained the vision for the future.

"The goal of LSC-Conroe Center is to provide a place where students can complete more than just a workforce certificate if that's their goal," said Rodriguez. "We want to be a 'one-stop shop' or full-service center in this part of Montgomery County where students can complete a two-year degree."

The majority of the meeting was spent in small group discussion, where members outlined specific programs that LSC-Conroe Center should consider offering and particular services that should be available on-location for the students. With deans from various departments at LSC-Montgomery acting as moderators, each group listed their ideas, and when the discussion was finished, reported their thoughts to the entire group.

"Even with different segments of the population being represented at this first meeting some of the same comments and ideas came up from all the groups," said Dr. Brian Zemlicka, superintendent of Willis Independent School District. "I think that means we are on the right track."

The various program and service ideas outlined by the advisory group included offering a full range of core courses, an aviation program, business and customer service classes, flexibility and adaptability within the new LSC-Conroe Center, and child care options.

The group also emphasized the importance of focusing on people who need a second chance to attend school, whose primary language is not English, and those pursuing their GED certificate.

Peggy Hanrahan, who represented the parents of WISD, thought the first meeting was very informative and enjoyed being able to provide her "two cents."

"I'll take what I am learning about the new center and pass it along to the students at the Willis High School Career Center. I'll be able to get them excited about the new opportunities available for them at LSC-Conroe Center," said Hanrahan.

As the meeting came to a close, Dr. Austin Lane, president of LSC-Montgomery, pointed out that this group will lead the way when it comes to bringing increased higher education opportunities to the community.

"Our message to you and to the entire community is that we want to listen. We want to grow with you. We want to be the college of choice, and we are here to serve your students," said Lane.

The LSC-Conroe Center Community Advisory Group will meet every other month until the construction of the new facility is complete in January 2011, and quarterly thereafter.

The new LSC-Conroe Center will be located in Conroe, at 777 N. FM 3083 Road E., between Pollock Drive and TX Dot Road. The 67,000-square-foot academic building will include 12 general classrooms, eight computer labs, faculty offices, specialized science labs, a bookstore, library, and testing center.

A separate 16,000-square-foot industrial building will include two full-service bays for the automotive and diesel technology programs, as well as state-of-the-art training equipment for the welding, heating, ventilation, and air conditioning, and machining programs.

Anyone interested in learning more about the LSC-Conroe Center Community Advisory Group should contact Dr. Roberto Rodriguez at Jesus.R.Rodriguez@lonestar.edu.

For more information on the construction of the new LSC-Conroe Center, please visit www.LoneStar.edu/Montgomery, and click on Construction Updates.

LSC-Conroe Center is located at 102 Longview Street, just east of downtown Conroe on Highway 105 past the FM 1314 intersection. For more information about LSC-Conroe Center, call (936) 271-6000, or visit www.LoneStar.edu/conroe-center.

Lone Star College System consists of five colleges including LSC-CyFair, LSC-Kingwood, LSC-Montgomery, LSC-North Harris, and LSC-Tomball, six centers, LSC-University Center, LSC-University Park, Lone Star Corporate College, and LSC-Online. With more than 58,000 students in credit classes this fall, LSCS is the largest institution of higher education in the Houston area and third largest community college system in Texas. To learn more visit LoneStar.edu.