Grab your pencils and pens, and come celebrate the National Day of Writing on Tuesday, October 20, 2009, at Lone Star College-Montgomery's writing center, The Write Place @ LSC-Montgomery. From 10 a.m.-3 p.m., the center, which is located in Building C, will host a variety of free events for students, staff, and faculty, as well as the entire community.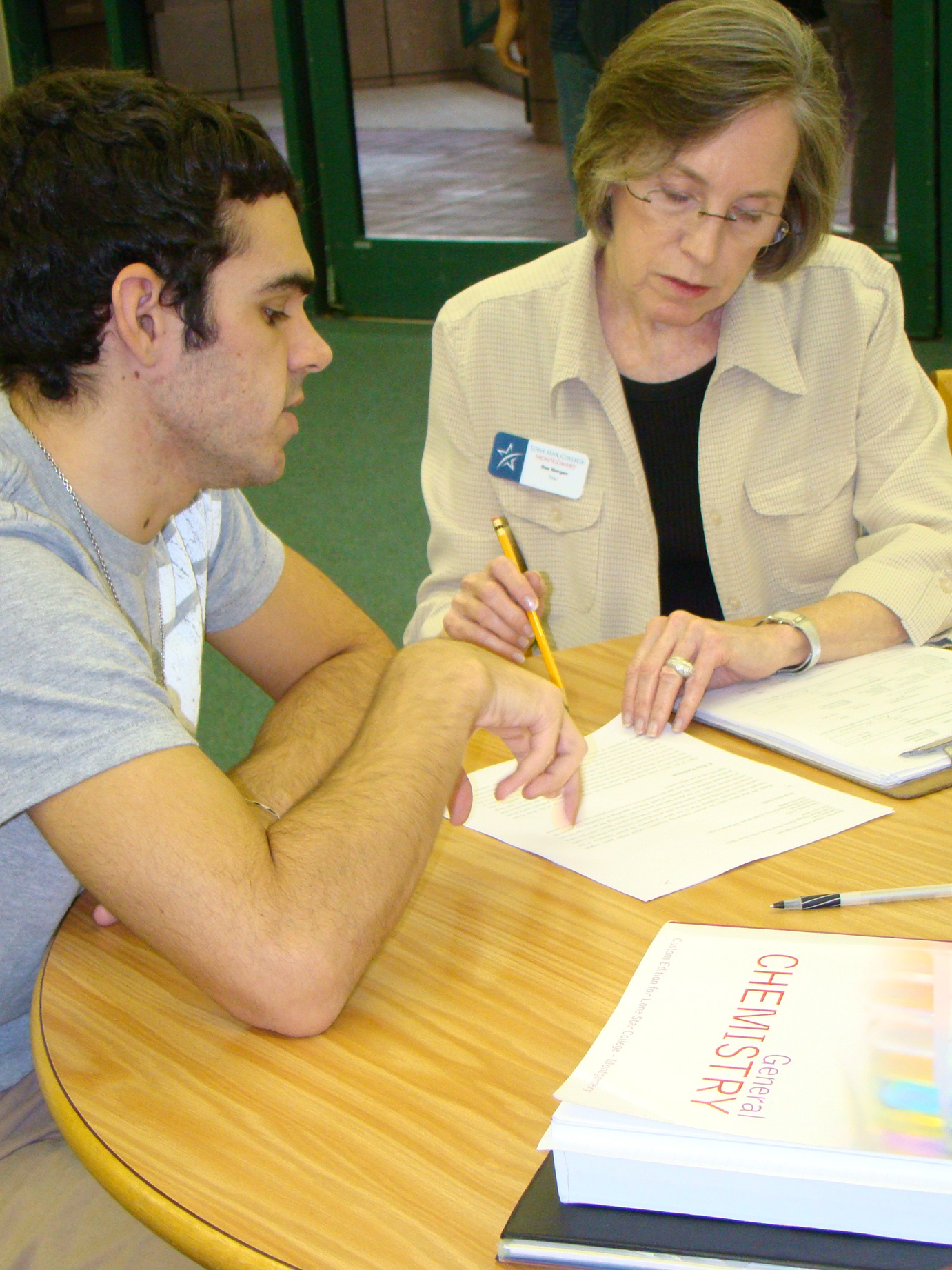 The main event is "Find Your Fortune," a fortune cookie writing contest. Attendees will crack open a fortune cookie, read their fortune, and write up to 100 words about it. Prizes will be awarded for the most creative, the most detailed, and the most surprising responses.

Attendees are also encouraged to "Share Your Fortune" by bringing a 'writing-related' food item to donate to the Interfaith Food Pantry, located in The Woodlands.

"We're encouraging students to get creative with their 'writing-related' food donations, bringing items like alphabet macaroni or soup, or even cereals that are shaped like letters," said Dr. Lori Hughes, professor of English and faculty advisor of The Write Place @ LSC-Montgomery.
An area will also be set up for attendees to write letters to soldiers who are serving our country overseas.

The National Day of Writing was established by the National Council of Teachers of English to bring awareness to the variety of writing that students engage in every day.

Hughes hopes that this celebration will increase awareness of writing, as it is a practice used by almost everyone on a daily basis, as well as increase the awareness of the assistance offered to students and the community at the writing center.

"This event will be an excellent opportunity to see the writing center, get to know some of the tutors and staff, and simply see that writing is a skill used in many different and often creative ways," said Hughes.


What 'The Write Place' Offers
The main goal of The Write Place @ LSC-Montgomery is to provide guidance for students, as well as community members, on any writing task. The tutors and staff work together to provide resources, increase self-confidence, and enhance personal and academic success for students.

"We do more than help students complete a writing assignment. We focus on the skills they need to become overall better writers," explained Hughes. "We help students solve their writing problems and build confidence in their ability to write."

Since June, Hughes has made the writing center her residence on campus in order to provide close, personal guidance and professional development for the center's tutors and staff. She has an extensive background in being a part of writing centers as both a tutor and administrator, and her dissertation focused on ways in which a full cross-curriculum writing center can best meet the needs of today's diverse student.

Hughes worked with Claudia Lange, LSC-Montgomery's reading and writing coordinator, to expand the center from simply providing tutoring services into a full-fledged writing center.

"The main difference between writing tutoring and a full writing center, like the one we now have on campus, is having someone like Hughes provide direct support to the tutors, staff, and students," explained Dr. Rhonda Spearman, director of instructional support services at LSC-Montgomery.

To better serve students, Hughes and Lange will continue to work closely with the tutors and staff, providing opportunities for education, personal growth, and professional expansion.

"Our professional tutors will have the chance to create some of the same items that our patrons struggle with, including letters, resumes and class assignments. This will give them an increased awareness of what the student is going through," said Lange.

Through discussions on writing theory, what it means to be a writing tutor, the history of writing, and how to create an online presence for the writing center, the staff and tutors will become even more focused on assisting students. The tutors will also have opportunities to read and write professional articles.

Making 'The Write Place' Work for You
Hughes and Lange hope to increase awareness of writing, as it is a practice used by almost everyone on a daily basis.

"Every job requires some sort of writing skills," said Lange. "We help students realize that writing is used everywhere–even in text messages or e-mails."

By offering writing contests, writing conferences, and peer-to-peer review—where students can experience true service learning by becoming writing tutors and helping their peers—they hope to continue to increase the center's capabilities. Hughes also hopes to establish an ongoing training workshop for those students interested in becoming a student/peer tutor.

When coming to The Write Place @ LSC-Montgomery, students do not need to have an assignment in hand—although if they do, the tutors will be happy to discuss it with them. Students should expect a brief question and answer discussion with their tutor to get the critical thinking process going.

"Students are sometimes unsure of what to expect when they come to the writing center," said Hughes. "We provide a non-threatening, neutral environment for students to ask questions and engage in a light-hearted, but focused discussion on their particular assignment or overall skills on which they need guidance."

"The tutors do not take ownership of a particular assignment, edit the piece, or make changes. They help students apply certain writing techniques to any writing task and sort it out through critical thinking," said Lange.

The Write Place @ LSC-Montgomery is open Monday - Thursday, 7:30 a.m. - 8 p.m.; Friday, 7:30 a.m. - 5 p.m.; Saturday 9 a.m. - 2 p.m.; and Sunday, 1 - 6 p.m. No appointment is required to meet with a tutor, but it is recommended that students call to schedule an appointment.

For more information on the services offered by The Write Place @ LSC-Montgomery, the upcoming student tutor training workshop, or the events being held for National Writing Day, contact Lori Hughes at (936) 273-7005 or Claudia Lange at (936) 273-7396.

LSC-Montgomery is located at 3200 College Park Drive, one-half mile west of Interstate 45, between Conroe and The Woodlands. For more information about the college, call (936) 273-7000, or visit www.LoneStar.edu/montgomery.

Lone Star College System consists of five colleges including LSC-CyFair, LSC-Kingwood, LSC-Montgomery, LSC-North Harris, and LSC-Tomball, six centers, LSC-University Center, LSC-University Park, Lone Star Corporate College, and LSC-Online. With more than 58,000 students in credit classes this fall, LSCS is the largest institution of higher education in the Houston area and third largest community college system in Texas. To learn more visit LoneStar.edu.