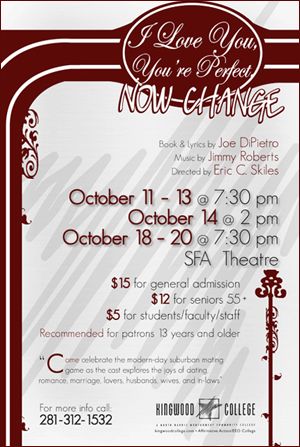 The public is invited to join theatrical players from the Lone Star College-Kingwood Drama Department for the upcoming stage production of "I Love You, You're Perfect, Now Change," celebrating the longest unbroken run in Off-Broadway musical history, barring, "The Fantasticks."
This love-happy hit musical has played more than 4,500 performances, surpassing the Broadway runs of such musicals as "My Fair Lady," "Annie," "South Pacific," "Oklahoma!," "Grease," "Miss Saigon," "42nd Street," "Fiddler on the Roof," and "Hello, Dolly!"
For 11 years now, Pat, a busy, busy woman, and Stan, a busy, busy man, have been rushing through their first date. Not fast enough for Pat, however, who each and every time greets Stan with: "What do you say we say goodnight and go right to the second date? You know what, Stan? What do you say we just skip the first, second, and third dates ..."
"Works for me," says Stan. "Or we could go right to where you ask me if this dress makes you look fat, and I don't answer quickly enough, and you don't speak to me for three days."
Pretty soon they're having their first fight, their first breakup, their first accidental reencounter while dating someone else, their first sad pro forma "We must get together sometime ..."
"I Love You, You're Perfect, Now change," celebrates the modern-day suburban mating game as the cast explores the joys of dating, romance, marriage, lovers, husbands, wives, and in-laws is written by playwright/lyricist Joe DiPietro and composer Jimmy Roberts.
"I've been waiting three years to get my hands on this one!" exclaims Eric C. Skiles, director of the production. "As an Artistic Director, this is the type of show you dream of...it is fast, funny, and honestly portrays all the craziness of modern relationships."
Although the show is written for four actors, Skiles has included 18 in the cast. "This show is easy to enlarge, because every scene contains different characters. We have an amazing cast of 18 students and community members - many of them are appearing on our stage for the first time - it's very exciting to watch it all come together."
The cast includes: Jesse Anholt, Sara Alavi, Hope Bradley, Fabi Cho, Danny Davila, Valerie Dunham, Lucas Farr, Judy Geiger, Mike Geiger, Erin Hill-Ramos, Kathryn Logue, Jennifer Marley, Amanda Merrick, Eric Peterson, Sean Rickert, John Schauf, Matt Silva, and Shawn Taylor.
Performances are scheduled for 7:30 p.m. on October 11-13 and October 18-20 with a matinee performance on Sunday, October 14 at 2 p.m. Tickets are $15 for general admission, $12 for seniors (55+) and $5 for students. All tickets can be purchased at the door. For more information, call 281-312-1532.
The Lone Star College System is among the largest and fastest growing community college districts in Texas. It comprises Lone Star College-North Harris, Lone Star College-Kingwood, Lone Star College–Tomball, Lone Star College–Montgomery, Lone Star College–CyFair, six satellite centers and The University Center. For more information about Lone Star College System and its programs, visit www.lonestar.edu or call 832-813-6500.