A college education is a priority for the Natal family – Carlos Natal, his wife Emma and their sons Carlos and Christopher – and they know first-hand that Lone Star College-CyFair offers something for everyone.
After his 20-year military career, the family's move from Florida three years ago and more recently, after being laid off, Carlos Natal returned to school as a full-time student. LSC-CyFair was close to home and had programs that were of interest to him. He chose to enroll in the Mechanical Engineering Technology Program in part because this workforce certificate program offers an associate's of applied science degree option.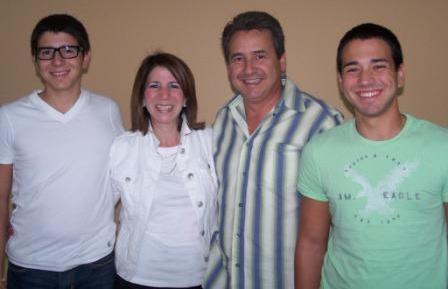 "Mechanical engineering is an extension of what I do in engineering field so it enhances skills I have plus it helps me further do my job," said Carlos Natal, who is taking evening classes at LSC-CyFair and LSC-North Harris this semester and is also juggling school and work as he was rehired.
"I've enjoyed every class I've taken, but it's a different experience for me than my family," he said. "When I was in college as a young kid like my kids now, professors never saw me or I didn't see them in the same way. I don't see professors as somebody on a pedestal; I see them as colleagues, where we actually interact."
Half-way to earning his degree and holding a 3.8 GPA, Carlos Natal said his wife was the first to return to school and she set the standard for grades with all A's.
"I am proud we are back in school," Emma said. "When in the military, it's hard to settle down and I was raising my family. Finally in my early 40s I was able to go to school. I wanted my husband to continue his education, too."
Having earned her associate's in Florida, Emma is now pursuing her bachelor's through a joint enrollment program between LSC-CyFair and University of Houston-Downtown (in which there are classes held at LSC-CyFair.)
"I am the oldest of five children in my family and I will be the first one graduating (in December 2010) from college," said Emma, who is currently a full-time librarian at Cy-Ridge High School and attends classes three evenings a week. "I want to become a bilingual elementary teacher."

Emma likes her professors, particularly Dr. John Burghduff, who helped her through fundamental math and advised her of the tutoring and library resources when she was preparing for the THEA test. She also likes the diversity at LSC-CyFair, which has students representing more than 70 countries.
"I raised my sons to be open-minded and respectful of other people's ideas and ways of life. I want them to interact with everyone. You can learn from them and they can learn from you," she said. "LSC-CyFair reinforces this and helps them see other points of view."
Carlos, the oldest son, is in his third semester at LSC-CyFair taking basics for an associate's degree before transferring to Texas A&M to study aviation and become a pilot. He said that he's enjoyed campus life, making friends, attending classes and working out in the wellness center, even after he completed his weight training class.
"The professors are there for you. They help you out and are understanding … Alex Hogan was really cool. He got us involved in class, in discussions, in activities on campus and we wrote papers about the events," said Carlos, who is making A's and B's.
While his parents attend evening classes, Carlos attends morning classes before going to work as a lifeguard in the afternoons. His brother Christopher also works as a lifeguard and will be a first-time college student at LSC-CyFair this spring.
"I really like art. Most of the time I do sculptures," said Christopher, who hopes to have a sculpture displayed in the Bosque Gallery on the Barker Cypress campus. "I will be studying to be an art teacher in high school."
The Natal family has their plate full balancing jobs, school and family, but it works for them when the mom stays organized, a son pitches in with housework, another son helps his father with trigonometry homework and everyone keeps Saturday evenings as popcorn and movie family time.
The family members are following different paths and just happen to be in college at the same time, but because education is a family priority, the goal is the same said Emma, "for all of us to make our dreams come true."
Registration is now under way for Winter mini-mester and Spring semester.