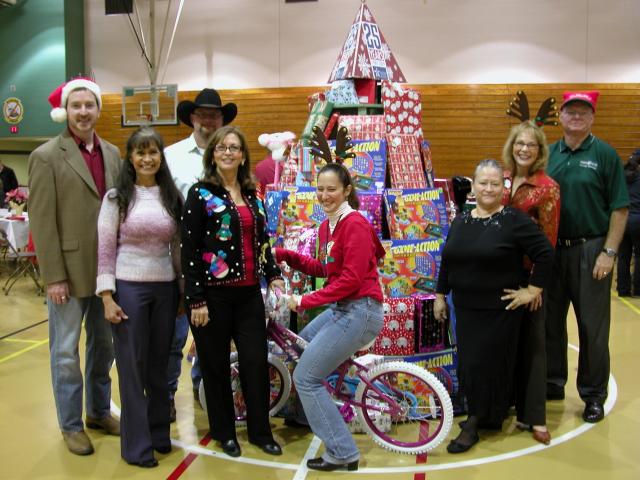 HOUSTON (Dec. 8, 2009) – Lone Star College-Kingwood is celebrating its 25th anniversary. As part of the year-long celebration, it held its annual Employee Holiday Party in the gym on Dec. 4 with the theme, "Holiday Memories through the Years." Employees enjoyed a catered meal and collected toys to be donated to a local charity.
The college's 25th-year Anniversary Committee collected the items until the day of the party and donated them to the Mission Northeast in New Caney.
"For many years, the college and The Mission have enjoyed a strong partnership. Through their educational program, The Mission sends its clients to Lone Star College-Kingwood to attend classes in nurses' aide, welding, phlebotomy, GED, and more," Maria McNease, committee chair, said. "The 25 Year Anniversary Committee wanted to donate to needy families in the immediate service area and chose The Mission. With the economy the way it is, we wanted to make sure that everyone had a chance at a Merry Christmas."
With more than 200 families that The Mission will serve this year, the donations from LSC-Kingwood will go towards approximately 300 to 350 adults and 600 to 700 children from newborns to 16-years-old. According to Pam Dickson, co-director, The Mission is the only agency that provides a special Christmas party for senior citizens. They will also deliver gifts to approximately 30 homebound seniors as well.
"We are absolutely thrilled to be designated as the recipient of these toys, gifts and food donations. We appreciate the support and generosity of Lone Star College-Kingwood," Dickson said.
Approximately 200 toys collected by the campus committee are a part of the 3,000 gifts that will be handed out to select families invited to shop for their loved ones at The Mission Northeast's Christmas Store on Dec. 19. The store, only open to The Mission's clients, allows parents/guardians and children to pick out gifts and wrap them for their family members. The organization provides gifts and gift wrapping at no cost to the clients, thanks to the generosity of the community, Dickson said.
"Our families come to The Mission and select gifts—there is an area where parents and grandparents select toys for the children and an area where the children select gifts from their parents or grandparents who are raising them. It is so important for the children to be able to show the adult(s) in their lives how much they love them by giving back," Dickson said. "These may be the only gifts the parents and grandparents receive. Volunteers help the kids wrap their presents; so it is a surprise on Christmas morning."
Register now for spring 2010 credit classes in one of three ways: phone, online or on campus. Classes are offered days, evenings, or weekends in traditional, Internet, video, TV and independent study formats. Current students can register by telephone at 281-519-6625. Former and current students can register online at www.LoneStar.edu/registration
Lone Star College System consists of five colleges, including LSC-CyFair, LSC-Kingwood, LSC-Montgomery, LSC-North Harris, and LSC-Tomball, six centers, LSC-University Center, LSC-University Park, Lone Star Corporate College, and LSC-Online. With more than 51,000 students in credit classes last fall, LSCS is the largest institution of higher education in the Houston area and third largest community college system in Texas. To learn more, visit http://www.lonestar.edu/.
For general information about Lone Star College-Kingwood, call 281-312-1600.