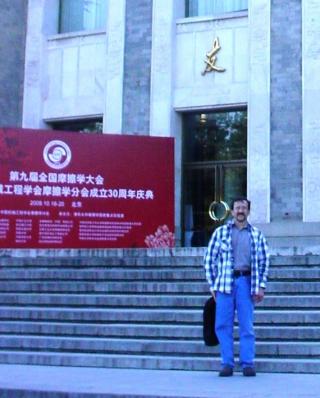 Dr. Brian Shmaefsky, biology professor and service learning coordinator at Lone Star College-Kingwood, was one out of five American scientists invited to speak at a conference at Peking University in Beijing, China.
HOUSTON (Dec. 9, 2009) – Selected as one out of five American scientists invited to speak at a conference in Beijing, China proved to be quite an honor for Dr. Brian Shmaefsky, professor of biology and service learning coordinator at Lone Star College-Kingwood.
He was invited to speak at the conference by Dr. Tim Hall of Texas A&M University and Dr. Hongya Gu of Peking University.
"It was an incredible honor and privilege to be asked to speak amongst notable scientists in my field. I did not believe it was going to happen and I was nervous right until I had to give my presentation at Peking University. What comforted me is that the scientists from both countries treated me as a peer," the professor said.
Shmaefsky spoke at the China-U.S. Relations Conference at Peking University in October based on his contribution to a new book called, "Transgenic crop Plants – Vol. 2 Utilization and Biosafety." His chapter dealt with the feasibility of genetically modified crops.
According to the professor, the meeting was a bilateral conference bringing together prominent governmental, business, and academic leaders from China and the United States to promote, strengthen, and expand academic and business collaborations between the two countries. This was the fourth in a series of conferences co-hosted by the Chinese People's Association of Friendship with Foreign Countries, Texas A&M University and its George Bush School of Government and Public Service and the George Bush Presidential Library Foundation.
"The conference taught me about the status of my field in China in addition to teaching me much about modern Chinese culture," Shmaefsky said. This was my first time working in person with the Chinese. I wrote business articles about Asian agricultural biotechnology for several years for economic development magazines in India."
In addition to speaking in Beijing, Shmaefsky spoke at other international events in Canada, Mexico and the Philippines. In April, the professor will be doing workshops in biotechnology at the Biotechnology Industries Organization conference in Chicago for a group from the Biotechnology Institute located in Washington D.C.
Shmaefsky did his undergraduate work in biology from Brooklyn College in New York City and his master's and doctoral studies at Southern Illinois University and the University of Illinois. He also did his graduate studies at Rocky Mountain Biological Laboratories. He has worked in his field for 25 years and has taught at Lone Star College-Kingwood for 16 years.
Register now for spring 2010 credit classes in one of three ways: phone, online or on campus. Classes are offered days, evenings, or weekends in traditional, Internet, video, TV and independent study formats. Current students can register by telephone at 281-519-6625. Former and current students can register online at www.LoneStar.edu/registration
For general information about Lone Star College-Kingwood, call 281-312-1600 or visit our Web site at http://lonestar.edu/kingwood.htm
Lone Star College System consists of five colleges, including LSC-CyFair, LSC-Kingwood, LSC-Montgomery, LSC-North Harris, and LSC-Tomball, six centers, LSC-University Center, LSC-University Park, Lone Star Corporate College, and LSC-Online. With more than 51,000 students in credit classes last fall, LSCS is the largest institution of higher education in the Houston area and third largest community college system in Texas. To learn more, visit www.LoneStar.edu.