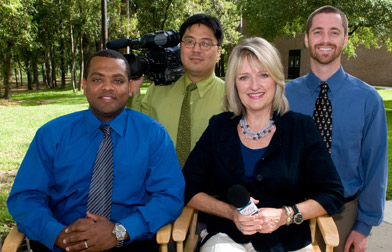 Lone Star College-Kingwood's cable station staff, Garrick Joubert, Linda Woehst, front, Dan Ko and Eddie Brega, earned three Ava Awards for their videos. This was the department's first time to participate in the contest.
HOUSTON (Dec. 8, 2009) – Expertise and dedication were certainly recipes for greatness when Lone Star College-TV Channel 42 at LSC-Kingwood earned three Ava Awards for its entries.
The staff submitted its videos in October and was excited to learn that all three earned recognition in the platinum, gold and honorable mention categories.
"This is a great honor for the LSC-TV team. We all put in countless hours here at the station and this type of recognition is a testament to the fact that our hard work is paying off," Garrick Joubert, program manager, said.
LSC-TV received a platinum award in the programs/issue category for its project, "Keeping Kingwood Green." This video, which highlighted the new recycling program, made the community and students aware that the college was moving closer to being a green campus.
"Dr. (Katherine) Persson, our college president, wanted it to have some humor but also wanted to give the message that recycling was is a great thing but, it needed to be done right. Trash goes into the trash bins and recycled goods go in the recycling bins," Joubert said.
The department also earned a gold award in the programs/documentary division for "Learning and Serving in the Philippines." This documentary focused on a group of LSC-Kingwood's students who went on a service learning trip to the Philippines. It highlighted the students preparing for their trip; their activities during the trip; and their overall experience after the trip. The third entry, "Photographing with Kathy Adams Clark, received honorable mention.
"I have two excellent video producers here on staff; Eddie Brega and Dan Ko, and with their talents, LSC-TV is in good hands for the future," Joubert said. I would like to thank them for their hard work, not only on these three projects but, all the projects that we produce."
According to a press release by Ava Awards, the Association of Marketing and Communication Professionals judged more than 1,700 entries submitted from throughout the United States and several countries overseas. Out of the total number of submissions, only 12 percent received a platinum award; 12 percent earned gold; and four percent obtained honorable mention status.
Register now for spring 2010 credit classes in one of three ways: phone, online or on campus. Classes are offered days, evenings, or weekends in traditional, Internet, video, TV and independent study formats. Current students can register by telephone at 281-519-6625. Former and current students can register online at www.LoneStar.edu/registration
Lone Star College System consists of five colleges, including LSC-CyFair, LSC-Kingwood, LSC-Montgomery, LSC-North Harris, and LSC-Tomball, six centers, LSC-University Center, LSC-University Park, Lone Star Corporate College, and LSC-Online. With more than 51,000 students in credit classes last fall, LSCS is the largest institution of higher education in the Houston area and third largest community college system in Texas. To learn more, visit http://www.lonestar.edu/.
For general information about Lone Star College-Kingwood, call 281-312-1600.