HOUSTON (Dec. 18) - Students in the Lone Star College-Kingwood's Education Program are working to make a difference in the lives of young people while they learn from experienced educators and administrators. The knowledge and skills they receive also come from being a member of the Be A Teacher Club on campus.
The club started in 2007 and is affiliated with the Texas State Teachers Association-Student Program. The campus club meets monthly on the second Tuesday at 12:30 pm in CLA 216.
"The Be A Teacher Club is an organization comprised of future teachers who want to get involved in what is going on around the campus and in the community. The members are diverse and from all backgrounds, but the one commonality is that they all want to be teachers" Noel Bezette, lead faculty of education at LSC-Kingwood, said. "The club meets once a month and has a variety of activities including speakers who address classroom management and how to develop relationships with students from day one."
The club, which has approximately 30 members, is involved in a variety of programs around campus and community activities. They are a part of a Reading Recovery program where they recruit volunteers to work with students at Piney Woods Elementary. Additionally, they participate in the learning garden on campus where they volunteer their time with students, ages 18 to 21, who are transitioning from Humble Independent School District's special education program into Project Connection, a life-skills program. Interested students who want to join the Be A Teacher Club must be in the college's Education Program. Although not a requirement, members are encouraged to join Texas State Teachers Association.
The need for teachers in Texas and across the nation is predicted to rise for the foreseeable future and that makes teaching a wise career choice. At Lone Star College-Kingwood students who want to pursue a career in teaching have several educational paths available to them.
For anyone interested in exploring those options, a joint information session with LSC-Kingwood and UHD will be held on the LSC-Kingwood campus on Monday, April 19th from 5 to 7 p.m. in Classroom Building A, room CLA 114. Advising, admissions and financial aid personnel from both UHD and LSC-Kingwood campuses will be on hand to answer any questions and give enrollment advice. This family-friendly session is free and open to anyone with an interest in becoming a teacher.
Students without a bachelor's degree can work towards an Associate of Arts in Teaching (AAT) and then explore the joint admissions program offered through the University of Houston-Downtown (UHD) to earn their bachelor's degree in teaching without ever having to leave the LSC-Kingwood campus. The program with UHD has grown more than 400 percent between fall 2007 and fall 2008.
Dr. Beth Pelz, Dean of the College of Public Service at UHD, said the program was designed to enhance student success, "We are committed to producing quality teachers."
Specialized tracks for current and future educators are: Early Childhood through Sixth Grade (EC-6); Early Childhood through Sixth Grade Bilingual (EC-6 Bilingual) and Fourth through Eighth Grade (4-8) Generalist. All tracks lead to initial Texas teacher certification.
"Through our collaboration with University of Houston-Downtown, students can now earn their bachelor's degree in teaching without having to leave LSC-Kingwood," Bezette said.
For information about the Associate of Arts in teaching and the UHD joint admissions program, contact Bezette at 281-312-1733 or noel.bezette@lonestar.eduor visit www.lonestar.edu/education-dept-kingwood.htm
On-site registration is available during the joint information session on April 19th. New students attending for the first time from other colleges or universities must have an official college transcript sent to Lone Star College-Kingwood prior to registration and should also complete the online admissions application at www.lonestar.edu/apply.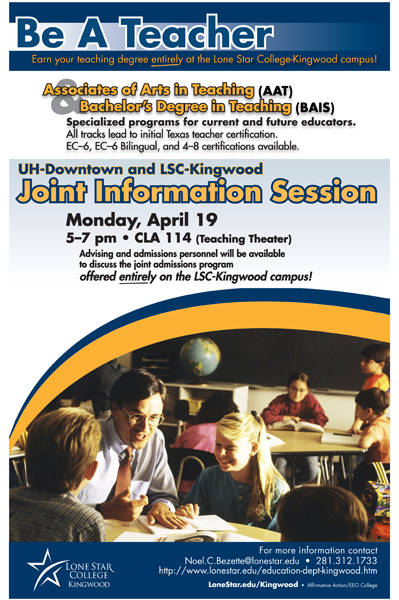 Register now for spring 2010 credit classes in one of three ways: phone, online or on campus. Classes are offered days, evenings, or weekends in traditional, Internet, video, TV and independent study formats. Current students can register by telephone at 281-591-6625. Former and current students can register online at www.LoneStar.edu/registration
For general information about Lone Star College-Kingwood, call 281-312-1600