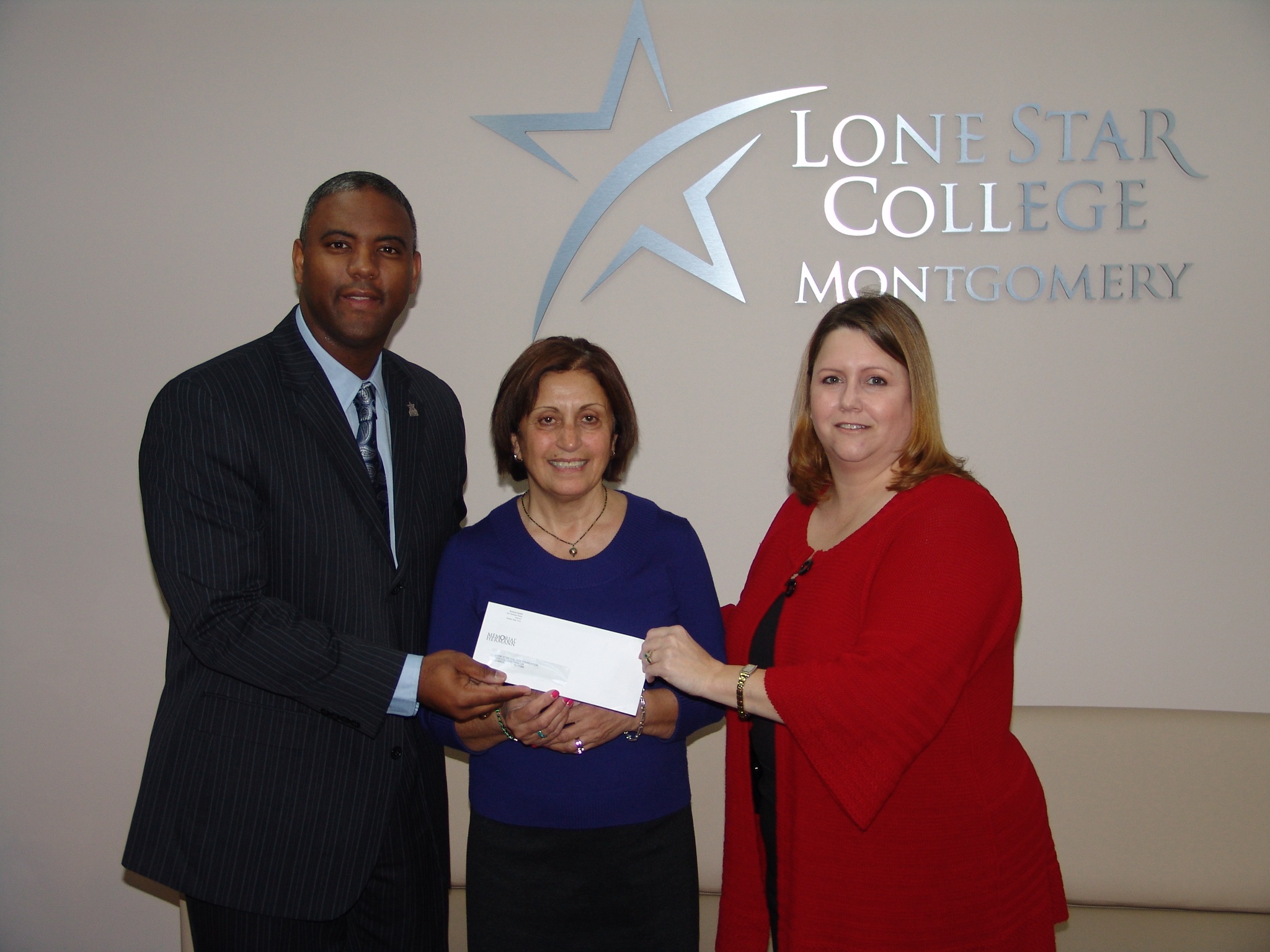 Recognizing the critical need for qualified nurses and building on a strong educational partnership, Memorial Hermann The Woodlands Hospital recently pledged to support Lone Star College-Montgomery with a dedicated salary for an additional nursing faculty member.

This is the second year that the hospital has made this annual contribution to the college, totaling $108,000 over two years. Their generosity has allowed the college to continue to expand its nursing program, offering more and more students the opportunity to enter the nursing field.

"We are grateful for Memorial Hermann The Woodlands' investment in our nursing program and our nursing students," said Dr. Austin A. Lane, president of LSC-Montgomery. "Our program demands intense faculty interaction with our students, and an additional instructor will allow the opportunity for LSC-Montgomery to generate more qualified applicants to serve their community in the nursing profession."

According to Jacquenette Chambers-McBride, the new interim chief nursing officer at Memorial Hermann The Woodlands, the hospital actively employs many from LSC-Montgomery's nursing program as professional student nurses who are then often hired full time after completion of their nursing curriculum.

LSC-Montgomery offers several nursing programs, including the basic associate degree nursing (ADN) track, licensed vocational nursing (LVN), and a transition to professional nursing track for those LVNs and paramedics desiring to pursue the ADN track. The college also offers a certified nurse assistant (CNA) program.

Normally, the college has 114 students enrolled in its ADN and LVN programs. Now, with the recent contribution from Memorial Hermann The Woodlands, the college will be able to expand the program by almost 10 percent, adding 10 students for the upcoming 2010-11 academic year—and each year thereafter.

According to Manijeh Azhang Scott, director of the LSC-Montgomery nursing program, the hospital's contribution couldn't come at a better time, considering the ongoing nursing shortage—both locally and nationally.

"The need for highly qualified nurses in Montgomery County and the surrounding area has only increased over time," said Azhang Scott. "Our students are highly sought after once they complete their program and pass the Board of Nursing's certification/registration exam."

Nationally, the shortage of registered nurses could reach as high as 500,000 by 2025 according to a report released in March 2008 by Dr. Peter Buerhaus of Vanderbilt University School of Nursing, Dr. Douglas Staiger of Dartmouth University, and Dr. David Auerbach of the Congressional Budget Office. The report found that the demand for RNs is expected to grow by 2-3 percent each year.

For more information about LSC-Montgomery's nursing program, visit www.LoneStar.edu/nursing-dept-montgomery; or call (936) 273-7030 and ask about the dates of the upcoming information sessions.

LSC-Montgomery is located at 3200 College Park Drive, one-half mile west of Interstate 45, between Conroe and The Woodlands. For more information about the college, call (936) 273-7000, or visit www.LoneStar.edu/montgomery.

Lone Star College System consists of five colleges including LSC-CyFair, LSC-Kingwood, LSC-Montgomery, LSC-North Harris, and LSC-Tomball, six centers, LSC-University Center, LSC-University Park, Lone Star Corporate College, and LSC-Online. With more than 58,000 students in credit classes this fall, LSCS is the largest institution of higher education in the Houston area and third largest community college system in Texas. To learn more visit LoneStar.edu.