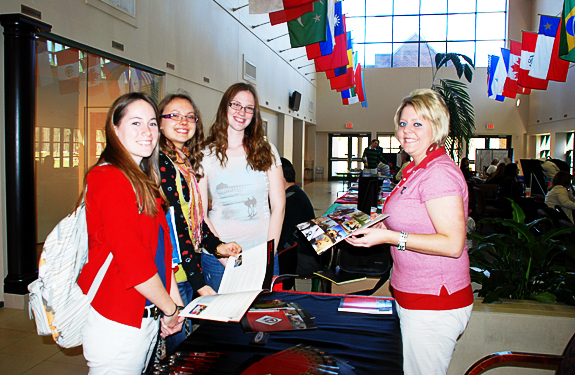 HOUSTON (Jan. 13, 2010) – High school graduates and non-traditional students are encouraged to attend Lone Star College-Kingwood's open house on Saturday, Feb. 13 from 10 a.m. to 1:30 p.m. in the Student Fine Arts Center. Interested students and parents will learn first-hand regarding programs offered at the campus. Attendees are asked to RSVP for the event by Tuesday, Feb. 9.
"I want to make the students feel like LSC-Kingwood is their home. We are here to help them in any way that we can in bridging the gap between high school and college. In addition to working with recent high school graduates, we also want to start an initiative to bring in and make non-traditional students aware and comfortable with our campus and the programs we offer," Thomas Sneed, coordinator of Outreach and Recruitment, said.
The free open house will feature a variety of programs. Prospective students will receive a tour of the campus and get details on the admission process, financial aid, and student life. Information will also be given from specific departments such as Behavioral Sciences, Disability Services, Continuing Education, Distance Education and more.
To RSVP for the open house by Feb. 9, visit http://wwwappskc.lonestar.edu/cgi/recruit/rsvp.cfm. For more details on the recruitment process, call 281.318.4307 or 281.312.1600.
The office of Outreach and Recruitment provides information about LSC-Kingwood to the public and prospective students. The goal of the office is to help begin the college application process by providing access to the college community. The office also provides tours of the campus Tuesdays through Fridays at 10 a.m. To receive a campus tour, students must register at http://www.lonestar.edu/recruiting-kingwood.htm
Register now for spring 2010 credit classes in one of three ways: phone, online or on campus. Classes are offered days, evenings, or weekends in traditional, Internet, video, TV and independent study formats. Current students can register by telephone at 281-591-6625. Former and current students can register online at www.LoneStar.edu/registration. For general information about Lone Star College-Kingwood, call 281-312-1600 or visit our Web site at http://lonestar.edu/kingwood.htm
Lone Star College System consists of five colleges, including LSC-CyFair, LSC-Kingwood, LSC-Montgomery, LSC-North Harris, and LSC-Tomball, six centers, LSC-University Center, LSC-University Park, Lone Star Corporate College, and LSC-Online. With more than 51,000 students in credit classes last fall, LSCS is the largest institution of higher education in the Houston area and third largest community college system in Texas. To learn more, visit www.LoneStar.edu.