What do a former owner of a woman's boutique, Hermann LifeFlight medic, school librarian and avian biologist with Harris County Mosquito Control have in common? All roads led them to teaching at Lone Star College-CyFair where they were recently named this year's Faculty Excellence Award winners.
The winners (below from left) - Melinda Becker, Dean Campa, Sharon Miller and Clay White – experienced shock, pride and honor to be chosen from among the college's "creative," "innovative," "extremely high-caliber" and "top-notch" faculty. These four took different routes to their career in education, but all say they have no plans to leave teaching any time soon. They are too excited about what they do to help students succeed in college and beyond as well as where and who they work with each day.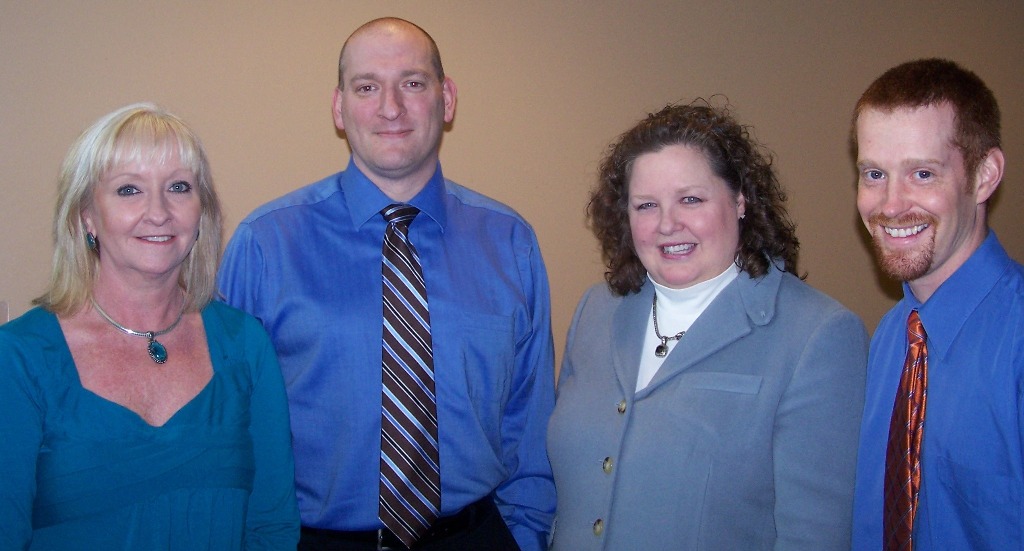 BECKER -----------------------------------------

Becker, an outgoing, personable and interactive marketing professor, once thought owning a business was her career goal.
"But it's not all about money anymore. It's about passion for what you do," said Becker, the first full-time faculty member hired at LSC-CyFair. "I enjoy teaching students, my interaction with them and watching them grow and flourish."
Becker's classes have little lecturing as everything she does is hands-on. She wants students to understand not just the textbook materials but to experience and apply the concepts. So she provides relevant projects such as partnering with the former Texas Copperheads (arena football team) to design marketing plans.
"Marketing is very tech-prep and applicable in their lives right now," she said. "I enjoy hearing how they take what they learn and how they apply it at their job."
As sponsor of Delta Epsilon Chi, Becker also has fun watching students participate in state and national conferences.
"I've seen them really develop their leadership skills and self-esteem, realizing how intelligent they are, how much they know and that they can compete against four-year universities," she said.

CAMPA -----------------------------------------
A last-minute decision took Campa from a military career as a medic to a public service career specifically in Emergency Medical Services starting in 1990.The camaraderie, desire to help, giving back to the community and bringing "calmness to chaos" has kept Campa interested in EMS.
"When I leave a scene, it should be better than when I got there … I find it rewarding," he said. "I know my patient will get better, get worse or stay the same. I have a visual confirmation of my performance."
Prior to his full-time position as associate professor of EMS at LSC-CyFair, Campa spent 10 years with Hermann Lifeflight. As his extra public relations duties and lifeflight education opportunities grew, so did Campa's desire to teach. At LSC-CyFair, Campa began as a clinic instructor, then adjunct and now full-time since 2006.
Campa likes all styles of teaching such as hands-on, using the chalkboard, PowerPoints but not textbook just key words to launch him into the topic or an outline note formats of lectures to help those with poor note-taking skills. He will poll his students and change his format to meet their needs.
"I'm very animated according to students and faculty … I tend to ask a lot of questions and use the answers, right or wrong, to pull from and redirect discussion," said Campa. "I love change. Change is good. It keeps you alive and makes you feel and keeps you from becoming complacent."
Campa agrees with a statement his father (Dr. Earl Campa, former LSC-CyFair Vice President for Student Success) made years ago that there's "too many things in this world I want to do to just pick one." His father was a police officer, counselor, held various academic positions and retired twice so far.
"I always have to be working toward something otherwise I feel it gets stagnate," said Campa, who's new goal is to start graduate school next fall or spring.
MILLER ---------------------------------------------
Miller, whose mother and grandmother were teachers, is always in a learning mode through professional development on accelerated learning as well as research on learning styles. She will focus as lead faculty this spring on National Association Developmental Education Certification at LSC-CyFair. This benefits her Transitional English students.
"We need to know the latest in brain research, to try a lot of different things and to present many ways to capture students' multiple intelligences. My students are largely kinesthetic learners. When I can make it physically active, they figure out they can learn like everyone else and be successful," said Miller, who found she had a gift teaching developmental studies when she was an adjunct at LSC-North Harris. "That was when I started adding creative games, activities and throwing a koosh ball to control discussions."
Very aware of the different types of learners in her class, Miller focuses on active learning drawing on many experiences from her time as librarian, yearbook and newspaper advisor or teacher at the elementary and/or high school level to a highly-engaging stint in youth ministry. As a stay-at-home mom, she volunteered in school projects, National Charity League, Habitat for Humanity and community assistance ministries.
"At the college level, there is a lot of freedom to do the right thing to teach the way students learn," said Miller, who is also LSC-CyFair's Piper Professor Nominee.
It's the opportunity to impact people and change lives that keeps her in education. Her philosophy is that everyone can learn. After reading the research and training in Accelerated Learning, Miller redesigned a Writing I course last fall that resulted in tremendous student success. Two students in the class actually retested with high enough scores to enroll in credit classes this spring. "I am always learning too!" she said.
"As a freshman teacher, I think I have to make every single day count. Students needs to know they are important, welcome, can learn and it's going to be an exciting day," she said. "If they're successful that first semester, they will stay and persist to a degree. The work is the student's work and my job is to make class time enticing, fun and rewarding and out of class assignments meaningful and worthwhile."
WHITE --------------------------------------------
Fun is also a key element in White's biology classes where to keep students engaged and active, he tells stories that relate to topics and draws students into the conversation and hosts "Price is Right" type games to teach about viruses in different stages of replication.
"The first day, I tell my students three things," he said. "One, you will have fun and laugh from time to time and enjoy the class. Two, I will without a doubt challenge you. And three, if you accept the first two things, you will walk away learning far more than you expected or ever thought possible."
White said he tries to create a relaxed, student-friendly open environment so that they are willing to participate in lecture discussions and never afraid to ask even the simplest of questions. His labs are hands-on and often taught in the natural outdoor environment among the plants and animals on the Barker Cypress campus.
"We learn by experiencing biology in the outdoor learning lab and natural ecosystem found here on our campus," said White, a naturalist who is interested in all aspects of organismal biology. "I do a lot of outside teaching using the campus for turtle trapping, catching birds or setting box traps to catch rodents. Our natural environment is an awesome opportunity for me to teach how we can create a college landscape that is beneficial for wildlife."
Making an impact on students, biology majors or not, and teaching on a campus with top-notch faculty and a natural environment for his labs, makes this a dream job for White, who once worked for Harris County capturing and testing birds for West Nile Virus.
"I can't imagine doing anything else," he said. "I don't feel like I have a job. I wake up in the morning and come do what I want to be doing."
Becker, Campa, Miller and White will be recognized as Faculty Excellence Award winners at the Lone Star College System's annual awards banquet Feb. 26. For information on any Lone Star College, go to LoneStar.edu.