Hard work and dedication in the education field are just two of the many reasons why Pat Chandler was one of 12 honored at FamilyTime Crisis and Counseling Center's annual Women of Achievement Gala Jan. 30.
Each year, FamilyTime, a nonprofit organization in Humble that helps victims of domestic violence, selects women who have made significant contributions in their communities. Those women are honored at the Women of Achievement Gala, a fundraiser that helps the organization provide needed services to its clients.
"I have never received an award like this before and am incredibly honored," Chandler said. "I will continue to try to make a contribution to the community."
Chandler, program manager for Continuing Education at Lone Star College-Kingwood, began her career in education after working 20 years in the business industry; the last 13 years were at Tenneco, Inc. With her degree in Business Education from Auburn University, the award recipient heads up the college's Academy for Lifelong Learners, a program that provides classes and activities for senior citizens age 50 or older for a nominal fee. She also provides instructors for and manages a $160,000 contract that supplies training via a Texas Department of Criminal Justice Youthful Offender Grant with Lychner State Jail in Atascocita.
"After 20 years in the industry, I knew I needed a change in my career. I had taught at the college during the evenings and felt a desire to move into education," Chandler said.
Now in her 17th year in education at the college, Chandler said that her source of inspiration comes from her passion and talent for what she is currently doing as well as from her family and personal life.
"Since caring for both my parents in the last years of their lives, I have made it my personal goal to try to care for and support senior citizens," Chandler said. ""My personal motivation comes from having a wonderful marriage, incredible friends and a positive attitude."
Chandler has been married to her husband, Tom, a retired Colonel in the United States Marine Corps, for 33 years. She has a stepson who lives in Kingwood with his wife and 14 assorted nieces and nephews. Besides her family, she also cares for her Beagle-Bassett mix dog, Ranger.
"My goals in life are to continue to work in education in an area that taps into my intelligence and fuels my passion and to use the talents and gifts God has given me to make a positive contribution in this world," she said.
In addition to being with her family and working at LSC-Kingwood, Chandler spends her spare time experimenting with different recipes, gardening, and picking up trash on the greenbelt and neighborhood while walking with her husband and dog.
For general information about Lone Star College-Kingwood, call 281-312-1600 or visit our web site at http://lonestar.edu/kingwood.htm
Lone Star College System consists of five colleges, including LSC-CyFair, LSC-Kingwood, LSC-Montgomery, LSC-North Harris, and LSC-Tomball, six centers, LSC-University Center, LSC-University Park, Lone Star Corporate College, and LSC-Online. With more than 51,000 students in credit classes last fall, LSCS is the largest institution of higher education in the Houston area and third largest community college system in Texas. To learn more, visit www.LoneStar.edu.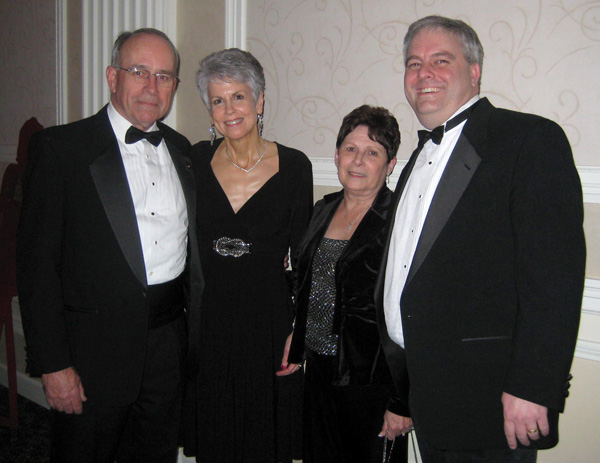 Pat Chandler, second from left, was one of 12 women honored at the annual Women of Achievement Gala sponsored by FamilyTime Crisis and Counseling Center in Humble. Chandler, pictured with her husband Tom, daughter-in-law Leslie and stepson Dean, is program manager for Continuing Education at Lone Star College-Kingwood.