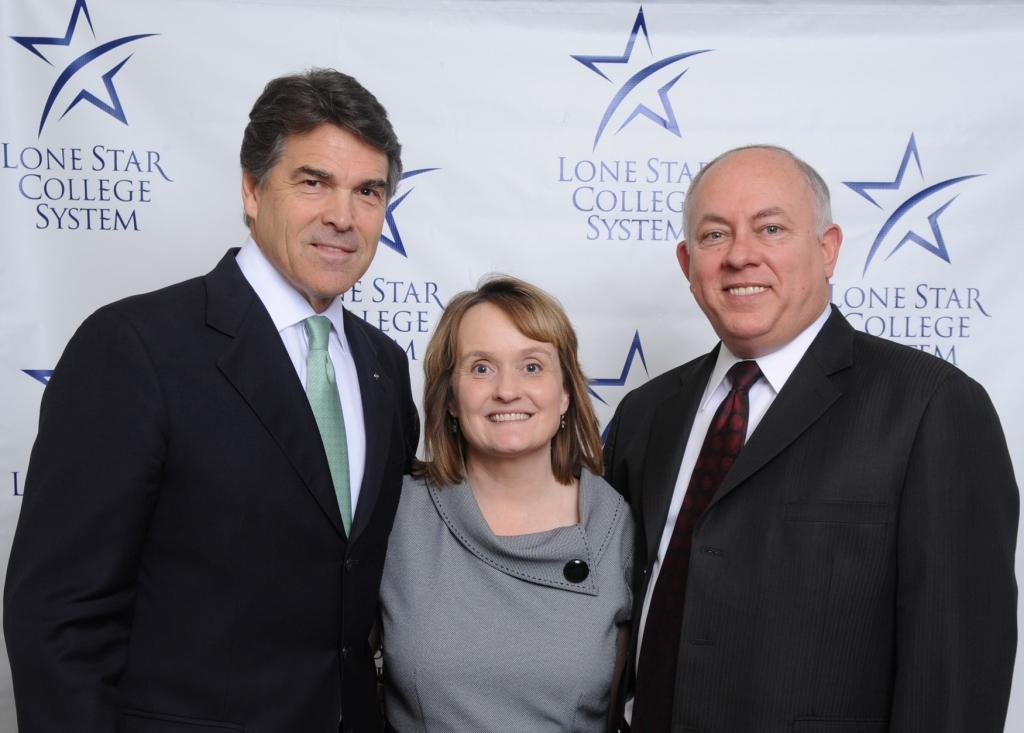 Hundreds of guests were on hand at LSC-University Park as part of the Houston North Economic Symposium on Feb. 11 to hear Texas Gov. Rick Perry discuss the Texas and Houston-area economies.
The symposium was hosted by ProfilesHouston.com Magazine, along with the North Houston Association, the Houston North Economic Forum, and the Greater Tomball Area, Lake Houston Area, Houston Northwest and Houston Intercontinental chambers of commerce.
"Although Texas leads the nation in so many positive categories – from Fortune 500 companies to job creation – we owe it to our citizens to strive for more," Perry told the breakfast group. "We need to stay ahead of our country's tough economic situation by adhering to proven conservative fiscal disciplines.
"People still want a few basic things from their government, starting with freedom," he said. "They want to live their lives free of oppression to make a dollar and the ability to keep more of what they earn and have a safe place to live.
"Here in Texas, we believe that the government's job is to stick to the basics, sustain a competitive culture, and then get out of the way," Perry said.
Other speakers at the event, in addition to Gov. Perry, included: State Sen. Dan Patrick, District 7: State Rep. Patricia Harless, District 126; State Rep. Debbie Riddle, District 150; Jerry Eversole, Harris County Commissioner, Pct. 4; Craig Doyal, Montgomery County Commissioner, Pct. 2; and Dr. Richard Carpenter, LSCS chancellor .
Commissioner Eversole told the attendees that Harris County is in a financial stretch for the first time in 20 years. At the same time, Eversole was optimistic. "Things have bottomed out and should be moving upwards in 2010," he said.
Eversole praised college officials for the new facility at LSC-University Park and said it would "go down in history" as one of the most important things to happen to the northwest Harris County area.
Texas Sen. Patrick said that the entire nation would be looking at LSC-University Park. "This is a model for the United States, and definitely for Texas," Patrick said.
LSC-University Park opened in January with about 4,000 students, and in addition to two-year degrees, will offer four-year degrees later this year through a partnership with multiple four-year universities.
"I believe that within less than 10 years, there will be 16,000 to 20,000 students on this campus," Patrick said.
The symposium at LSC-University Park was held to analyze the greater north Houston area's economic issues and to allow the participants to create shared visions for the future, along with innovative strategies to accomplish the visions set.
Lone Star College System consists of five colleges including LSC-CyFair, LSC-Kingwood, LSC-Montgomery, LSC-North Harris, and LSC-Tomball, six centers, LSC-University Park, LSC-University Center @ Montgomery, LSC-University Center @ University Park, Lone Star Corporate College, and LSC-Online. With more than 62,000 students in credit classes this spring, LSCS is the second largest and the fastest-growing community college system in Texas and the largest institution of higher education in the Houston area. To learn more visit LoneStar.edu.
###