Najwa E. Mata named 2010 recipient of $1,000 Judy Taylor Scholarship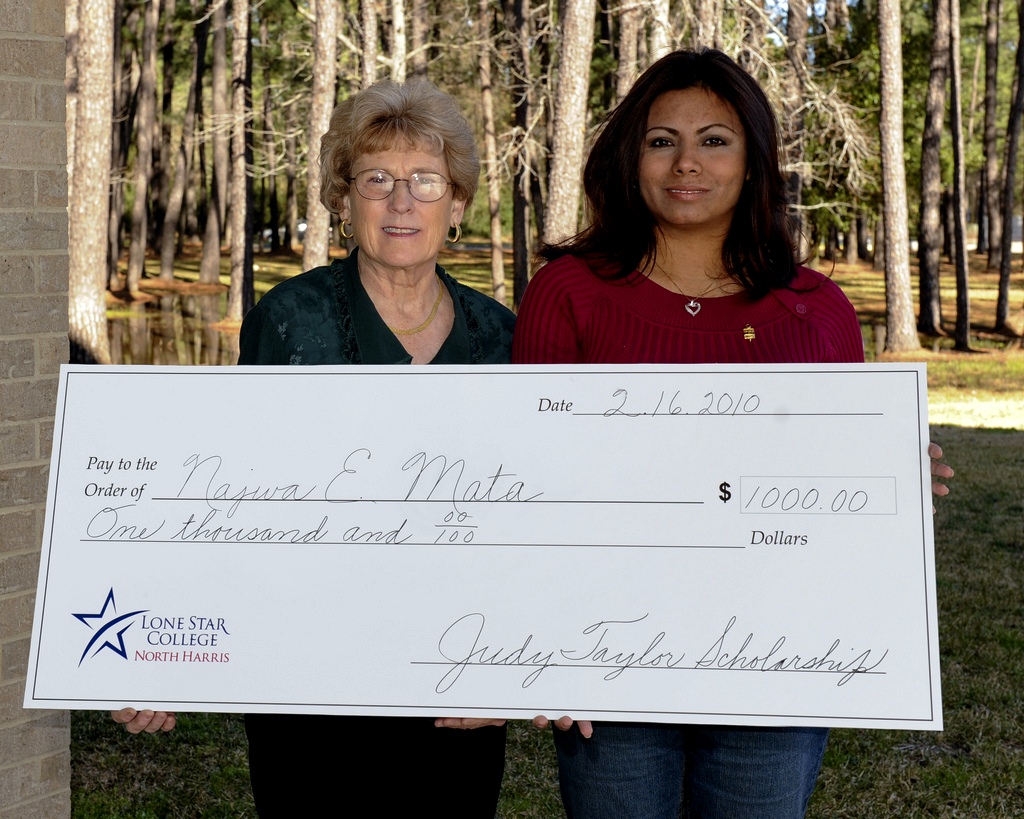 Photo id:
Left to right Judy Taylor, LSC-North Harris, professor of math and Najwa Mata, LSC-North Harris student and recipient of the 2010 Judy Taylor Scholarship.

College can be a time of great hope and liveliness—but that's not always the case. Some students are forced to make a difficult choice between completing their education or leaving school to cope with a serious personal illness or a family member in poor health. When a student has a serious illness or is worried about someone in the family, it is hard to think beyond the next treatment, much less study for exams and complete homework assignments on time. Pile on top of that the serious financial woes and cost of health care and you have a perfect scenario for a student giving up their dream of a college education. For Najwa E. Mata, recipient of the 2010 Judy Taylor Scholarship, the financial burden was recently made a little bit lighter.

This unique scholarship provides financial assistance to a deserving student who is dealing with a catastrophic medical situation while pursuing an education at Lone Star College-North Harris. Funds for the award come from the Judy Taylor Endowed Scholarship account created in honor of LSC-North Harris' faculty member Judy Taylor. Taylor has courageously battled metastatic melanoma cancer while continuing to teach math students in the mathematics, engineering and natural sciences division. This year's award was possible due to the endowment monies, which produces a $1,000 scholarship each and every year for perpetuity. A few years ago, college friends, faculty, staff and students, hosted numerous fundraisers and sponsored the scholarship fund as a tribute to Taylor.

Mata left Mexico City traveling to the United States seeking medical attention for what she would soon learn was a serious illness. She had no idea of the financial devastation she and her husband would face. However, while seeking treatment, she decided to pursue a college degree to nurture her love of math, but the financial demands would make the quest all but impossible. Until, she received the news that she would receive the Judy Taylor Scholarship. "I could not have done it without the scholarship," says Mata. Mata will graduate from LSC-North Harris this May.

Lone Star College-North Harris is located at 2700 W.W. Thorne Drive, one-half mile south of FM 1960 E, between Aldine-Westfield and Hardy Roads. For more information about the college, call 281.618.5400 or visit: lonestar.edu/northharris

Lone Star College System consists of five colleges including LSC-CyFair, LSC-Kingwood, LSC-Montgomery, LSC-North Harris, and LSC-Tomball, six centers, LSC-University Center, LSC-University Park, Lone Star Corporate College, and LSC-Online. With more than 62,000 students in credit classes this fall, LSCS is the largest institution of higher education in the Houston area and third largest community college system in Texas. To learn more visit LoneStar.edu.

###


Mar. 5, 2010
FOR IMMEDIATE RELEASE
Media Contact:
C.C. Sutphen
281.618.5425, desk
281.639.6381, cell