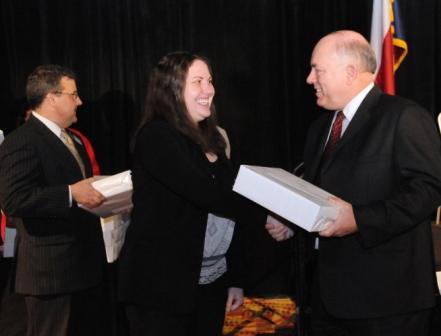 (March 5, 2010) – Lone Star College System recognized long-time employees and work of excellence as part of its 2010 Employee Awards Luncheon held Feb. 26 at The Woodlands Marriott.
More than 1,400 employees gathered for the event where workers were recognized with awards for five to 30 years of service. In addition, LSCS awarded its Faculty Excellence, Adjunct Faculty Excellence and Staff Excellence awards, recognizing individuals for their superior service to the college system. A number of staff and faculty were also recognized for their published writing with the annual Writing Awards.
The employees and guests were welcomed by Chancellor Dr. Richard Carpenter, who introduced the executive staff including college presidents and vice chancellors, as well as members of the LSCS Board of Trustees.
Trustee Dr. Richard Campbell also addressed the employees at the lunch gathering. The theme for the 2010 luncheon was "New Heights of Excellence."
"At board meetings, we hear of the success of our colleges, which makes us proud as trustees," Campbell said. "What we provide at Lone Star College cannot be replicated in a four-year institution.
"When we have students who come to us that are knowledge-impaired, you re-ignite the joy and love of learning in those students and help them achieve their dreams," he said.
Campbell encouraged the LSCS employees to continue to strive for excellence. "We are always able to do better," Campbell said. "The board is proud of what you do … make Lone Star College the best."
Nearly 80 staff and faculty members were recognized for their efforts through the excellence and writing categories. In addition, eight employees were recognized for serving at LSCS for 30 years; five were recognized for 25 years of service; and 22 were honored for 20 years of employment. Also, another 54 LSCS workers were honored for 15 years of service; 78 employees hit the 10-year mark; and 127 staff and faculty were recognized for five years of service.
Lone Star College System consists of five colleges including LSC-CyFair, LSC-Kingwood, LSC-Montgomery, LSC-North Harris, and LSC-Tomball, six centers, LSC-University Park, LSC-University Center @ Montgomery, LSC-University Center @ University Park, Lone Star Corporate College, and LSC-Online. With more than 62,000 students in credit classes this spring, LSCS is the second largest and the fastest-growing community college system in Texas and the largest institution of higher education in the Houston area. To learn more visit LoneStar.edu.
###