HOUSTON (March 8, 2010) - John Turner, Lone Star College-Kingwood's Student Government Association advisor, and Sean Stout, SGA president, were recently honored during the Texas Junior College Student Government Association Region V Spring General Assembly. Turner was selected as the TJCSGA Region V Advisor of the Year and Stout was selected as the TJCSGA Region V Student of the Year for 2009-2010. Lone Star College-Kingwood has spent the 2009-2010 academic year serving as the Region V Presidency and Advisor College.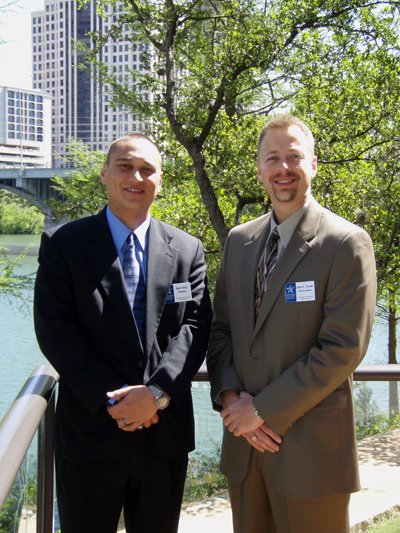 The Texas Junior College Student Government Association is the only student maintained organization in the state that works to promote the cause of community college students at the local, regional, state and national level. It is comprised of more than 72 member colleges across the state. The member colleges are divided into six regional districts drawn at the county level. Twenty of these colleges represent Region V, which encompasses most of the counties in and around the Houston area and represent nearly 200,000 students.
Turner and Stout were nominated during the recent General Assembly and were ranked along with the other nominees based on their roles in their local SGA and within Region V as well as their various involvements outside of campus. Turner will represent Region V and will be ranked along with the five other state regional winners to compete at the TJCSGA State Convention for the Joel Franke Memorial Advisor of the Year Award. Stout will also represent Region V with five other selections for the annual Student of the Year Award.
"Having been nominated by our students and then ranked on merit by a cross-section of students from various colleges across our region makes this award very special to me," says Turner. "Lone Star College-Kingwood has spent the last year as the regional advisor college and getting the opportunity to help our students as they lead and serve, has been a most rewarding experience in itself. This award is simply icing on the cake!"
Stout reflects a similar attitude. "It's not often that a student gets the opportunities that I've been given, both at LSC-Kingwood and as the sitting president for the TJCSGA Region V. I have grown as a leader and a person through my involvement with the Student Government Association."
Turner agrees. "Sean is a unique student and has been the perfect example of someone whose interest in leadership was cultivated and honed to the point where he has been honored by his peers. I'm very, very proud of him. He has been a force for change and a representative of the will of the students at Kingwood and Region V. When he graduates, he'll be sorely missed on this campus. Fortunately, his leadership has allowed us to attract other students who are excited to help keep the bar at the level Sean has set."
For more information on the LSC-Kingwood Student Government Association or the TJCSGA Region V, please contact John Turner at 281-312-1795 or jturner@lonestar.edu.
Register now for May mini-term, summer I and summer II 2010 credit classes in one of three ways: phone, online or on campus. Classes are offered days, evenings, or weekends in traditional, Internet, video, TV and independent study formats. Current students can register by telephone at 281-591-6625. Former and current students can register online at www.LoneStar.edu/registration
For general information about Lone Star College-Kingwood, call 281-312-1600 or visit our Web site at http://lonestar.edu/kingwood.htm
Lone Star College System consists of five colleges, including LSC-CyFair, LSC-Kingwood, LSC-Montgomery, LSC-North Harris, and LSC-Tomball, six centers, LSC-University Center, LSC-University Park, Lone Star Corporate College, and LSC-Online. With more than 62,000 students in credit classes and 19,000 in continuing education classes this spring, LSCS is the largest institution of higher education in the Houston area and third largest community college system in Texas. To learn more, visit http://www.lonestar.edu/.