HOUSTON (Feb. 17, 2010) – Designing a space for lofts worth $400,000 to $2 million is something one might expect to do if they were on HGTV, not for a college project. Interior Design students at Lone Star College-Kingwood participated in the 2010 Houston Showrise event at The Commerce Towers and used that opportunity to hone their skills and tap into their creative side to come with a fresh look.
The project involved a high-rise apartment in downtown Houston where both professional designers and students were invited to design/decorate a space for the building's grand opening," Susan Ouren, interior design professor at LSC-Kingwood, said. "Our students were assigned a guest bedroom and bath."
Ouren said the scope of the project required students to source everything in their space from local shops and vendors; coordinate pick-up and delivery of items; and complete the final move-in and set-up themselves. According to the contributing students, the project afforded them the opportunity to utilize their skills such as communicating with vendors; delivering and returning; sewing and window treatment construction; installing a variety of items; and more. Students, who participated in the 2010 Houston Showrise competition, were Becky Gray, Tara McGuffin, Chandra Golding and Nicole Mathews.
"The opportunity to be a student-participant in the Showrise has been phenomenal. Through this, I've been able to take the classroom knowledge and skills I've learned at Lone Star College-Kingwood beyond the classroom and into a real-life situation," Gray said. "It has been a lesson in group participation, communication, business management and self-motivation. I'll walk away from this experience a better designer, a better co-worker, and a better business woman that I was before and I'm thankful for the experience."
Tara McGuffin, president-elect of American Society of Interior Designers at LSC-Kingwood, said during the project she and other students pounded the pavement for days trying to find vendors who would loan them furniture and accessories for their space. In addition, she was involved in the design concept; she helped choose materials for the concept board; and worked with the delivery company and manager at The Commerce Towers.
"I learned a lot from this project. First of all, it was quite an experience seeing our concept board come to fruiting in an actual space. Second, the communication with vendors and contractors is something that, as students, we do not normally get the chance to do," McGuffin said. "There were a few speed bumps throughout this process that caused us to have to reassess and problem solve.
That experience alone was worth all the work as we got to see how well we thought on our feet and pulled everything together."
President of American Society of Interior Designers, Chandra Golding said after she graduates from LSC-Kingwood, she would like to work in residential design and specialize in children's rooms or lighting design. She believed this project gave her the necessary skills to make her dreams come to fruition.
"Seeing as how this was our first 'real-life' project, it went fairly smoothly. I learned that as the group you're working with gets larger, there can be too many opinions and it makes it more difficult to make progress. I also learned to 'roll with the punches', and relax a little bit; sometimes things are a bit out of your control," Golding said. "I greatly enjoyed working with the vendors – there were a lot of people who were very willing to loan us their furnishings or donate their labor to help us out. I look forward to working with them again and when I am a designer, they will be the first people I'll call."
Golding went on to say she wanted to own her own company and would like to give back to the community by perhaps helping to design the children's wing of a hospital.
For general information about Lone Star College-Kingwood, call 281-312-1600 or visit our Web site at http://lonestar.edu/kingwood.htm
Lone Star College System consists of five colleges, including LSC-CyFair, LSC-Kingwood, LSC-Montgomery, LSC-North Harris, and LSC-Tomball, six centers, LSC-University Center, LSC-University Park, Lone Star Corporate College, and LSC-Online. With more than 51,000 students in credit classes last fall, LSCS is the largest institution of higher education in the Houston area and third largest community college system in Texas. To learn more, visit www.LoneStar.edu.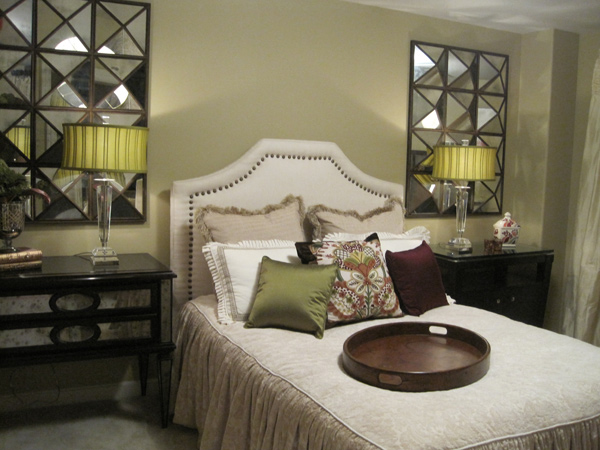 Lone Star College-Kingwood interior design students participated in the 2010 Houston Showrise event at the Commerce Towers located in downtown Houston. The students' project was to design and decorate a bedroom and bathroom in one of the high-rise apartments.