The Drama Department Presents "Macbeth"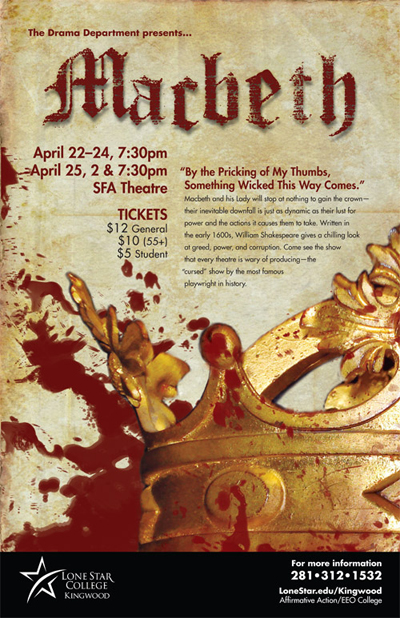 Get your tickets today!
Show Dates and Times:
April 22-24 at 7:30 pm
April 25 at 2pm & 7:30 pm
William Shakespeare's words will come to life at Lone Star College-Kingwood as a 24-member cast begins rehearsing for the notable play, "Macbeth." The drama production is one of Shakespeare's famous plays written in the early 1600's.
"This is a project that I have always wanted to direct," Stewart Hawley, director and adjunct faculty of drama, said. "For me, this play wrestles with some big issues in life such as free will and fate. I think this is something we all wonder about in our lives. Is there a set purpose or design for our life, or are we meant to struggle and make our own way? I believe this play attempts to answer those questions."
The cast is made up of 21 adult actors and three child actors. They will rehearse for five weeks before the production debuts on Thursday, April 22 at 7:30 p.m. The show will run through April 25 with show times at 7:30 p.m. on April 23-24 and 2 p.m. and 7:30 p.m. on April 25.
According to promo for the production, Macbeth and his Lady will stop at nothing to gain the crown – their inevitable downfall is just as dynamic as their own lust for power and the actions it causes them to take. Written in early 1600's, William Shakespeare gave us a chilling look at greed, power and corruption.
"I believe this play helps us to understand human nature as well as a deep intense look into our own culture," Hawley said. "As this is one of Shakespeare's classical themes, I believe it reveals universal themes that illustrate the bare essentials of the human condition and teaches us some of the most important truths about our lives."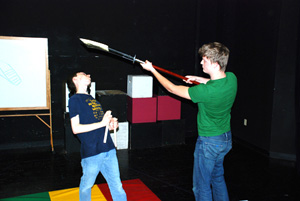 General admission to Macbeth is $12. Tickets for seniors age 55 and older are $10 and $5 for students, faculty and staff. For more information on the drama production at Lone Star College-Kingwood, call 281-312-1532.
Register now for May mini-term, summer I and summer II 2010 credit classes in one of three ways: phone, online or on campus. Classes are offered days, evenings, or weekends in traditional, Internet, video, TV and independent study formats. Current students can register by telephone at 281-591-6625. Former and current students can register online at www.LoneStar.edu/registration
For general information about Lone Star College-Kingwood, call 281-312-1600 or continue browsing our Web site at http://lonestar.edu/kingwood.htm
Lone Star College System consists of five colleges, including LSC-CyFair, LSC-Kingwood, LSC-Montgomery, LSC-North Harris, and LSC-Tomball, six centers, LSC-University Center, LSC-University Park, Lone Star Corporate College, and LSC-Online. With more than 62,000 students in credit classes and 19,000 in continuing education classes this spring, LSCS is the largest institution of higher education in the Houston area and third largest community college system in Texas. To learn more, visit www.LoneStar.edu