HOUSTON (March 9, 2010) – Visual Communication students at Lone Star College-Kingwood will have a chance to showcase their work at the annual Visual Communication Student Show March 30-April 16. A free opening reception will take place at the college's Fine Arts Gallery located in the Student Fine Arts Building at 12:30 pm on March 30.
The Visual Communication Student Show will feature 31 submitted works from approximately 22 students. Entrants who have taken classes within the last year were eligible to participate in this year's show.
"The student show began in 2005 with the purpose of showcasing the work of Visual Communication students to the college and local community. In the past, faculty selected the top student work to be showcased. This year's show is the first juried show, which means that the students select what they feel is their best work. This change has generated a lot of excitement and interest in the students."
Interested parties who attend the annual Visual Communication Student Show will be able to view several works in many different categories such as print, independent (work done professionally or outside of the classroom) multimedia/animation and 3-D. Judges for the event are Visual Communication student alumni, Vicente Velasquez, Clayton Murphy, Cyndie Schmidt and Amy Callahan. Hilary Miller, lead faculty of Computer Information Technology, will also be a judge.
During the opening reception, the first, second, third and best of show winners will be announced. The Best of Show winner will receive a free class in the Visual Communication Program. For more information on the student show, contact Donna Monteferante Johnson at 281.312.1426.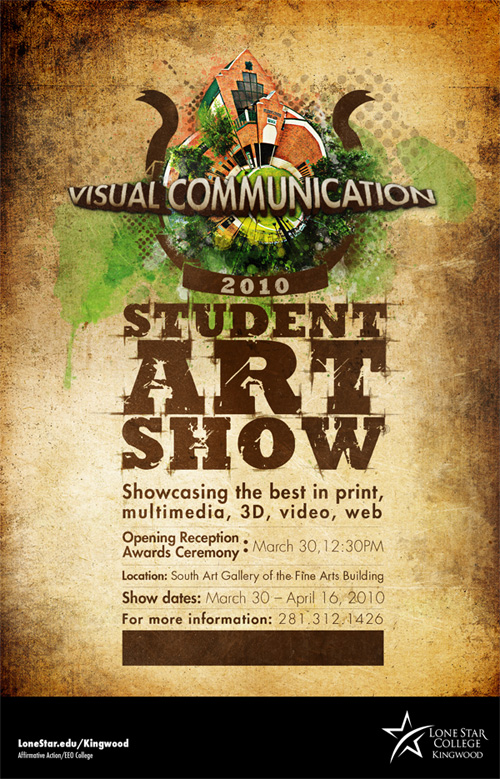 Register now for May mini-term, summer I and summer II 2010 credit classes in one of three ways: phone, online or on campus. Classes are offered days, evenings, or weekends in traditional, Internet, video, TV and independent study formats. Current students can register by telephone at 281-591-6625. Former and current students can register online at www.LoneStar.edu/registration
For general information about Lone Star College-Kingwood, call 281-312-1600 or visit our Web site at http://lonestar.edu/kingwood.htm
Lone Star College System consists of five colleges, including LSC-CyFair, LSC-Kingwood, LSC-Montgomery, LSC-North Harris, and LSC-Tomball, six centers, LSC-University Center, LSC-University Park, Lone Star Corporate College, and LSC-Online. With more than 62,000 students in credit classes and 19,000 in continuing education classes this spring, LSCS is the largest institution of higher education in the Houston area and third largest community college system in Texas. To learn more, visitwww.LoneStar.edu