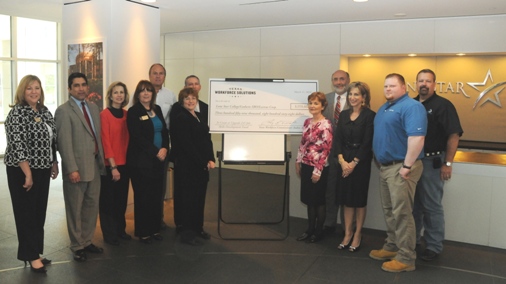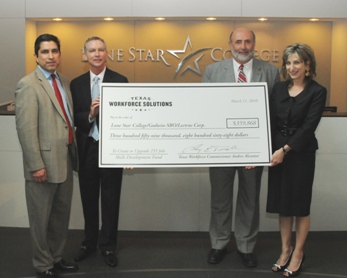 (March 15, 2010) – The Texas Workforce Commission recently awarded Lone Star Corporate College $523,140 for two Skills Development Fund grants.
LSCC partnered with T-3 Energy Services, Inc., Godwin-SBO and Lectrus Corp. to receive the training grants. Andres Alcantar, TWC commissioner, presented the checks at a ceremony hosted at Lone Star College-University Park on March 11.
"The training programs taking place using this grant will build competent skills," said Alcantar. "The number of Texans working in these jobs earning good wages will be a great economic boost for this region of Texas."
Godwin-SBO and Lectrus Corp. partnered with Lone Star College System to provide job training using the first $359,868 grant. The two companies will create or upgrade 235 positions through the training program. Trainees include current apprenticed employees who are working to obtain their journeyman machinist credentials, as well as welders, electricians, fitters, press operators and structural designers. Upon completion of training, workers would be able to earn an average hourly wage of $18.13.
Secondly, T-3 Energy Services, Inc. partnered with LSCS to custom-train 234 oil and gas manufacturing workers for newly-created or upgraded positions using the second $163,272 grant. This training will include technical and safety training, competency-based training, and hands-on training with T-3 Energy Services specialized equipment. Upon completion of the training, workers would be able to earn an average hourly wage of $15.63.
"Lone Star Corporate College is excited to be able to provide customized training to our three grant partners," said Linda Head, associate vice chancellor for workforce development.
"Customized training is critical for maintaining the strength and competitive capabilities of our corporate clients in our current economic climate," said Head.
TWC's Skills Development Fund is the premier job-training program in Texas providing training dollars for Texas businesses and workers. Success is achieved through collaboration among businesses, public community and technical colleges, local workforce development boards, and economic development partners. In fiscal 2009, the Skills Development Fund grants created or upgraded 19,516 jobs. The Texas Legislature appropriated $90 million to the Skills Development Fund for the 2010-11 biennium. For more information, visit the TWC Web site at http://skills.texasworkforce.org.
T-3 Energy Services, Inc. provides a broad range of oilfield products and services primarily to customers in the drilling and completion of new oil and gas wells, the work-over of existing wells and the production and transportation of oil and gas. Its customer base, operating in active oil and gas basins throughout the world, consists of leading drilling contractors, exploration and production companies and pipeline companies.
Godwin-SBO is an industry leader in precision machining. The company's state-of-the-art machining capabilities and skilled craftsmen can produce a diverse range of products to meet the demanding needs of customers in the energy, aerospace, medical and commercial industries.
Lectrus Corp. is the leading electrical systems integrator in the U.S. The company engineers, fabricates and installs equipment centers, operator centers, generator enclosures, sub-base fuel tanks and other custom metal enclosures that protect complex electrical power and control systems. Lectrus works in all kinds of business sectors – oil and gas, power, industrial, institutional, just to name a few – and has operations in Tennessee, Texas and South Dakota. The company employs more than 400 people.
With more than 62,000 students in credit classes in spring 2010, Lone Star College System is the second largest and the fastest-growing community college system in Texas and the largest institution of higher education in the Houston area. LSCS consists of five colleges including LSC-CyFair, LSC-Kingwood, LSC-Montgomery, LSC-North Harris, and LSC-Tomball, six centers, LSC-University Park, LSC-University Center at Montgomery, LSC-University Center at University Park, Lone Star Corporate College, and LSC-Online. To learn more visit LoneStar.edu.
###