Growth and increased enrollment has prompted the building of two additional structures at Lone Star College-Kingwood. The construction of the new Student-Conference Center and the Music Instructional Building will begin in April and the college will have a groundbreaking celebration on Tuesday, April 13 from 3-5 p.m.
Building the new structures means there will be limited parking on campus. The 63,000 square-foot Student-Conference Center will be located on the southeast side of campus parallel to Kingwood Drive inside parking lot A. The new 23,000 square-foot Music Instructional Building will be staked out on the southeast side of the Student Fine Arts (SFA) Building.
According to Dr. Katherine Persson, campus president, all preventative measures have been taken to make sure that everyone remains safe during this construction period.
"To ensure safety for all of us, the general contractors, Miner-Dederick Construction, will be fencing off the construction zone, which will include diverting foot traffic off the main walkway between parking lot G and the Health Science Building (HSB)," Persson said. "We realize that many will be inconvenienced during our 17-month construction period. Fencing off areas for safety, putting up signage to divert foot traffic and constructing parking lot spaces first should help soften the impact of these huge construction projects."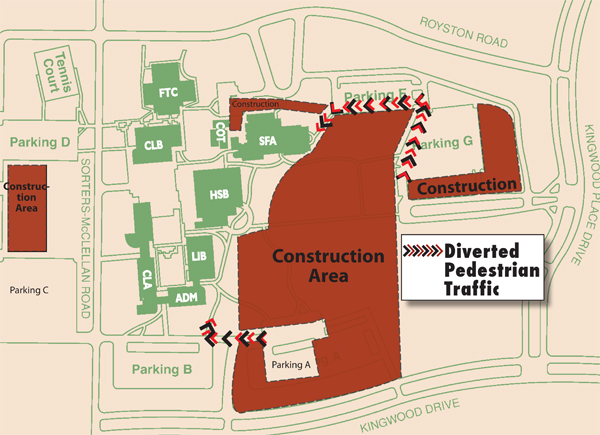 The president also noted that while precautions are being taken to ensure as few trees as possible are removed, trees, tagged with pink ribbons, located within and very close to the buildings will have to be cut. Trees adorned with blue and yellow ribbons will remain on campus.
"I met with our general contractors and personally emphasized the importance of preserving the forest landscape. Miner-Dederick Construction has an excellent reputation for sustainable construction practices which include landscape preservation and enhancement," Persson said.
Additional information on Lone Star College-Kingwood's groundbreaking ceremony and on the two new buildings can be found at http://lonestar.edu/expansion-project.htm. Money for the construction projects comes from Lone Star College System's $420 million bond election in 2008.
Register now for May mini-term, summer I and summer II 2010 credit classes in one of three ways: phone, online or on campus. Classes are offered days, evenings, or weekends in traditional, Internet, video, TV and independent study formats. Current students can register by telephone at 281-591-6625. Former and current students can register online at www.LoneStar.edu/registration
For general information about Lone Star College-Kingwood, call 281-312-1600 or visit our Web site at http://lonestar.edu/kingwood.htm
With more than 62,000 students in credit classes in spring 2010, Lone Star College System is the second largest and the fastest-growing community college system in Texas and the largest institution of higher education in the Houston area. LSCS consists of five colleges including LSC-CyFair, LSC-Kingwood, LSC-Montgomery, LSC-North Harris, and LSC-Tomball, six centers, LSC-University Park, LSC-University Center at Montgomery, LSC-University Center at University Park, Lone Star Corporate College, and LSC-Online. To learn more visit LoneStar.edu.