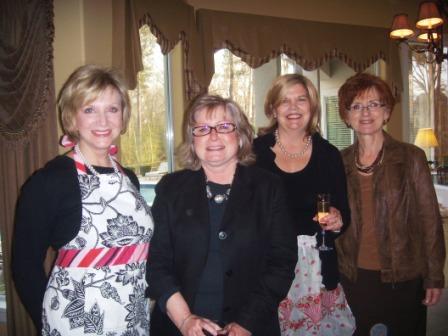 In an effort to help raise funds and auction items for the Lone Star College Foundation's upcoming April 24 StarGala, Tracy Stunja and Colene Joiner co-hosted a "Party with a Purpose". Attendees pictured are from left, Rebecca Riley, vice president of instruction at LSC- Kingwood; Susan Ouren, professor of interior design at LSC-Kingwood; Joiner, StarGala co-chair, Joiner Partnership, Inc.; and Diane Sconzo.
(March 29, 2010) – More than 30 women joined Tracy Stunja and Colene Joiner for wine, cheese, and fellowship at a recent "Party with a Purpose" prelude to the Lone Star College Foundation's upcoming
StarGala
"April in Paris" event set for April 24.
The annual StarGala silent and live auctions are a substantial fund-raising source for student scholarships, faculty projects, and system academic programs. The recent Kingwood-area Party with a Purpose brought in more than $2,800 in items and donations for the StarGala auction.
Three other prelude parties are set in LSCS's other service areas including Cy-Fair, North Harris, Montgomery and Tomball.
Party co-hosts Colene Joiner, who is also co-chairing the StarGala with her husband Carl, and Stunja, who is serving on the LSC-Kingwood sales team for the StarGala, asked attendees to help stock Julia Childs' kitchen with gourmet items. They received cookbooks, aprons, cooking utensils, placemats and napkins, cookware and even some pearl earrings to go along with Childs' famous strand of pearls.
A Julia Childs' basket will be among auction items for this year's StarGala. A sampling of the many other auction packages that will be available at StarGala includes: a first-class, nine-day trip to Paris and London; an autographed Lone Star College uniform that was worn by U.S. Rep. Kevin Brady at the 2009 Congressional baseball game, signed by Brady, and a trip to Washington for the 2010 game; and a framed Yao Ming-autographed, size 19, Nike basketball shoe.
One of the attendees at the Kingwood party with a purpose was Laura Dupree, LSC-North Harris graduate and current employee. She shared her experience at LSCS with the group and explained the difference that the $500 essay scholarship she won in 1998 made in her life. Dupree told the attendees that she would not have been able to complete her education without her scholarship because she simply couldn't afford the tuition. After that semester and winning other scholarships for the following semesters, she completed her associate degree and has also gone on to complete a bachelor's and a master's degree. Her three children and her husband have also benefited from the education she received on LSCS campuses.
In addition to other scholarship winners sharing their stories, StarGala will include shopping opportunities that help fund scholarships, along with dinner and dancing. Community honorees for this year's event include Jim Blair and Nelda Luce Blair, the city of Conroe, the Conroe Industrial Development Corp., and the Greater Conroe Economic Development Council.
Supporting this year's StarGala as $16,000 Tour Eiffel sponsors are Cypress-Fairbanks Medical Center, Houston Northwest Medical Center and Tomball Regional Medical Center.
Notre Dame sponsors at $5,000 are Caldwell Cos.; Custom Food Group, LP; Entergy; Fiesta Mart, Inc.; Patricia and Sam Harless; JACOBS; Joiner Partnership, Inc.; LINBECK; MATTCO; Methodist Willowbrook Hospital; Bob and Darcy Mingoia; Satterfield & Pontikes Construction, Inc.; and The Woodlands Development Co.
Champs Elysees $3,000 sponsors are Cy-Fair Federal Credit Union, Greenspoint District/Montgomery Barnes, Inc.; Jones Lang LaSalle, Morris Architects, PBK, and Perspectiva. Several additional levels of sponsorship are available.
StarGalawill be held on Saturday evening, April 24, at The Woodlands Waterway Marriott Hotel and Convention Center.
For event sponsorships, donations or information, contact Judy Lux at 832.813.6640 or judy.lux@LoneStar.edu or go to LoneStar.edu/lsc-foundation.
Established as a 501(c)(3) Type I corporation, the Lone Star College Foundation's primary mission is to raise money to support students, faculty and programs of the LSCS. Through an annual golf tournament, annual StarGala and generous donations by individuals, corporations, businesses and other organizations, the Foundation is able to grant numerous scholarships annually to students attending our colleges and centers. For more information, visit online at LoneStar.edu/lsc-foundation.
With more than 62,000 students in credit classes in spring 2010, Lone Star College System is the second largest and the fastest-growing community college system in Texas and the largest institution of higher education in the Houston area. LSCS consists of five colleges including LSC-CyFair, LSC-Kingwood, LSC-Montgomery, LSC-North Harris, and LSC-Tomball, six centers, LSC-University Park, LSC-University Center at Montgomery, LSC-University Center at University Park, Lone Star Corporate College, and LSC-Online. To learn more visit LoneStar.edu.
###