What began as an effort to comply with the No Child Left Behind Legislation eventually turned into a love of learning for seven Tarkington Independent School District teacher's aides. Many of them will graduate this year with both their teaching certificates and bachelor's degrees in Education from Lone Star College-Kingwood.
Susan Chapman, Carolyn Andress, Stephanie Vandver, Cindy Grudzinski, Connie Start, Susan Glogosh and Rachel Scott are seven of the original nine who began commuting to the college to work on their two year degrees in order to keep their jobs. When the No Child Left Behind Legislation was modified and a two-year degree was no longer mandated, the aides still pursued their college education.
"They continued on in the program to earn their bachelor's degrees entirely on our campus through the University of Houston-Downtown. Many of them have said if the bachelor's degree program had not come out to Kingwood, they would never have continued. They are in different places in the degree plans, but most will graduate in fall 2010 with their BAIS and teacher certification," Noel Bezette, lead faculty of education and psychology at LSC-Kingwood, said.
Scott, an 11-year employee in Tarkington ISD, is a speech therapist at the Primary Campus and works with early childhood through third grade students. She started classes at the in 2008 and plans to begin teaching in the classroom for a few years before going back to earn a master's degree in Special Education.
"I stayed motivated to earn my bachelor's degree because I was at a point in my life where I could go back to school. As I walked the halls of the school every day, I wanted my own classroom more and more so I decided it was time to finish school and get my degree," Scott said. "LSC-Kingwood has the best program and is close to home so that I can work during the day and attend classes at night or online."
Starting out as a teacher's aide for three years before becoming a substitute teacher for seven years, Grudzinski, realized that she wanted to pursue a career in education and enrolled at LSC-Kingwood in 2006 as a part-time student. In 2009, she decided to go full-time and has plans to start teaching once she graduates.
"I chose to attend LSC-Kingwood because of the location and the size of the school; it seemed more personal to me than the bigger universities," Grudzinski, Tarkington Middle School, said. "Earning my degree here means everything to me. I cannot believe that I am almost finished and at the same time, I am kind of sad because I have had a great experience here and will miss coming to the college and everyone who works here."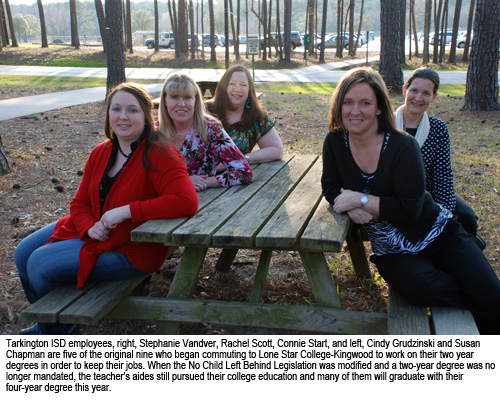 At the Primary Campus, Start teaches students in the computer lab and tutors small groups from each grade level in the reading intervention program. Start, who has been in school district for 15 years, began classes at the college in 2002.
"I decided to take classes at LSC-Kingwood because I was required to have 60 college hours to keep my job. However, after I began attending school, I found that I loved learning and I wanted to keep going. I always thought I wasn't smart enough, but I discovered that anyone can learn if they have the desire," Start said. "I feel very proud to be a part of the program. People my age are usually thinking about retiring and here I am beginning an exciting new career."

A new comer to the school district, Vandver works at Tarkington High School as an educational aide in special education and content mastery. She started at the college in 1995; later transferred to Sam Houston State University and returned to LSC-Kingwood last spring. Her future plans include earning a master's degree in Reading or Special Education.
"I want to pursue a career in Education because I love kids and I have three of my own. In order to work and continue being with my kids as much as possible are just a few of the reasons why I wanted to teach. I also want to teach because there are those moments where a student just gets it – and that makes it all worth it," Vandver said.
At Lone Star College-Kingwood, students without a bachelor's degree can work towards an Associate of Arts in Teaching (AAT) and then explore the joint admissions program offered through the University of Houston-Downtown (UHD) to earn their bachelor's degree in teaching without ever having to leave the LSC-Kingwood campus. The program with UHD has grown more than 400 percent between fall 2007 and fall 2008. Specialized tracks for current and future educators are: Early Childhood through Sixth Grade (EC-6); Early Childhood through Sixth Grade Bilingual (EC-6 Bilingual) and Fourth through Eighth Grade (4-8) Generalist. All tracks lead to initial Texas teacher certification.
For more information on LSC-Kingwood's Education program, call Noel Bezette at 281-312-1733.
Register now for May mini-term, summer I and summer II 2010 credit classes in one of three ways: phone, online or on campus. Classes are offered days, evenings, or weekends in traditional, Internet, video, TV and independent study formats. Current students can register by telephone at 281-591-6625. Former and current students can register online at www.LoneStar.edu/registration
For general information about Lone Star College-Kingwood, call 281-312-1600 or visit our Web site at http://lonestar.edu/kingwood.htm
With more than 62,000 students in credit classes in spring 2010, Lone Star College System is the second largest and the fastest-growing community college system in Texas and the largest institution of higher education in the Houston area. LSCS consists of five colleges including LSC-CyFair, LSC-Kingwood, LSC-Montgomery, LSC-North Harris, and LSC-Tomball, six centers, LSC-University Park, LSC-University Center at Montgomery, LSC-University Center at University Park, Lone Star Corporate College, and LSC-Online. To learn more visit LoneStar.edu.