Lone Star College-Kingwood seniors will have an opportunity to highlight their works in the 7th annual Visual Communication Portfolio Show on May 12. The event will take place in the Administration building in room 202 on May 12th from 2 to 4 p.m.
This year's show will include 13 students with majors in graphic design, multimedia and 3-D animation. The purpose of the show is to showcase their portfolios to staff, faculty, students and the community.
"The portfolio show is part of our capstone course for our AAS degree in Visual Communication. In this course, the students not only spend the semester preparing their portfolios, but they also research the job market, interview designers, scout out potential employers to work for, prepare their resumes and set up mock interviews with designers working in the industry," Donna Monteferante Johnson, Visual Communication professor, said. "The students take these steps to prepare them for entry into the job market after graduation."
Students who will show their works are, Hannah Carter, Sergio Machuca, Aneela Rashid, Adrienne Sizemore, Carlos Oliver, Gary Norris, Collis Hooper, Kristina Allen, Dahlia Edmeade, Cody Greene, Ana Morales, Tiffanie Dwyer and Jason Watson. Attendees are invited to visit with each designer, view samples of their work and ask questions.
According to Monteferante Johnson, the show would be an excellent opportunity for visitors who are interested in training in the field of Visual Communication to talk with actual students who are about to enter the industry.
"For local business and or design firms, looking for new designers, this would be a wonderful chance to see several portfolios in one setting as well as gather resumes and contact information," she said.
The Visual Communication Program trains digital designers in the communication media of the future. Students are prepared for careers in commercial art and design, desktop publishing, multimedia development, web design, 3-D animation, video and post production.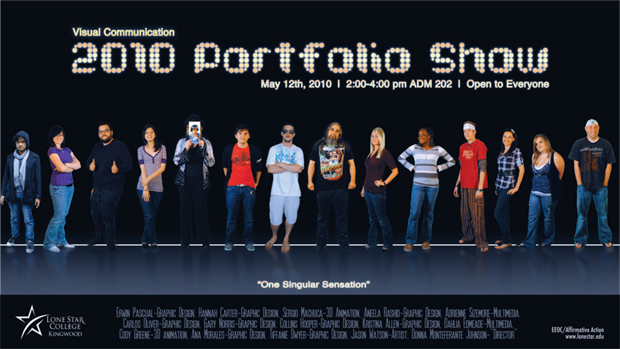 Register now for May mini-term, summer I, summer II and fall 2010 credit classes in one of three ways: phone, online or on campus. Classes are offered days, evenings, or weekends in traditional, Internet, video, TV and independent study formats. Current students can register by telephone at 281-591-6625. Former and current students can register online at www.LoneStar.edu/registration
For general information about Lone Star College-Kingwood, call 281-312-1600 or visit our Web site at http://lonestar.edu/kingwood.htm
With more than 62,000 students in credit classes in spring 2010, Lone Star College System is the second largest and the fastest-growing community college system in Texas and the largest institution of higher education in the Houston area. LSCS consists of five colleges including LSC-CyFair, LSC-Kingwood, LSC-Montgomery, LSC-North Harris, and LSC-Tomball, six centers, LSC-University Park, LSC-University Center at Montgomery, LSC-University Center at University Park, Lone Star Corporate College, and LSC-Online. To learn more visit LoneStar.edu.