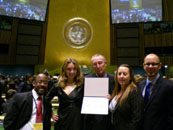 Pictured from left to right at the 2010 Model United Nations-New York Conference are Durell Forte, Anna Bakharyeva, David Birch, Ruth Jones, Dillon Norton.
The highlight of a trip to the Big Apple for most college students is usually an elevator ride to the top of The Empire State Building or achieving face time in the crowds of
The Today Show
. But for four Lone Star College-Tomball students, a recent journey to New York was an opportunity to compete with more than 5,000 students from around the world as an international diplomat.
LSC-Tomball students Anna Bakharyeva, Durell Forte, Dillon Norton and Ruth Jones joined six other Lone Star College System students, Keelie Barrow, Angela Shively, Guy Hawkins, Crystal Lovelady, Kerstin Alander and Maryam Reihani, as participants in the 2010 National Model United Nations-New York (NMUN-NY) Conference.
The NMUN is the largest of the collegiate simulations of the United Nations and aims to educate participants about civics, effective communication, globalization and multilateral diplomacy, said LSC-Tomball Political Science Professor David Birch, who serves as a faculty sponsor along with Professors Peggy Lambert from LSC-Kingwood and David Kennedy from LSC-Montgomery. Participants research a country, take on roles as diplomats representing their assigned country, investigate international issues, debate, deliberate, consult, and then develop solutions to world problems.
This year's Lone Star student delegation – representing the Ukraine – not only worked together to draft resolutions providing sophisticated remedies to global problems, they also were honored with a Distinguished Delegation award. From more than 300 schools (predominantly four-year colleges and universities from around the world) sending delegations, the LSC-Tomball delegation was among only 10 percent to be recognized with an award.
"Our students worked with and competed against students from the University of Essex, the University of Bonn, the University of Colorado, Rider University, Renmin Unviersity of China, Loyola University of Chicago and the University of Washington, just to name a few," said Birch. "But, it was our students who came home with the recognition and we are very proud of their achievement. These students reflect the commitment to academic excellence and the work ethic that we are all committed to at the Lone Star College System."
LSC-Tomball student and Delegate of the General Assembly Second Committee Ruth Jones said the project was among the most intense she has participated in, yet the most rewarding.
"I came back from New York with a new overwhelming amount of respect for what the United Nations does – making our world a better place for people facing extreme poverty, destruction and life threatening situations," said Jones.
Jones said the Model UN follows exactly the same processes and procedures that they do in the real United Nations and that participants are considered to be a United Nations delegate from "the very first meeting you attend."
"We had to negotiate and work with other countries from all around the world in order to push forward the issue we felt was most beneficial to our country – the Ukraine – while also considering what could positively impact the other countries we were working with."
"You have to be able think on your feet and work as part of a team with countries that may not see your way of thinking at first," Jones said. "But once you can see everyone moving forward in the right direction together, it is so rewarding."
LSC-Tomball student Durell Forte, who is also a published poet about to release his second published collection, said his invitation to participate in the Model UN was "too good of an opportunity to pass up."
"The opportunity that it gave me both as a man and a student of LSC would only open doors to new things, both in my personal and educational career," said Forte. "One thing that the conference really brought to the forefront for me the importance of unity – not that I didn't think it wasn't important before – I was just able to see it in action."
Jones said she is thankful that LSCS provides its students the chance to attend.
"Participation in the Model UN is just another of many of the very amazing opportunities Lone Star College offers their students that help them grow not only in their education capabilities but also as people."
Lone Star College-Tomball is located at 30555 Tomball Parkway in Tomball.
With more than 62,000 students in credit classes in spring 2010, Lone Star College System is the second largest and the fastest-growing community college system in Texas and the largest institution of higher education in the Houston area. LSCS consists of five colleges including LSC-CyFair, LSC-Kingwood, LSC-Montgomery, LSC-North Harris, and LSC-Tomball, six centers, LSC-University Park, LSC-University Center at Montgomery, LSC-University Center at University Park, Lone Star Corporate College, and LSC-Online. To learn more visit LoneStar.edu.