Clubs and organizations on college campuses help students decide what they want out of life, instill the value of community service and develop and grow their social skills. As such, two Phi Theta Kappa students at Lone Star College-Kingwood were chosen to be on the All-Texas Academic Team.
Desiree Lipscomb and Nicollette Eason joined Phi Theta Kappa with the motivation to learn more about academic achievement, how to become successful and acquire leadership skills.
"I was inspired to join Phi Theta Kappa once I realized that it was more than a 'club'. When I recognized that the society provides direction for in-depth scholarly endeavors, leadership opportunities and encourages community service that ultimately connects the individual students (me) to the rest of the world, is when I developed a passion to become involved," Lipscomb, Chapter President, said.
A letter and meeting aroused Eason's interest in the honors organization. In March 2009, she was inducted into Phi Theta Kappa and a month later, she became the Vice President of Service for Alpha Lambda Xi, the Lone Star College-Kingwood Chapter of Phi Theta Kappa.
"After I got the letter and attended one of the meetings, I absolutely loved it. I realized that the members of Phi Theta Kappa were people who were just like me; working hard to get good grades and be successful," she said. "When I first heard of Phi Theta Kappa, the current chapter president tried to convince me to be a part of it and to become an officer. I was a little wary at first because I didn't know much about the organization and I was taking five classes at the time. The more I participated, the more I wanted to become a part of what they were doing. By the time I was inducted, I was completely convinced to run for an officer position."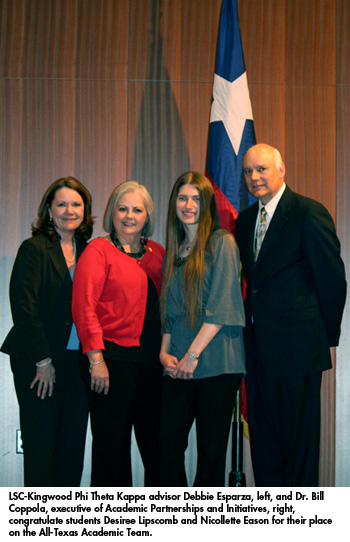 The All-Texas Academic Team, established in 1991, honors and recognizes Phi Theta Kappa students based on their academic achievements, leadership, community service and more. Nominees named to the team also receive medallions, certificates and sometimes stipends and scholarships. Students selected to the All-USA Academic Team competition are automatically on the All-Texas Academic Team.
"One of the requirements to be nominated is a high GPA and community service involvement. I have a 4.0 GPA and with Phi Theta Kappa, I have helped with many campus events and have helped with the community service projects we have done as a chapter," Eason said. "We helped Montgomery County put on a Thanksgiving meal at Bull Sallas Park for senior citizens, we volunteer at Goodwill, we go to the nursing homes for our annual Bear Hugs event and participate in other community activities."
Lipscomb said she was one of two individuals from LSC-Kingwood selected as a nominee for the All-USA Academic Team competition. She credits her Phi Theta Kappa membership and her academic performance as the main reasons she was chosen to be on the team. Lipscomb was also recognized as a Coca Cola bronze scholar. The scholars are named based upon their applications for the All-USA Academic team.
"Again, I believe it was my participation in Phi Theta Kappa as well as my academic performance and commitment to college and community that led to me being named a Coca Cola Bronze Scholar. The honor of placing as a Bronze Scholar was accompanied with a $1,000 scholarship," she said.
Lipscomb and Eason will graduate in May with their Associate of Arts degree. Lipscomb will attend the University of Texas Arlington on a full scholarship to complete her baccalaureate degree in social work. She also plans to join the Honors College of UTA. Eason was accepted and will attend East Texas Baptist University on her piano music scholarship. She will major in piano performance and eventually work on getting her master's degree. She also plans to open her own piano studio to teach private lessons and possibly teach music at the college level.
Register now for May mini-term, summer I, summer II and fall 2010 credit classes in one of three ways: phone, online or on campus. Classes are offered days, evenings, or weekends in traditional, Internet, video, TV and independent study formats. Current students can register by telephone at 281-591-6625. Former and current students can register online at www.LoneStar.edu/registration
For general information about Lone Star College-Kingwood, call 281-312-1600 or visit our Web site at http://lonestar.edu/kingwood.htm