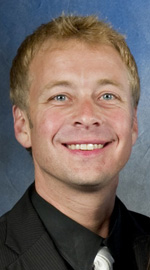 John Turner, Program Manager for Student Activities and advisor to the Lone Star College-Kingwood Student Government Association, was recently named as the Texas Junior College Student Government Association First Runner Up for Advisor of the Year. Turner received the award at the TJCSGA State Convention in Corpus Christi on April 24.
This follows Turner's recent naming as TJCSGA Region V Advisor of the Year. At Lone Star College-Kingwood, he spent the 2009-2010 academic year serving as the Region V Presidency and Advisor College. This is Turner's second full academic year as the SGA advisor for Kingwood.
"There are more than 100 SGA advisor's in Texas and to be considered the second best in the state, really is quite an honor. But for me, it's more about the recognition from my own student team that makes it so special," Turner said.
Current and incoming executive board members, all students, wrote the awards submission for Turner. Sean Stout, LSC-Kingwood SGA President and Region V Student of the Year, spearheaded the writing while garnering input from SGA Vice-President Sarah Nerad, SGA Secretary Brittany Trice, SGA Treasurer Melanie Stout and SGA member Angela Merrick.
"Writing about the things that John has done for our students here at Kingwood and in Region V was easy. Keeping those accomplishments within the page limitation was the hard part!" Stout said. "In all honesty, it's been great to work next to John this past year and I'm proud of him and this award. He's an outspoken ambassador for the Lone Star College System and a great example of someone who truly has the best interests of students at heart."
The Texas Junior College Student Government Association is the only student-maintained organization in the state that works to promote the cause of community college students at the local, regional, state and national level. It is comprised of more than 72 member colleges across the state. The member colleges are divided into six regional districts drawn at the county level. Twenty of these colleges represent Region V, which encompasses most of the counties in and around the Houston area and represent nearly 200,000 students.
For more information on the LSC-Kingwood Student Government Association or the TJCSGA Region V, please contact John Turner at 281-312-1795 or jturner@lonestar.edu.
Register now for May mini-term, summer I, summer II and fall 2010 credit classes in one of three ways: phone, online or on campus. Classes are offered days, evenings, or weekends in traditional, Internet, video, TV and independent study formats. Current students can register by telephone at 281-591-6625. Former and current students can register online at www.LoneStar.edu/registration
For general information about Lone Star College-Kingwood, call 281-312-1600 or visit our Web site at http://lonestar.edu/kingwood.htm
With more than 62,000 students in credit classes in spring 2010, Lone Star College System is the second largest and the fastest-growing community college system in Texas and the largest institution of higher education in the Houston area. LSCS consists of five colleges including LSC-CyFair, LSC-Kingwood, LSC-Montgomery, LSC-North Harris, and LSC-Tomball, six centers, LSC-University Park, LSC-University Center at Montgomery, LSC-University Center at University Park, Lone Star Corporate College, and LSC-Online. To learn more visit LoneStar.edu.