As family and friends cheered, Lone Star College-Kingwood and the University of Houston-Downtown honored the first graduating class of the Joint Admissions Education program with a reception on May 4.
The college and university opened its doors to the joint admissions program in 2007 which allowed students interested in teaching a chance to take all of their classes, earn a two and four-year degree and teaching certificate entirely on the LSC-Kingwood campus. Students without a bachelor's degree first worked towards an Associate of Arts in Teaching (AAT) and then explored the Joint Admissions program offered through UHD to earn their bachelor's degree in teaching. Requirements for the joint admissions program are 30 college hours and a joint admissions contract with the University of Houston-D.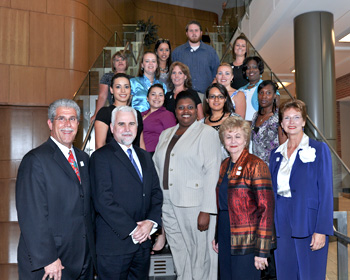 At the celebration reception, 22 graduates were honored. Those who graduated in December are already employed in local classrooms. Ryan Asher, who is currently teaching at River Pines Elementary School in Atascocita, said the program helped prepare him for a career in education.
"After seeing what teachers do and how they make a difference in the lives of their students, I decided that I wanted to pursue a career in education," Asher, an Eagle Springs resident, said.
Humble resident Roxann Stuart said the Joint Admissions Program was a convenient avenue for her to pursue a teaching career. "In the program, I was able to take classes at night, which was very convenient," she said. "I have always had a passion to be a teacher and through this program, I feel more accomplished and excited to start my career in the classroom."
Kathyline Ina, a full-time mother, said because the program was so accommodating, she was able to pace herself and now four years later is proud to say that she has achieved one of her dreams. The Humble mom currently works in Spring Branch Independent School District as a paraeducator.
"The evening classes really allowed me a chance to further my education. In 2006, I was able to go back to school and took three to six hours a semester. I did that, because I wanted to pace myself because I wanted to be successful," she said. "The program had professional faculty and staff who coached me through it."
Specialized tracks for current and future educators at LSC-Kingwood are: EC-6 Early Childhood through sixth grade and EC-6 grade bilingual and Fourth through Eighth Grade (4-8) Generalist. All tracks lead to initial Texas teacher certification.
On-site registration is available during regular office hours. New students attending for the first time from other colleges or universities must have an official college transcript sent to Lone Star College-Kingwood prior to registration and should also complete the online admissions application at www.lonestar.edu/apply.
For information of the Associate of Arts in teaching and the UHD joint admissions program, contact Noel Bezette at 281-312-1733 or visit www.lonestar.edu/education-dept-kingwood.htm
Register now for summer I, summer II and fall 2010 credit classes in one of three ways: phone, online or on campus. Classes are offered days, evenings, or weekends in traditional, Internet, video, TV and independent study formats. Current students can register by telephone at 281-591-6625. Former and current students can register online at www.LoneStar.edu/registration
For general information about Lone Star College-Kingwood, call 281-312-1600 or visit our Web site at http://lonestar.edu/kingwood.htm
With more than 62,000 students in credit classes in spring 2010, Lone Star College System is the second largest and the fastest-growing community college system in Texas and the largest institution of higher education in the Houston area. LSCS consists of five colleges including LSC-CyFair, LSC-Kingwood, LSC-Montgomery, LSC-North Harris, and LSC-Tomball, six centers, LSC-University Park, LSC-University Center at Montgomery, LSC-University Center at University Park, Lone Star Corporate College, and LSC-Online. To learn more visit LoneStar.edu.