A fourth-grade assignment turned into a life-long career for Officer Del Fayard. The officer was hired as a part-time police officer at Lone Star College-Kingwood 16 years ago after he graduated from the North Harris Montgomery Community College Law Enforcement Academy in 1993.
"When I was in the fourth-grade, we had to do a report on 'what do you want to be when you grow up?' I had a cousin who was a police officer in the town where I grew up and I used to play in the police car when he would come and visit. I guess from that point on I wanted to be a police officer," Fayard said. "While in my senior year of high school, I had met several officers that did security at the church dances. After talking with one of them and even doing civilian ride-alongs, I knew that I definitely wanted to be a police officer."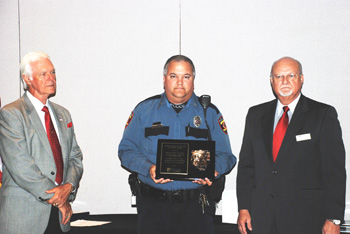 Working for two years as a part-time officer, Dr. Steve Head, college president at that time, encouraged Fayard to apply for the full-time position and three weeks later, he was hired into that position. As a law enforcement officer some of his duties include patrolling campus grounds and buildings, checking doors, windows and gates to make sure they are secured. He also helps direct traffic on campus; enforces traffic and parking regulations and issues citations as deemed necessary; and investigates traffic accidents and reports to DPS when required by the state. Additional responsibilities include assisting students, employees and general public, responding to first aid and other medical calls and training new officers.
"Every day is different in law enforcement. Sure you have routine patrols, but every day brings a different scenario. It isn't anything like being in an office job. I can never say 'I have seen it all.'," he said.
LSC-Kingwood Police Captain Stephen Phillips said Fayard's professionalism and dedication are second to none, which showed in an October 2009 incident. According to the captain, Fayard received a call concerning a student possibly in possession of a weapon on the campus. Through his contacts, the officer was able to identify the suspect and make contact with him.
"Although it proved to be a mistake in the actual viewing of a weapon, Officer Fayard gathered important information that was crucial to this incident," Phillips said. "Officer Fayard is described by his fellow officers as being hardworking, reliable, dedicated and professional."
With his years of dedication, Fayard was one among many law enforcement, fire and EMS personnel honored at the Lake Houston Area Chamber of Commerce's annual Peace Officer and Firefighter luncheon on April 20. The chamber presented an Outstanding Peace Officer and Firefighter of the Year Award one officer/firefighter from each department or station who displayed outstanding character, valor and/or community service in 2009. Each honoree also received a plaque from U.S. Congressman Ted Poe's office.
In addition to this honor, Fayard received the Support Staff Excellence Award from LSC-Kingwood in 2001 and Officer of the Year Award from the chamber in 2008.
"I felt honored to be nominated for the Outstanding Peace Office Award. It is a feeling that you are making a difference," he said. "The best part of my job is that I get to work with many great people. This includes faculty, staff, students and other great officers."
Outside of the job, Fayard enjoys spending time with his wife Kristine, his daughter Micaela and his step-children Katie, Chris and Brandon, who live in Kansas. His hobbies include fishing and playing Wii with his daughter, who beats him in bowling every time.
Register now for May mini-term, summer I, summer II and fall 2010 credit classes in one of three ways: phone, online or on campus. Classes are offered days, evenings, or weekends in traditional, Internet, video, TV and independent study formats. Current students can register by telephone at 281-591-6625. Former and current students can register online at www.LoneStar.edu/registration
For general information about Lone Star College-Kingwood, call 281-312-1600 or visit our Web site at http://lonestar.edu/kingwood.htm
With more than 62,000 students in credit classes in spring 2010, Lone Star College System is the second largest and the fastest-growing community college system in Texas and the largest institution of higher education in the Houston area. LSCS consists of five colleges including LSC-CyFair, LSC-Kingwood, LSC-Montgomery, LSC-North Harris, and LSC-Tomball, six centers, LSC-University Park, LSC-University Center at Montgomery, LSC-University Center at University Park, Lone Star Corporate College, and LSC-Online. To learn more visit LoneStar.edu.