Toby Topek's "Panorama" works will grace the walls at Lone Star College-Kingwood's Fine Arts Gallery from May 19-June 24. The artist, a well-respected artist in Houston, will shed light on her artwork during the opening and artist talk on Thursday, June 10 from 12 to 2 p.m.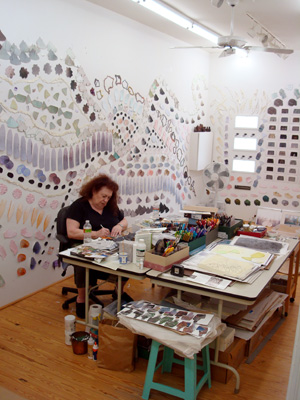 Topek has studied archaeology, art, architecture, the environment, culture and history in Mexico, the Mediterranean, North Africa, Near East, Adriatic, Brazil and Canada. Her work is included in the following collections: Texas Research Institute of Mental Science, Lighthouse for the Blind, Whitney First City Tower Bank, Wilson Industries, Transco Energy, Shell Oil and private collections in the United States, Mexico, Greece and Turkey.
"Panorama" is an unobstructed and wide view of an extensive area in all directions. It is an extended pictorial representation or a cyclorama of a landscape or other scene. It is also known as a comprehensive survey; as of a subject's mementoes of experience such as specimens from historic sites; wonders of the world; rivers and deserts, photographs, plastic bags, drawings, sculptures and more.
"I started out in the mid 1980's with a strong desire to find out something about the world, to experience foreign cultures. The passage of time, the ongoing of personal observation - seeing what is around me - looking at what is around the world, seeing how each of us views 'the other' is present in my work," Topek said.
The artist is currently vice president of the Artist Rescue Mission and in the past, was involved in the Houston Women's Caucus for Art, the Cultural Arts Council of Houston/Harris County, and the Holocaust Education Center. In 1990, she was an Iris Siff Women of Achievement Honoree for the Oral History Library of Houston.
Topek's exhibition will take place in the LSC-Kingwood's Fine Arts Gallery on Monday through Friday from 10 a.m. to 5 p.m. and will be closed on the weekends. For more information on the showing, call 281-312-1534. The gallery is located in the Student Fine Arts building.
Register now for May mini-term, summer I, summer II and fall 2010 credit classes in one of three ways: phone, online or on campus. Classes are offered days, evenings, or weekends in traditional, Internet, video, TV and independent study formats. Current students can register by telephone at 281-591-6625. Former and current students can register online at www.LoneStar.edu/registration
For general information about Lone Star College-Kingwood, call 281-312-1600 or visit our Web site at http://lonestar.edu/kingwood.htm
With more than 62,000 students in credit classes in spring 2010, Lone Star College System is the second largest and the fastest-growing community college system in Texas and the largest institution of higher education in the Houston area. LSCS consists of five colleges including LSC-CyFair, LSC-Kingwood, LSC-Montgomery, LSC-North Harris, and LSC-Tomball, six centers, LSC-University Park, LSC-University Center at Montgomery, LSC-University Center at University Park, Lone Star Corporate College, and LSC-Online. To learn more visit LoneStar.edu.