Living in a foreign country while holding on to their native cultures, more than 10 Lone Star College-Kingwood students overcame their language barriers as they graduated from the Intensive English program (ESOL) on May 13. Those students were among many others who were honored as this semester's outstanding students.
"The ESOL program, which began in 2001 with 13 students, has had nearly 300 students from more than 40 countries to enter and complete the program. They bring culture and diversity to the program," Tricia McLeroy, ESOL faculty member, said.
To inspire the graduates and other students in the program, Dr. Franklin Emeka, interim vice president of Student Success, passed out a mustard seed as he told his story of emigrating from Nigeria when he was 14-years-old.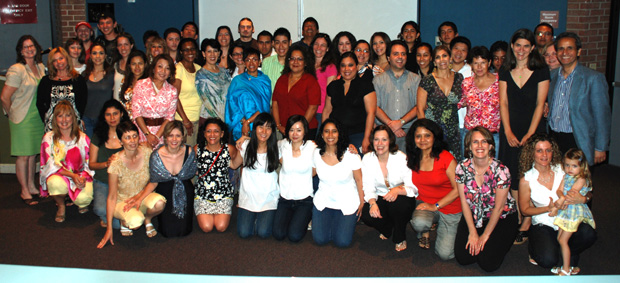 "You are like this mustard seed. Wherever you came from, know that you fell on good ground. America is the soil and education from Lone Star College-Kingwood is the Miracle Grow," Emeka said. "You are more fortunate than most. Others in your homeland are counting on you; they are expecting you to succeed."
Heidi Herrera, a Costa Rica native who enrolled in the ESOL program, shared her experiences with her classmates. The first six months in the United States was difficult for the student who left her family and friends behind.
"It was a nostalgic feeling being away from home, but thanks to the faculty's efforts at the college, it started to feel like home. Now, I have so many wonderful friends who have impacted every single part of my life. We have inspired each other to give our very best, Herrera said. "After a friend told me about the ESOL program, I decided to enroll because I wanted to be involved in something. By attending LSC-Kingwood, I learned the true wealth of this country."
The spring 2010 ESOL graduates are Herrera, Katalin Bartha, Patricia (Sydia) Flor, Soledad Graciano, Anne (Changuen) Kim, Polina Kosogaeva, Yasmin León, Xiaolei Lin, Sory Mingo and Maria (Isabel) Romano.
The ESOL program is designed for non-native English speakers who have a desire to learn English and improve their grammar, listening comprehension, speaking, reading and writing skills. ESOL is for students and working professionals wishing to build practical English skills for general, academic, or professional purposes. ESOL offers eight-week and 16-week courses from beginning to advanced levels in both traditional and hybrid formats. All courses help students enhance their fluency and accuracy in both spoke and written English. Small class sizes allow each student a maximum amount of individual attention from high-qualified instructors. The program uses the most current teaching methods. Students have access to a state-of-the-art computer lab with the latest software programs and Internet resources.
For more information on the ESOL program, call 281-312-1536 or 281-312-1578 or visit the website at http://www.lonestar.edu/esol-dept-kingwood.htm.
Register now for May mini-term, summer I, summer II and fall 2010 credit classes in one of three ways: phone, online or on campus. Classes are offered days, evenings, or weekends in traditional, Internet, video, TV and independent study formats. Current students can register by telephone at 281-591-6625. Former and current students can register online at www.LoneStar.edu/registration
For general information about Lone Star College-Kingwood, call 281-312-1600 or visit our Web site at http://lonestar.edu/kingwood.htm
With more than 62,000 students in credit classes in spring 2010, Lone Star College System is the second largest and the fastest-growing community college system in Texas and the largest institution of higher education in the Houston area. LSCS consists of five colleges including LSC-CyFair, LSC-Kingwood, LSC-Montgomery, LSC-North Harris, and LSC-Tomball, six centers, LSC-University Park, LSC-University Center at Montgomery, LSC-University Center at University Park, Lone Star Corporate College, and LSC-Online. To learn more visit LoneStar.edu.