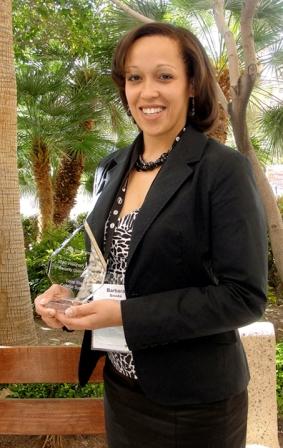 (May 18, 2010) – Lone Star College System has announced that Nishae Brooks, a systems administrator in the Office of Technology Services, was named by Symantec Corp. as a 2010 North America Visionary Award winner.
Brooks was recognized by Symantec at Vision 2010, Symantec's user conference that was held in Las Vegas in April.
Symantec developed the Visionary awards program to recognize IT thought leaders for their innovative use of technology to develop policies and systems that effectively protect and manage critical business information. The 2010 Visionary Award winners were recognized throughout the keynote sessions at the conference.
Symantec received more than 50 nominations for the Visionary Awards, and submissions were evaluated using an objective scoring system covering five categories: organization size, technology innovation, quantified business value, role of Symantec partners and services, and participation in Symantec's reference activities.
LSCS and Brooks were in the company of some well-known companies like Alaska Airlines and QualComm Inc., also Visionary award winners.
The project that led to this nationally-recognized award involved the centralized management of computing resources at LSCS.
Brooks was given the charge to standardize and streamline management of computing resources on one centralized software system (Altiris). She and a talented team of OTS staff members spent seven months learning and implementing the system.
With the new software system, the team has been able to reduce the time it takes to re-image a LSCS classroom computer. In addition, the system is used to power on computers in a specific classroom in the middle of the night, automatically install software updates and then power them down again.
Brooks said she gives her Altiris team all the credit for the success of the project and that she wasn't expecting the recognition by Symantec.
"I was surprised and overwhelmed by the honor," Brooks said. "I didn't realize I was doing anything remarkable. I was just trying to make a difference."
Brooks started at LSCS in 2003 as a student. She obtained an associate's degree and then went on to get a bachelor's of science from the University of Houston.
Symantec is a global leader in providing security, storage and systems management solutions to help consumers and organizations secure and manage their information-driven world. For more information, go to www.symantec.com.
With more than 62,000 students in credit classes in spring 2010, and a total enrollment of nearly 85,000, Lone Star College System is the largest institution of higher education in the Houston area, and the second largest and the fastest-growing community college system in Texas. LSCS consists of five colleges including LSC-CyFair, LSC-Kingwood, LSC-Montgomery, LSC-North Harris, and LSC-Tomball, six centers, LSC-University Park, LSC-University Center at Montgomery, LSC-University Center at University Park, Lone Star Corporate College, and LSC-Online. To learn more visit LoneStar.edu.

###