Faculty, staff and graduates donned their graduation regalia in honor of Lone Star College-Kingwood's General Education Development (GED) graduation May 23. There were 82 students who graduated from the program this year.
The graduation ceremony featured a student speaker who shared her story on earning her GED. After dropping out of high school and starting a family at 16-years-old, Barbara Trahan did not realize how important it was to have a diploma.
"The logistics company I worked 28 years for went through a restructure and I was out of job. Now more than ever a diploma is a necessary item when completing job applications," Trahan said. "That was the one thing I did not have; a high school diploma or a GED."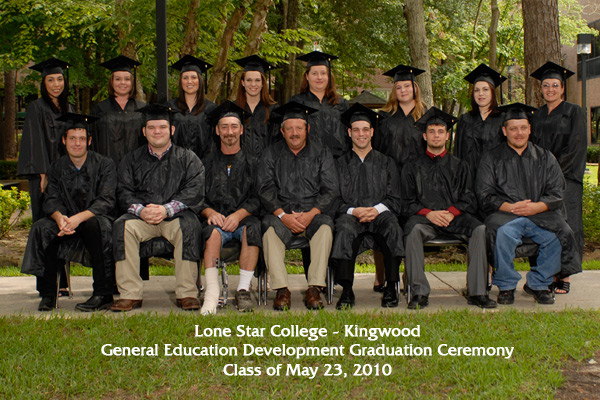 Realizing that she lacked one critical component to getting another job, Trahan enrolled in LSC-Kingwood's GED program in 2009. From there, she worked hard and dedicated the time so that she can get her GED the first time around. Now with her goal completed, the student plans to continue her education and earn an associate's degree.
"Now since I have my GED, I feel like I have accomplished one of the greatest things ever for me. I feel like a whole new person and more confident. This program at LSC-Kingwood is the best," she said. "For those who want to earn their GED, I advise them to not hesitate but to take their time because the reward in achieving that goal is beyond words."
Graduate Hendrick Vat said he spent many years in denial regarding earning his GED. Although it never came to a point that he needed a diploma, he does want to earn a degree in Business Law. In order to receive funding to achieve his dream, he had to have a GED.
"Here I am, a 47-year-old guy, thinking that the GED is just a formality. Somewhere throughout my studies for this 'formality', I realized the importance of this; that I really needed this. I understood that quitting high school and my stubborn attitude towards it has set a pattern for my life. It created the first major obstacle in my life's path toward genuine truth and knowledge," Vat said. "When I look back at my life one of the biggest holes and wrong turns I made was quitting high school and never finishing that portion of my education. I have now filled that hole."
In addition to honoring the graduates, Dr. Katherine Persson, LSC-Kingwood president, gave away two $500 scholarships to graduates Lisa Guzman and Karen Peacock.
LSC-Kingwood's program helps a wide-range of individuals in all walks of life who want or need a GED to keep a job, find employment or further their education. The college took over the program from New Caney High School in 1984 and since then, the completion and passing rate of applicants is approximately 95 percent. According to Marlive Harris, GED program manager, life situations and the economy are forcing everyone to take stock of their education credentials.
"The adults coming to get their GED are being laid off and are being turned down for other employment opportunities because they do not have a high school diploma," Harris said. "The young people are coming in because of behavioral issues, homelessness, or they are not doing well in school and parents have taken them out."
At LSC-Kingwood, prospective applicants are required to attend Texas Education Agency Region VI's free three-day orientation. During that time, they will take the Texas Adult Basic Education (TABE) test that will indicate which subjects, if any, they will need to work on before they take the official GED test. If a student needs help, LSC-Kingwood offers several free GED prep courses that are geared to help them study and prepare for the test.
Once the student and instructor believe the student is ready, they can take the Official Practice Test for the GED in the subject they did not pass in the TABE test. If they pass, they are eligible take the GED test to receive their certificate. If they do not pass, they will return to the courses for more preparation.
To enroll in the program, adults must have a valid Texas ID and social security card (optional). In addition to that, 16-and 17-year-olds are required to have their withdrawal from high school, a parental consent form and for 16-year-olds, a court order. Parents must accompany the student for registration.
"This program is designed for students to pass the GED test the first time. We strongly encourage each student to fully go through the process here at LSC-Kingwood," Harris said. "Once a student leaves our program to go to another campus or educational system, in order to come back, they will have to wait a year."
The next three-day orientation for LSC-Kingwood's GED program is July 27, 28 and 30 from 9 a.m.-12 p.m. or 6-9 p.m. Although the program is free, the full GED test costs $100 and the partial test is $25 per section. For more information contact the Continuing Education Department at 281-312-1660 or visit http://www.lonestar.edu/ged-kingwood.htm.
---
Register now for summer I, summer II and fall 2010 credit classes in one of three ways: phone, online or on campus. Classes are offered days, evenings, or weekends in traditional, Internet, video, TV and independent study formats. Current students can register by telephone at 281-591-6625. Former and current students can register online at www.LoneStar.edu/registration
For general information about Lone Star College-Kingwood, call 281-312-1600 or visit our Web site at http://lonestar.edu/kingwood.htm
Lone Star College System consists of five colleges, including LSC-CyFair, LSC-Kingwood, LSC-Montgomery, LSC-North Harris, and LSC-Tomball, six centers, LSC-University Center, LSC-University Park, Lone Star Corporate College, and LSC-Online. With more than 62,000 students in credit classes and 19,000 in continuing education classes this spring, LSCS is the largest institution of higher education in the Houston area and third largest community college system in Texas. To learn more, visitwww.LoneStar.edu