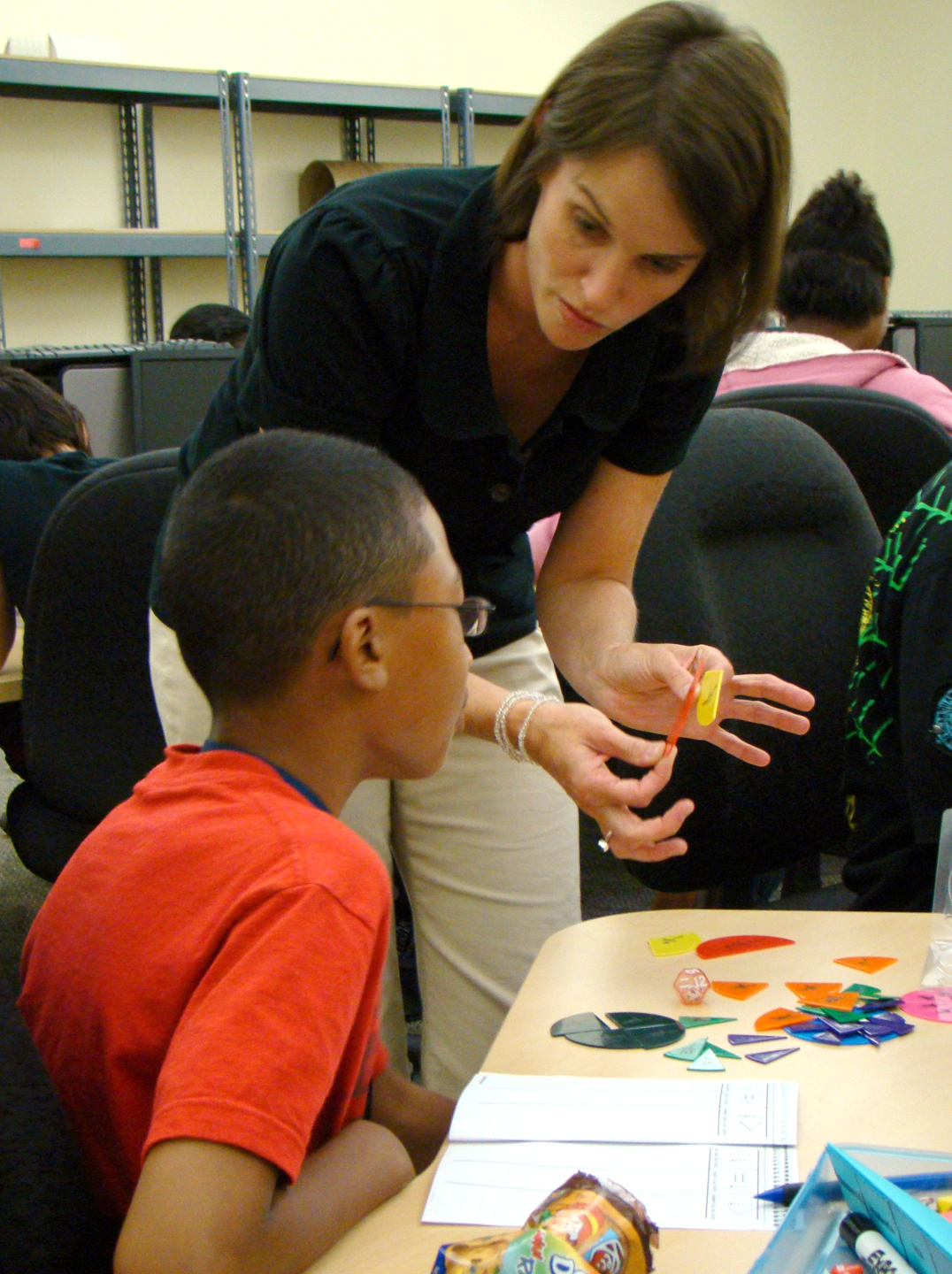 After a weeklong educational camp, more than 20 sixth-grade students from Travis Intermediate in Conroe Independent School District (CISD) are leaving Lone Star College-Montgomery with first-hand experience about the collegiate environment, and hopefully, with the idea that attending college in the future is a viable option for them and their peers.

"It's a passion of mine to open the eyes of students, as well as their parents, that college is a possibility and a probability in their lives," said Becky Gustamante, camp facilitator and academic dean at LSC-Montgomery. "We want to show students at a young age that attending college—whether for a certificate, associate's degree, or more—can enhance their life."

The "FUN in Computers, Math, Science, and Art" camp, which was hosted by the business and social sciences (BASS) division at LSC-Montgomery, was funded by a Lone Star Mini-Grant Award, an educational grant presented by Lone Star College System. The purpose of the camp was to show the young students what's its like to be in college, as well as to keep their minds working during the summer.

"After working with low-income families in the area, I realized there are myriad reasons why many students and parents believe college is unattainable," said Gustamante. "I want to change their mindsets, and this camp is a starting point for that change."

According to Whitney Stewart, division assistant at LSC-Montgomery, the students attending represented a very diverse population.

"The camp brought together students who may have never met in their school," said Stewart. "They were economically, ethnically, and academically diverse."

The administrators and teachers at Travis Intermediate, as well as Dr. Don Stockton, superintendent of CISD, were highly supportive of this camp and pivotal in the logistical organization of the program, said Stewart.

"Everyone involved from CISD was strongly supportive of the camp's goals," said Stewart. "Dr. Stockton did what he could to make it easy on the parents for the students to attend, even allowing us to use CISD buses for transportation, which provided money for more integral aspects of the program."

The camp was led by volunteer instructors. Teaching the mathematics portion was Lauren Stallings, a middle school teacher who is also the daughter of LSC-Montgomery's math professor, Yvonne Stallings; and teaching the music portion was Felix Peña, a recent graduate of The Boston Conservatory. Other camp instructors included LSC-Montgomery faculty members Linda Crow, Amy Curry, Monte Darland, Kitty Gronlund, Betsy Powers, and Linda Woodward.

"We had a large array of instructors with different interests and different backgrounds," said Stewart. "I think it showed the students that no matter who you are or what your background is, you can excel and be successful in college."

Students were engaged through a variety of topics including playing the piano to explore music, rolling dice to help count fractions, and using a Web program to document their family history.

"The students created individual family tree Web pages that allowed them to have an idea of where they stand in history," explained Stewart. "Plus, it's something they can share with their entire families."

Overall, Stewart said the camp was a huge success, and most of the students were sad to see it come to an end.

"We hope this camp shows students that they've been to college once and encourages them that they can go again," said Stewart.

LSC-Montgomery is located at 3200 College Park Drive, one-half mile west of Interstate 45, between Conroe and The Woodlands. For more information about the college, call (936) 273-7000, or visit www.LoneStar.edu/montgomery.

With more than 62,000 students in credit classes in spring 2010, and a total enrollment of nearly 85,000, Lone Star College System is the largest institution of higher education in the Houston area, and the second largest and the fastest-growing community college system in Texas. LSCS consists of five colleges including LSC-CyFair, LSC-Kingwood, LSC-Montgomery, LSC-North Harris, and LSC-Tomball, six centers, LSC-University Park, LSC-University Center at Montgomery, LSC-University Center at University Park, Lone Star Corporate College, and LSC-Online. To learn more visit LoneStar.edu.