Lone Star College-Kingwood in partnership with the City of Houston's Office of International Communities (OIC), Neighborhood Centers, Inc. (NCI) and the National Association of Latino Elected and Appointed Officials (NALEO) Educational Fund will host the fourth annual Citizenship and Immigration Forum on Aug. 25 from 10 a.m.-12 p.m. in the college's Fitness and Training Center (FTC).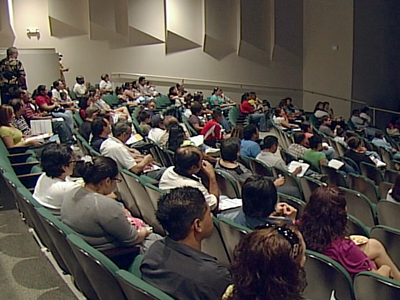 "The forum is designed to assist eligible legal permanent residents in their path to citizenship by completing the N-400 application as well as by providing free legal assistance if needed. In addition, participants will leave the forum with information they gained through the citizenship process," said Ana Mac Naught, immigration services specialist for NCI.
To make this year's event a success, the college and its partners are asking for community members to volunteer their time helping clients with various services. Volunteers are needed to help people fill out citizenship applications, setup, help with volunteer registration, work participant registration, and provide translation assistance, volunteer in children's area, work food assistance, and monitor the crowd and cleanup. Interested people do not have to be bilingual. Breakfast and lunch will be served to volunteers and all volunteers must arrive by 8 a.m. on the day of the forum for training.
"Volunteers are needed to help legal permanent residents in filing out their U.S. citizenship applications. The clients will provide the information needed to complete the application and the volunteers will help them by writing that information in the appropriate spaces on the applications," said Benito Juarez, senior manager of Immigrant and Refugee affairs for OIC.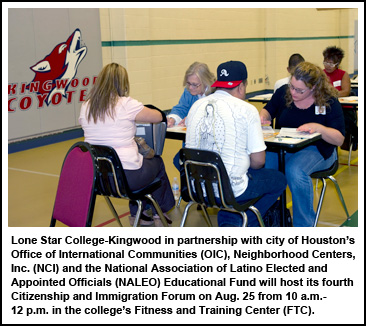 At the Citizenship and Immigration Forum, local attorneys and immigration specialists will speak on the rights and responsibilities of citizens, the new Houston Police Department policies, current issues affecting immigrant families and President Barack Obama's Deferred Action process. Participants will receive free one-on-one legal and citizenship assistance and information will be available from local service providers.
"U.S. citizenship offers immigrants the opportunity to become full stakeholders in their communities. Citizenship and immigration forums like the one we are hosting at Lone Star College-Kingwood are important because they provide free assistance and information about the process of applying for naturalization," said Claudia Ortega-Hogue, Texas director of Civic Engagement for NALEO Educational Fund.
To sign up as a volunteer or for more information on the Citizenship and Immigration Forum, contact Henry Garcia at 281-312-1621 or Ana Mac Naught at 713-669-5231.
---
The Office of International Communities brings together Houston's international community by promoting their well-being and connectedness and facilitating their successful civic, economic, and cultural integration in Houston. The office is a division of the City of Houston Department of Neighborhoods. For more information, visit .
Neighborhood Centers Inc. brings resources, education and connection to more than 264,000 people throughout the Texas Gulf Coast area each year. For more than 100 years, Neighborhood Centers has offered comprehensive community-based programs for people at every stage of life – from infants to seniors. We work with residents of underserved communities in 59 service locations to help them discover the strengths and skills necessary to become productive, prosperous and self-sufficient. Founded in 1907, Neighborhood Centers Inc. combines passion, commitment and an entrepreneurial philosophy to make the human dream a reality for all who are willing to work for it. Neighborhood Centers Inc. is a United Way agency. For more information, visit www.neighborhood-centers.org.
The NALEO Educational Fund is the nation's leading non-profit organization that facilitates full Latino participation in the American political process, from citizenship to public service. For more information, visit www.naleo.org.
---
Register now for credit classes online through myLoneStar. Classes are offered days, evenings, or weekends in traditional, Internet, video, TV and independent study formats. Current students can register by telephone at 281-591-6625. Former and current students can register online at www.LoneStar.edu/registration
For general information about Lone Star College-Kingwood, call 281-312-1600 or visit our Web site at http://lonestar.edu/kingwood.htm
With more than 62,000 students in credit classes in spring 2010, and a total enrollment of nearly 85,000, Lone Star College System is the largest institution of higher education in the Houston area, and the second largest and the fastest-growing community college system in Texas. LSCS consists of five colleges including LSC-CyFair, LSC-Kingwood, LSC-Montgomery, LSC-North Harris, and LSC-Tomball, six centers, LSC-University Park, LSC-University Center at Montgomery, LSC-University Center at University Park, Lone Star Corporate College, and LSC-Online. To learn more visit http://www.lonestar.edu/.