At 15 years-old, Westley Trevino entered Lone Star College-Kingwood's dual credit through New Caney High School to get a jump start on college classes. That experience has led him to successfully grow the college's Supplemental Instructors program.
Trevino began the dual credit in summer 2002 between his junior and senior years in high school. He graduated in 2003.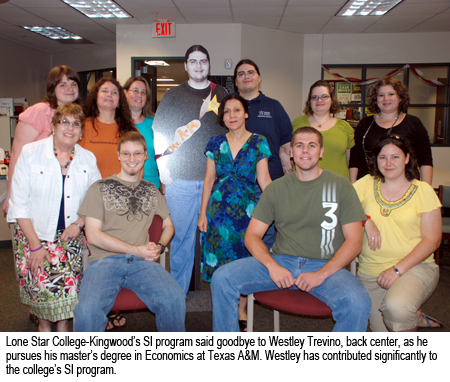 "The dual credit program was a natural fit for me because I could get a head start on taking college-level courses in an actual college classroom. That culture change was much appreciated and I'm glad my high school allowed me to take most (nearly all) of my senior classes at the college."
With just a few months shy of graduating from New Caney High School, Professor Honora Diaz hired Trevino as an Economics supplemental (instructor) leader. As an SI leader, the student began to think of different ways that the program can become successful.
"In the SI program, we believe that students are a vital part in their own (as well as others) learning processes. Group learning helps students connect their own experiences to the classroom, gather insight and perspective from peers, and offer assistance to others," Trevino said. "We feel that the best way to learn is to teach; since we can't let students lecture classes, we give them a state in the SI sessions instead."
With his departure from the program, Trevino's current and former coworkers/employees have praised him for his contributions to the program. Trevino is credited with creating a website for training tools and session ideas for SI leaders, developing training manuals to create a documentation process for SI leaders, encouraging a mentor program, evolving the interview process for potential SI leaders and implementing a two-day training session for leaders at the beginning of the fall and spring semesters.
According to Dr. Janis Terry, program manager of Educational Services and Trevino's boss, he has had an opportunity to share his knowledge with others through the SI program. Though he grasps concepts quickly and easily, he is able to explain the process for finding a solution for a problem in easy-to-understand terms. She goes on to say the program has earned national and international recognition due to its presentations at Texas A&M regional conferences in 2005, 2007, 2009 and at the SI International conference in 2010.
"He is an excellent SI leader and tutor and at the same time, is a gifted trainer. Due to his commitment to the program, we have an outstanding SI program that is recognized by the Lone Star College campuses and area colleges and universities," Terry said. "Westley serves as a role model for other students because of his intellectual curiosity, creative approach to learning and ability to share his understanding with others. His leadership in the classroom and within the SI program has influenced many students to become better students. In addition, some of the former SI leaders who worked with Westley have gone on to universities to pursue a teaching degree. This is just one example of the positive influence that Westley has had on those with whom he has worked."
Professor Diaz, who has worked with Trevino since he was 15, said he as a SI leader he was a very approachable person who the students could relate to.
"Westley has transformed the SI program. It now holds study sessions with students on how to study, how to take notes and more. It has increased retention rates in difficult courses as well as increased the average grades," Diaz said.
Nathan Watts, a former Chemistry SI leader, said he was lucky to work for a boss like Trevino. He said Trevino cares about each student's success and he cared about the SI program.
"He implemented the training sessions for SI leaders because he cared about their success and the program's success. His philosophy was to find out what we can do better to help others," Watts said.
Trevino graduated from LSC-Kingwood in 2005. He continued to work in SI program while earning his bachelor's degree in Economics from the University of Houston-Main. He is now preparing to leave the college and the SI program to pursue his master's degree in Economics from Texas A&M and in the future, hopes to earn his Ph.D. in Economics and teach at a college or university.
---
Register now for summer II and fall 2010 credit classes in one of three ways: phone, online or on campus. Classes are offered days, evenings, or weekends in traditional, Internet, video, TV and independent study formats. Current students can register by telephone at 281-591-6625. Former and current students can register online at www.LoneStar.edu/registration
For general information about Lone Star College-Kingwood, call 281-312-1600 or visit our Web site at http://lonestar.edu/kingwood.htm
With more than 62,000 students in credit classes in spring 2010, and a total enrollment of nearly 85,000, Lone Star College System is the largest institution of higher education in the Houston area, and the second largest and the fastest-growing community college system in Texas. LSCS consists of five colleges including LSC-CyFair, LSC-Kingwood, LSC-Montgomery, LSC-North Harris, and LSC-Tomball, six centers, LSC-University Park, LSC-University Center at Montgomery, LSC-University Center at University Park, Lone Star Corporate College, and LSC-Online. To learn more visit www.LoneStar.edu.