Current and future students at Lone Star College-Kingwood now have an opportunity to transfer either their associate's degree in Management or in another chosen field to the University of Houston-Downtown to earn their Bachelor of Applied Arts and Sciences (BAAS) degree in Applied Administration.
To outline all options, LSC-Kingwood and University of Houston-Downtown will have an information session at the community college on Aug. 17 from 6:30-7:30 p.m. in CLA 114. Admissions counselors and financial aid representatives will be available to answer questions and help with registration, if needed.
"The purpose of this information session is to let the public know that we have many options available to help them succeed in school and to reach their goals of either a two-year or four-year degree," said Linda Holcomb, chair of the Business and Professional Office departments at LSC-Kingwood.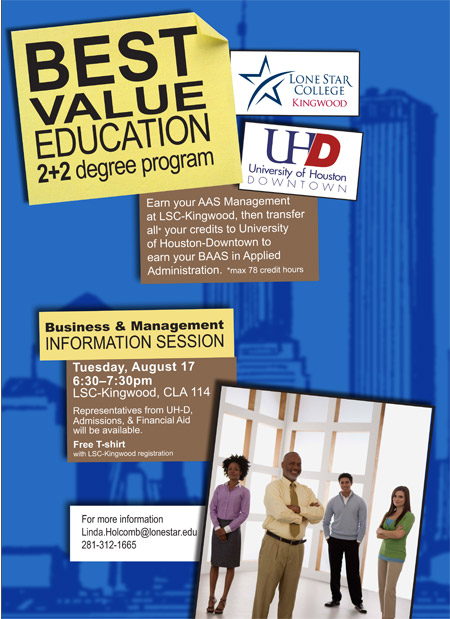 Holcomb said the joint partnership between LSC-Kingwood and UHD is beneficial for students because many employers require a degree before they will hire someone and some require a degree to promote employees.
"These degrees can help individuals prepare for that upward movement in their careers and at their companies," Holcomb said. "Many of the BBA programs in business are expensive and difficult to enter. This program is affordable and a wonderful option for working adults who want to return to school as well as for younger students who may need more flexibility as they progress through their college career."
According to Dr. Karen Kaser, acting director of the BAAS in Applied Administration Program at UHD, all Lone Star College System AAS degrees are transferable to the BAAS in Applied Administration program as long as students have a minimum GPA of 2.5 at the last institution attended. Students should e-mail the BAAS-AA advising office at advisor_baasaa@uhd.edufor further information.
"UHD conducted research into the needs of the job market now and going forward. As baby boomers who hold supervisory and administrative positions retire—and that number is significant—they will need to be replaced. While the AAS graduates have the necessary technical expertise, they often do not have the required bachelor's degree and the knowledge and skills needed to move into those supervisory and administrative positions," Kaser said. "We designed the BAAS in Applied Administration degree to give people with associate degrees the opportunity to transfer a significant number of community college hours (including 36 hours of workforce development credits) so that they wouldn't have to basically start over with their credits toward the bachelor's degree."
Kaser also said the 36 workforce development hours and the 42 hours of required Texas Common Core give students the opportunity to transfer a total of 78 community college credit hours towards the BAAS in Applied Administration.
For more information on the information session, contact Linda Holcomb at 281-312-1567 or email her at Linda.A.Holcomb@LoneStar.edu.
---
Register now for fall 2010 credit classes in one of three ways: phone, online or on campus. Classes are offered days, evenings, or weekends in traditional, Internet, video, TV and independent study formats. Current students can register by telephone at 281-591-6625. Former and current students can register online at www.LoneStar.edu/registration
For general information about Lone Star College-Kingwood, call 281-312-1600 or visit our Web site at http://lonestar.edu/kingwood.htm
With more than 62,000 students in credit classes in spring 2010, and a total enrollment of nearly 85,000, Lone Star College System is the largest institution of higher education in the Houston area, and the second largest and the fastest-growing community college system in Texas. LSCS consists of five colleges including LSC-CyFair, LSC-Kingwood, LSC-Montgomery, LSC-North Harris, and LSC-Tomball, six centers, LSC-University Park, LSC-University Center at Montgomery, LSC-University Center at University Park, Lone Star Corporate College, and LSC-Online. To learn more visit www.LoneStar.edu.