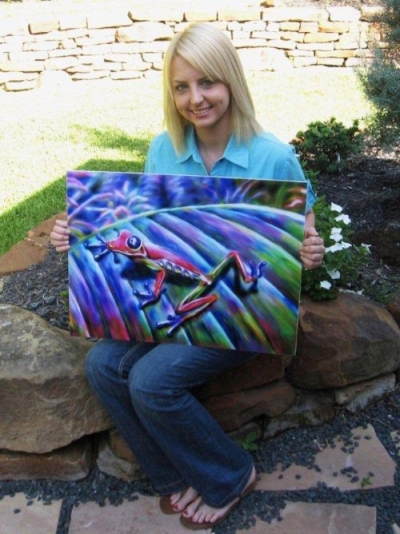 What started as a class project for Elizabeth Hinson will soon greet thousands of travelers at Baltimore Washington International Airport, and introduce them to the Save the Frogs conservation group. Hinson's submission to the Save the Frogs art contest will be transformed into six ads measuring four-feet by six-feet and displayed around the Baltimore airport.
"I guess something about my design caught their attention because the art contest is still underway. I haven't actually won the contest, but they decided to go ahead and use my submission for this campaign right away," said Hinson.
Save the Frogs is also planning to use Hinson's artwork on computer mouse pads that they would sell on their Web site, and is considering expanding the campaign to other airports around the country, or possibly advertising on the sides of buses.
Save the Frogs is dedicated to protecting amphibian populations and promotes a society that respects and appreciates nature and wildlife.
"It's obviously an honor to be chosen for this project. I've loved art since I was two-years old. So much so, that my mom pushed a coffee table against the wall, filled it with art supplies, and called it my 'office'. I spent a lot of my time there." said Hinson.

Hinson's colored-pencil drawing of a tree frog perched on a leaf was created for an assignment in her LSC-North Harris design class. She later decided to enhance the image with a computer, giving it an eye-catching and brightly colored neon effect. Then, when she came across the Save the Frogs art contest, she knew right away that she had the perfect entry ready to submit.
"This is great exposure for a young artist," said Anita Rogers, one of Hinson's professors at LSC-North Harris. "As a professor, seeing your students succeed and be recognized for their efforts is always a wonderful feeling."
Hinson, who will be taking classes at LSC-North Harris again this fall, hopes to transfer to Sam Houston State University to pursue her bachelor's degree and one day hopes to be an art professor.
"It took me a while to figure out what career path to follow, but I have a real passion for art. I finally decided that I should do what I love," she said.
If her success so far is any indication, she made the right decision.
Lone Star College-North Harris is located at 2700 W.W. Thorne Drive, one-half mile south of FM 1960 East, between Aldine-Westfield and Hardy Roads. For more information about the college, call 281.618.5400 or visit LoneStar.edu/NorthHarris.
With more than 62,000 students in credit classes in spring 2010, and a total enrollment of nearly 85,000, Lone Star College System is the largest institution of higher education in the Houston area, and the second largest and the fastest-growing community college system in Texas. LSCS consists of five colleges including LSC-CyFair, LSC-Kingwood, LSC-Montgomery, LSC-North Harris, and LSC-Tomball, six centers, LSC-University Park, LSC-University Center at Montgomery, LSC-University Center at University Park, Lone Star Corporate College, and LSC-Online. To learn more visit LoneStar.edu.
###