Lone Star College-Kingwood and PROTECT Institute of Self-Defense will offer a series of free Model Mugging courses for students, faculty/staff and the community on the college campus beginning in September.
Taught by Michelle Peterson, a highly-trained martial arts instructor and owner of PROTECT Institute of Self-Defense, participants will learn about danger awareness and prevention strategies, basic verbal and physical self-defense techniques, the legal aspects of self-defense and more. The series begins Sept. 17 for female students from 1-5 p.m. in the Fitness and Training Center (FTC) 101; Sept. 18 for female faculty and staff from 9 a.m.-1 p.m. in SFA 125/126; Sept. 24 for male faculty and staff from 1-5 p.m. in FTC 101; Sept. 25 for women only from the community from 9 a.m.-1 p.m. in FTC 107; and Oct. 1 for female faculty and staff from 1-5 p.m. in FTC 101.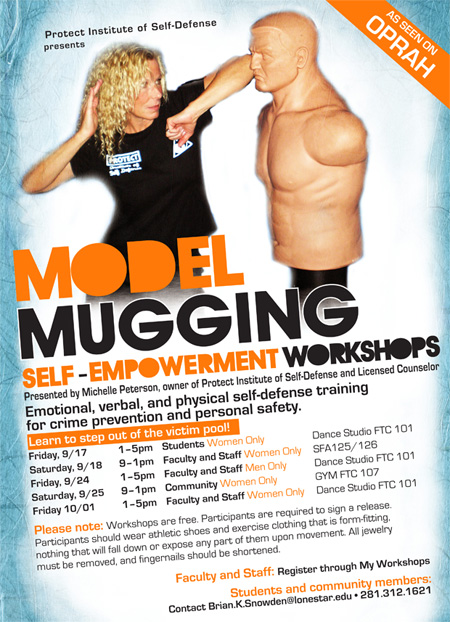 "The reality-based physical techniques come from law enforcement research on ways that perpetrators actually attack their victims. Self-defense is different from martial arts. Self-defense uses a hybrid of different martial art techniques that don't have rules," Peterson said. "Basically it is life or death street fighting in which anything goes when your life is on the line. Participants will be taught not only physical techniques, but also verbal skills and how to wait for their window of opportunity to attack. I will teach them to remain calm and not to freeze and how to use their minds during a confrontation for the best possible outcome."
In the series, people will also learn conflict resolution skills, how to prevent relationship aggression, violence de-escalation skills and techniques, and healing methods for survivors of past abuse. According to Peterson, skills learned in the series will kick-in when someone is faced with a dangerous situation.
"I teach adrenaline, stress-based response techniques. What a person learns, while in this frame of mind, stays in their muscle memory. It is like learning to swim or to ride a bike. Once you learn, you never forget. We have tested participants who have taken the courses 20 years ago and they still remember what they learned," Peterson. "There are no requirements to participate in these courses, but it is encouraged for people to have an open mind and a desire to learn."
Peterson started her company PROTECT Institute of Self-Defense in 1998 after becoming certified in Model Mugging. Peterson is a multiple black belt and multi-discipline trained martial arts instructor. She has appeared on the Oprah Winfrey show as one of the nation's premiere self-defense experts.
For more information on the Model Mugging series at LSC-Kingwood, contact Michelle Peterson at 713-449-5117, email her at protectmm@aol.com or visit www.modelmugging.com
---
Register now for fall 2010 credit classes in one of three ways: phone, online or on campus. Classes are offered days, evenings, or weekends in traditional, Internet, video, TV and independent study formats. Current students can register by telephone at 281-591-6625. Former and current students can register online at www.LoneStar.edu/registration
For general information about Lone Star College-Kingwood, call 281-312-1600 or visit our Web site at http://lonestar.edu/kingwood.htm
With more than 62,000 students in credit classes in spring 2010, and a total enrollment of nearly 85,000, Lone Star College System is the largest institution of higher education in the Houston area, and the second largest and the fastest-growing community college system in Texas. LSCS consists of five colleges including LSC-CyFair, LSC-Kingwood, LSC-Montgomery, LSC-North Harris, and LSC-Tomball, six centers, LSC-University Park, LSC-University Center at Montgomery, LSC-University Center at University Park, Lone Star Corporate College, and LSC-Online. To learn more visit www.LoneStar.edu