Lone Star College-Kingwood's Academy for Lifelong Learning opened its doors to members and the community at the program's open house Aug. 25.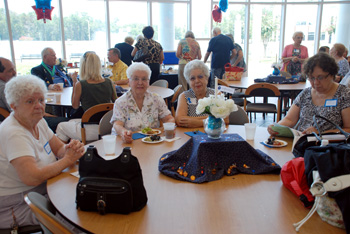 The ALL program began in February 2004 with just 71 members. Going into its seventh year, the program has more than 900 senior adult members and offers more than 375 different courses.
"The academy ended its membership year Aug. 31 with 943 members. There are already more than 300 individuals who have joined for the new membership year, which began Sept. 1," said Dr. Katherine Persson, LSC-Kingwood president. "The reason behind the high membership, which is the highest at any Lone Star College campus, and the ability to offer these great free classes, is the program's incredible base of fantastic volunteer instructors."
The success of the ALL program relies on members who not only volunteer their time to teach classes but also on those who find ways to raise money. ExxonMobil retirees now ALL members have written and submitted $500 Volunteer Involvement Program Grants used to purchase a new speaker system for lecture classes and on webcams and head seats used in the Skype classes.
Betty Newton, a retired marketing analytical specialist with Exxon (prior to the merger with Mobil), believes in what the ALL program offers its members. A member for five years, Newton is also a volunteer who serves on the curriculum advisory board, coordinates field trips and teaches members how to network using computers.
"I like the ALL program and I continue to be a member because I am always learning something about myself and I get to meet new people," she said. "I like the name 'Academy for Lifelong Learning,' but I always think of it as 'Academy for Lifelong Living' because that is what we are doing."
Roy Lively retired from Exxon after 39 years in the bank and treasury department. Since then, he and his wife, Alice, joined the ALL program and both are heavily involved in volunteering their time. Roy has led groups to downtown Houston to visit many historic and tourist sites as well as served on the curriculum board and helping with the calendar. In the program, Alice teaches computer and documentary film classes.
"The ALL program offers a lot of classes and programs for those who are retired but still lead busy lives," Alice Lively said.
Annual membership is $10 for members age 50 and older. Courses are either free or, if consumable supplies are used (i.e., pottery, cooking, craft classes, etc.), a small fee is charged to each participant.
"The ALL program offers non-credit courses, lectures and social activities for continued intellectual and personal growth. The curriculum offers a range of instruction from Conversational Spanish to Yoga to Digital Photography, depending upon the interest of the members," said Pat Chandler, program coordinator for ALL.
The ALL program began 10 years ago at LSC-Montgomery. It has since grown to all five main Lone Star College System campuses. Every campus is always looking for community members who want to deliver a course. The LSC-Kingwood program is a volunteer program and lecturers are not paid but they have the opportunity to teach others about their areas of expertise. Taught by members and LSC-Kingwood employees,courses include Texas History, Healthcare, Scrapbooking, Bridge, Painting, and many others. There are also occasional day trips to Houston-area destinations.

For more information about the ALL program at LSC-Kingwood, call 281-312-1750 or 281-312-1756. Information is also online at http://www.lonestar.edu/all-kingwood.htmor email kwall@lonestar.edu.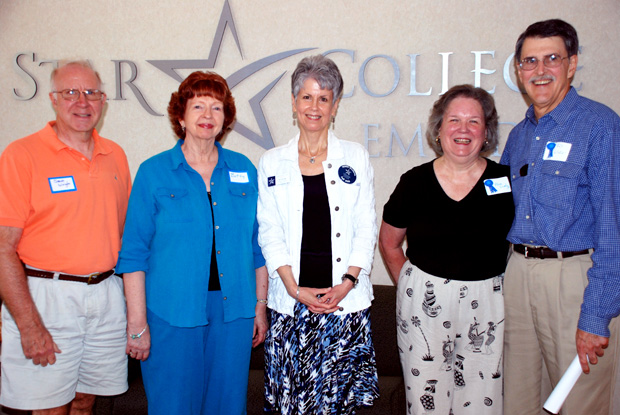 Pat Chandler, center, program coordinator for the Academy for Lifelong Learning, expressed her gratitude to members and ExxonMobil retirees, from left, Steve Wright, Betty Newton, Alice and Roy Lively, at the open house Aug. 25. The retirees are credited with submitting grants to the ALL program to help purchase necessary equipment and other items.
---
Register now for credit classes in one of three ways: phone, online or on campus. Classes are offered days, evenings, or weekends in traditional, Internet, video, TV and independent study formats. Current students can register by telephone at 281-591-6625. Former and current students can register online at www.LoneStar.edu/registration
For general information about Lone Star College-Kingwood, call 281-312-1600 or visit our Web site at http://lonestar.edu/kingwood.htm
With more than 62,000 students in credit classes in spring 2010, and a total enrollment of nearly 85,000, Lone Star College System is the largest institution of higher education in the Houston area, and the second largest and the fastest-growing community college system in Texas. LSCS consists of five colleges including LSC-CyFair, LSC-Kingwood, LSC-Montgomery, LSC-North Harris, and LSC-Tomball, six centers, LSC-University Park, LSC-University Center at Montgomery, LSC-University Center at University Park, Lone Star Corporate College, and LSC-Online. To learn more visit www.LoneStar.edu.