Various art pieces will be on display and for sale at Lone Star College-Kingwood's annual Faculty Art Show. The show begins Sept. 9 with a reception from 9 a.m.-12 p.m. and ends Oct. 6.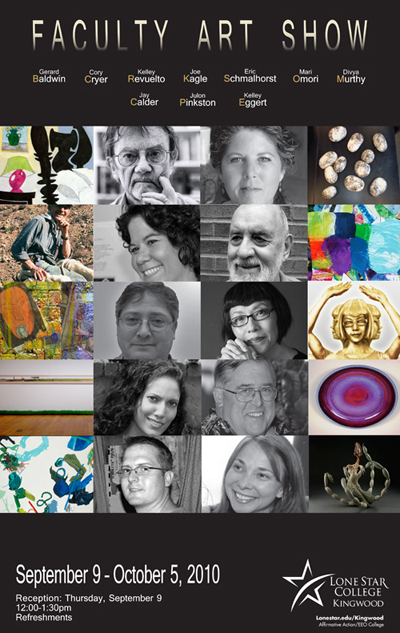 The Faculty Art Show is designed to showcase recent work of current faculty members to promote art classes offered at LSC-Kingwood. A majority of art pieces will be for sale and the proceeds will go towards the Art Scholarship Fund for students.
"The art show gives our faculty a chance to display work of the highest quality. We hope to engage, inspire, encourage and support our students as they consider not only the range of classes and instructors available, but also the many avenues of possibilities open to visual artists," gallery director, Kris Larson said.
Faculty members whose work will be on display are Gerard Baldwin, Jay Calder, Cory Cryer, Joe Kagle, Divya Murthy, Mari Omori, Julon Pinkston, Kelly Revuelto and Erich Schmalhorst. In addition to this show, some instructors have future exhibitions scheduled on and off campus. Baldwin will have an unaccompanied show on campus Dec. 17-Jan. 21, 2011. Omori's work will be shown May-August 2011 in a solo exhibition at the Pearl Fincher Museum of Fine Arts located in Spring.
One of the featured artists is Julon Pinkston, an art professor who will teach a combined Drawing I and II class and a Painting I and II class this fall. Pinkston will have two large paintings in the exhibition and a set of smaller paintings for the purpose of raising money for student scholarships.
"I entered the faculty art show for exposure of professional work for the students and for their understanding of what resources they have here at the campus. Hopefully, they become inspired by it and use a little of it in their own work and ideas," Pinkston said.
Pinkston has taught art at LSC-Kingwood since fall 2008 once he completed his Masters of Fine Arts degree in Painting and Drawing at the University of North Texas. He has taught Design I and II, Drawing I and II, Life Drawing I and II, Painting I and II and Art Appreciation at Houston Community College, the University of North Texas and Lone Star College-Kingwood.
---
Register now for fall 2010 credit classes in one of three ways: phone, online or on campus. Classes are offered days, evenings, or weekends in traditional, Internet, video, TV and independent study formats. Current students can register by telephone at 281-591-6625. Former and current students can register online at www.LoneStar.edu/registration
For general information about Lone Star College-Kingwood, call 281-312-1600 or visit our Web site at http://lonestar.edu/kingwood.htm
With more than 62,000 students in credit classes in spring 2010, and a total enrollment of nearly 85,000, Lone Star College System is the largest institution of higher education in the Houston area, and the second largest and the fastest-growing community college system in Texas. LSCS consists of five colleges including LSC-CyFair, LSC-Kingwood, LSC-Montgomery, LSC-North Harris, and LSC-Tomball, six centers, LSC-University Park, LSC-University Center at Montgomery, LSC-University Center at University Park, Lone Star Corporate College, and LSC-Online. To learn more visit LoneStar.edu.