"A Stellar Evening" will be a night to remember as Lone Star College-Kingwood's accomplished music faculty and staff perform a variety of classical to contemporary music for the community.
The 14th annual event will also feature original pieces written by faculty members and noted composer, Richard Faith. "A Stellar Evening" is on Sept. 18 at 7:30 p.m. in the college's Performing Arts Theatre.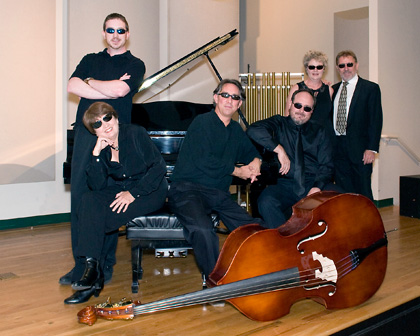 "The purpose of the event is to showcase the talent of LSC-Kingwood's music faculty and to raise money for our much needed Fine Arts Scholarship Fund," said Todd Miller, lead music professor. "The audience will enjoy a wide-variety of musical genres from classical music to Broadway and Jazz. Our faculty members are involved in the musical life of the greater Houston area and beyond. This year's event will feature everything from Jazz piano to classical art song to piano and flute."
According to Miller, there are several faculty members who will donate their time and talent to perform at "A Stellar Evening." This year's performers are Keith Almstedt, guitar; Patrick Brink, piano/vocals; Eric Fisher, bass; Barbie Butler, piano; Anne Heath-Welch, soprano; Aaron Martinez, alto saxophone; Todd Randall Miller, tenor; Amy Saxton-Wiggs, flute; Eric Skiles, baritone; David Sloat, baritone; Marvin Sparks, percussion; and Jay Whatley, piano/accompanist.
The vocal selections are from renowned composers like Roger Quilter, Cole Porter (Kiss Me Kate), and Harold Arlen (Wizard of Oz). Selections from instrumental composers, Jules Demersseman and Yosinao Nakada (Japanese Autumn Song) and more, will also delight the audience.
"Culture is an important part of the quality of life for any community. We in the Visual and Performing Arts department view our jobs are to not only teach students, but to also provide high-quality art for our local community," Miller said. "'A Stellar Evening' has been a well attended event in the life of the community since 1996 and we are grateful that the community gets so much out of this annual event while supporting the music and other art students at the college."
After the event, performers will join the audience for a meet and greet dessert reception, donated by area businesses. General admission to "A Stellar Evening" is $20 per person and reservations are appreciated. Again, proceeds will go to the Fine Arts Scholarship Fund, which has been depleted due to record enrollment at the college and an increased need on the part of students due to the economy.
For more information on the event or to reserve tickets, call Jan Schultz at 281-312-1532 or email Janet.A.Schultz@LoneStar.edu.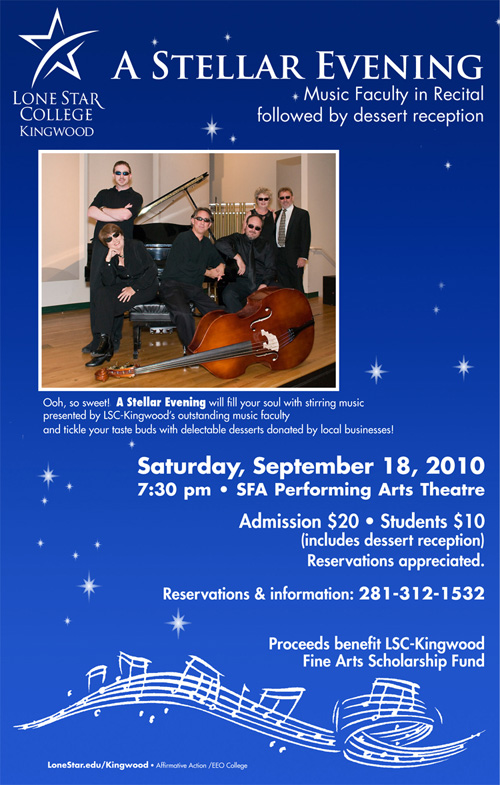 ---
Register now for credit classes in one of three ways: phone, online or on campus. Classes are offered days, evenings, or weekends in traditional, Internet, video, TV and independent study formats. Current students can register by telephone at 281-591-6625. Former and current students can register online at www.LoneStar.edu/registration
For general information about Lone Star College-Kingwood, call 281-312-1600 or visit our Web site at http://lonestar.edu/kingwood.htm
With more than 62,000 students in credit classes in spring 2010, and a total enrollment of nearly 85,000, Lone Star College System is the largest institution of higher education in the Houston area, and the second largest and the fastest-growing community college system in Texas. LSCS consists of five colleges including LSC-CyFair, LSC-Kingwood, LSC-Montgomery, LSC-North Harris, and LSC-Tomball, six centers, LSC-University Park, LSC-University Center at Montgomery, LSC-University Center at University Park, Lone Star Corporate College, and LSC-Online. To learn more visit www.LoneStar.edu.