Lone Star College-Kingwood broke its enrollment record for Fall 2010. On Aug. 30, more than 10,000 students registered and attended classes on the college campus.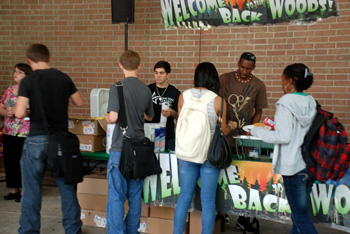 Enrollment has not only increased at LSC-Kingwood, but across the system. Projected numbers are up across the board with LSC-CyFair at 16,086; LSC-Montgomery is 11,510; LSC-North Harris is 14,362, LSC-Tomball is 10,457 and LSCS is 62,172. According to Dr. Katherine Persson, president, the growth at LSC-Kingwood can be attributed to the economy.
"The double digit percentage increases in enrollments since Fall 2009 can be best explained by the economy. When times are tough, people want to increase their work qualifications, which means some are here to complete a degree or certificate while others are here to take a course or several courses to gain a competitive edge in a tight job market," Persson said. "Regardless, we are the return on investment for those wanted a higher education."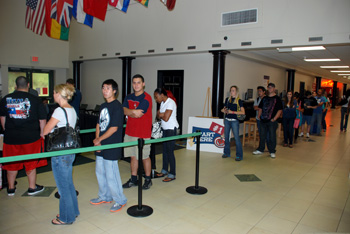 In addition to enrollment, there has been an increase in faculty and staff. New to the campus since the January in-service are Nicole Keenan, manager, Admissions; Jessica Peña, manager, Human Resources; Stephen Panzeri, maintenance technician III, HVAC; Chris Shavers, OTS-PC technician III; Gary Wynne, faculty, Respiratory Care; Conchita Cameron, faculty, Respiratory Care; Vanessa Farmer, program coordinator, Tutoring and Learning Support; Melinda Ortega, police officer; Dr. Darrin Rankin, vice president, Student Success; Desi Hunt, staff assistant II, Arts and Humanities; Jessica Norman, specialist III, Healthcare Department; Jason Watson, specialist III, Multimedia; Tracie Ring, coordinator I, Student Activities; Caroline Chamness, faculty, Computer Gaming; Alfredo Velez, faculty, Music-Instrumental; Antonia Perlacia, program coordinator, Outreach and Recruiting; Stephen Murphy, staff assistant II, Administrative Services; and Joni Screen, Renee Key and Doris Jackson in MASH.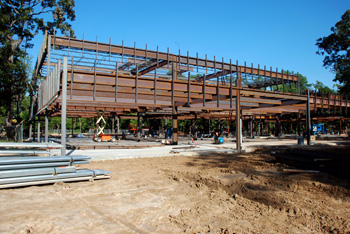 "At LSC-Kingwood, we offer excellent faculty, student-centered services, free parking, small classes and more. I am extremely excited to welcome all of our new and current students, faculty and staff and am looking forward to an outstanding semester," said Persson.
Increased enrollment and new faculty and staff are not the only changes coming to the campus this fall. With the two new construction projects ongoing, morechanges this semester include a new system-wide portal. MyRecords a portal that allowed faculty, staff and students to view pertinent information such as class schedules, benefits and more will evolve into myLoneStar. The change, which begins Sept. 13, gives everyone a one-stop access services such as e-mail, 25 GB of free online storage space, technology helpdesk tickets, registration and more.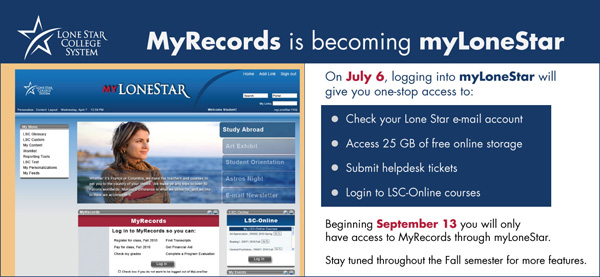 ---
For general information about Lone Star College-Kingwood, call 281-312-1600 or visit the Web site at http://lonestar.edu/kingwood.htm. Registration for spring 2010 classes begins Nov. 8.
Register for credit classes in one of three ways: phone, online or on campus. Classes are offered days, evenings, or weekends in traditional, Internet, video, TV and independent study formats. Current students can register by telephone at 281-591-6625. Former and current students can register online at www.LoneStar.edu/registration
With more than 62,000 students in credit classes in spring 2010, and a total enrollment of nearly 85,000, Lone Star College System is the largest institution of higher education in the Houston area, and the second largest and the fastest-growing community college system in Texas. LSCS consists of five colleges including LSC-CyFair, LSC-Kingwood, LSC-Montgomery, LSC-North Harris, and LSC-Tomball, six centers, LSC-University Park, LSC-University Center at Montgomery, LSC-University Center at University Park, Lone Star Corporate College, and LSC-Online. To learn more visit www.LoneStar.edu.